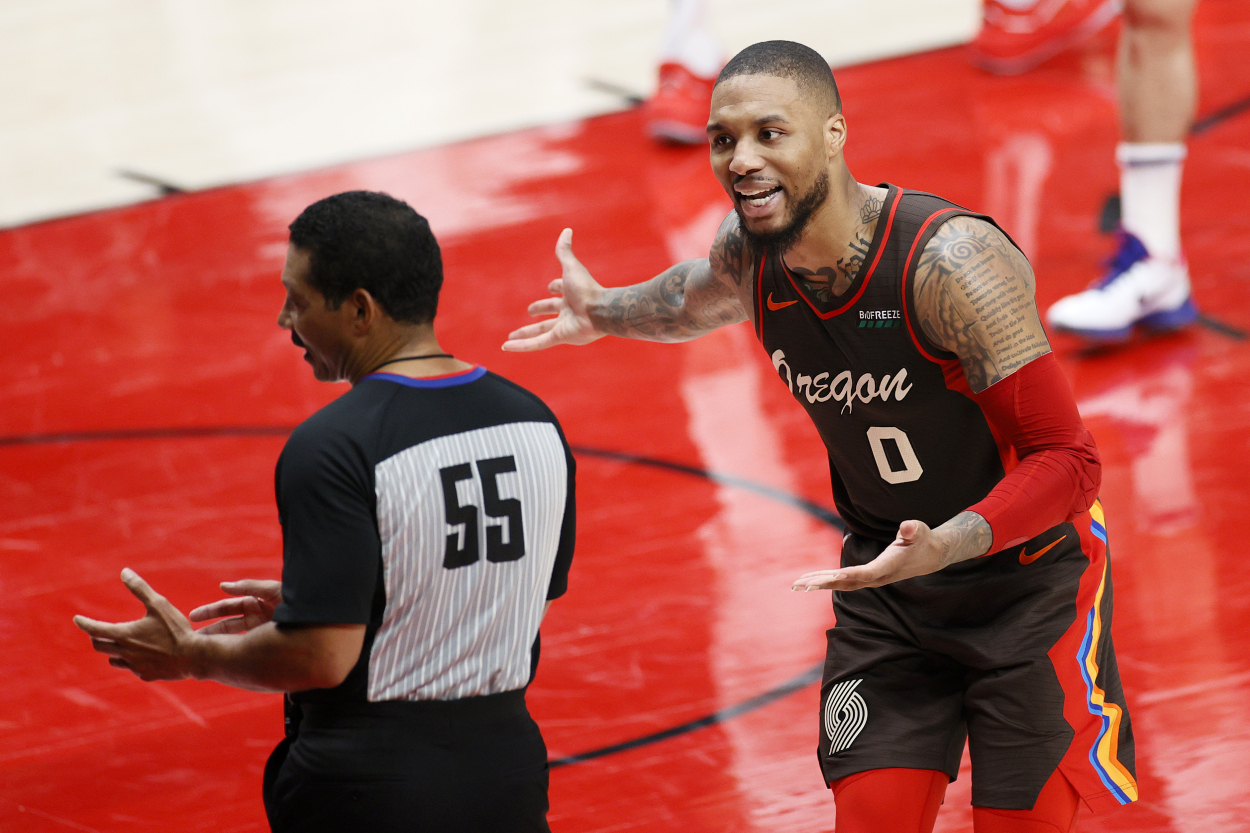 Boston Celtics 'in a Good Position' to Land Damian Lillard, but Is It Worth It?
Damon Lillard might make his way to the trading block. Would it make sense for the Boston Celtics to swing a deal for him?
The Boston Celtics were one of the most disappointing NBA teams this season. One year removed from a berth in the Eastern Conference Finals, they finished with an embarrassing 36-36 record and a seven seed in the Eastern Conference. The Brooklyn Nets immediately bounced them in the first round of the playoffs. Meanwhile, Damian Lillard and the Portland Trail Blazers also were ousted early. Rumors are swirling that Lillard could hit the trade market, and the Celtics would be a good fit. Although Lillard would be a tremendous asset in Boston, would it be worth it for the Celtics?
The Boston Celtics have already begun their shakeup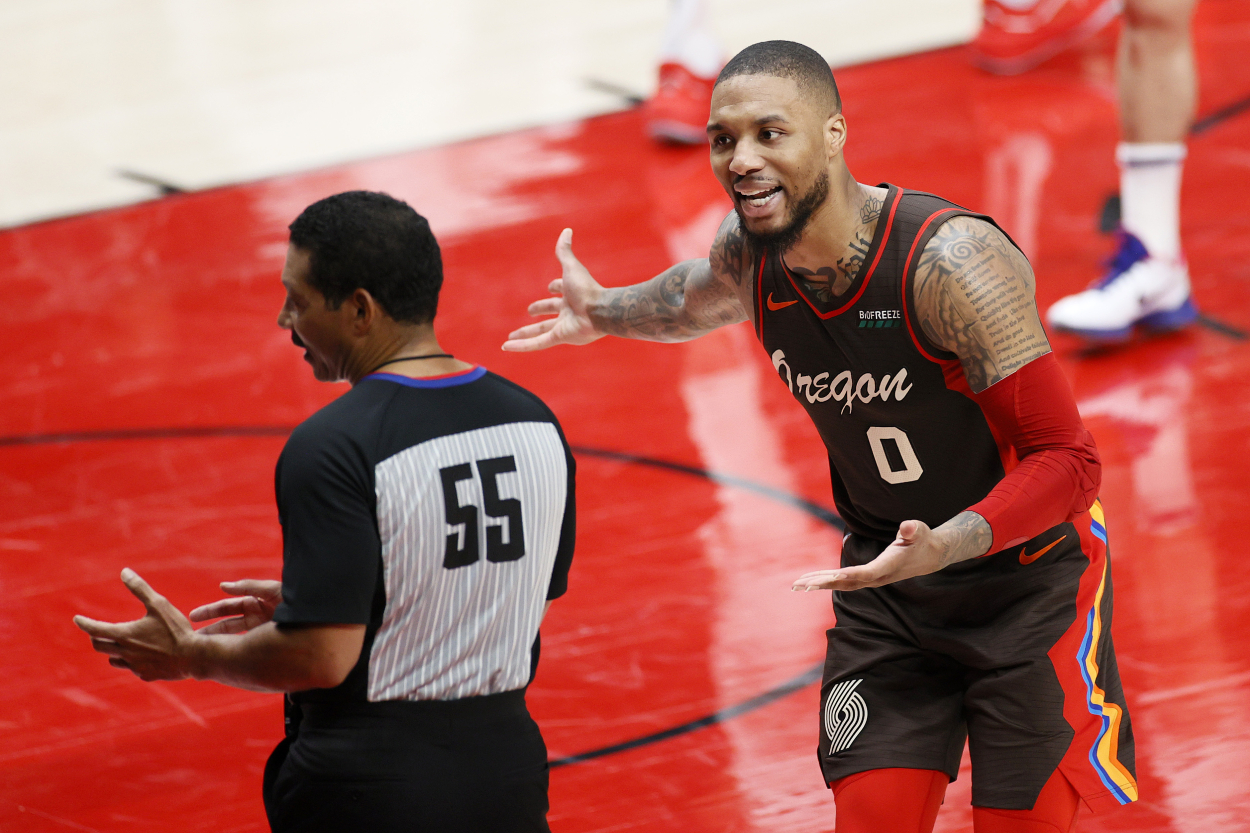 Soon after their season came to an ugly end at the hands of the Nets, the Celtics announced some major moves. Danny Ainge, the team's president of basketball operations, resigned after an 18-year run with the team. During the season, Ainge had taken the blame for the team's lack of success. He resigned on June 2.
"Danny has made all the difference over the past 18 years – our record of winning percentage and playoff victories is near the top of the league during that time," said Wyc Grousbeck, Celtics Co-Owner, and Governor, according to NBA.com.  He has always been a relentless competitor and a winner. Red Auerbach told us Danny is 'lucky,' and he was right, but a lot of the luck came from his intense drive and his incredible basketball insights."
With Ainge moving on, Brad Stevens also made a move. Stevens, the head coach for the last eight seasons, is taking over for Ainge, leaving the Celtics looking for a coach. Now the Celtics need to focus on some shakeup on the floor.
The Boston Celtics are in 'a good position' to land Damian Lillard if he is traded
Lillard is a superstar who has spent his entire career in Portland. Despite his heroics in the postseason against the Denver Nuggets, the Blazers were eliminated. According to Mass Live, Lillard has expressed frustration as the Blazers have been bounced in Round 1 of the postseason for the second straight year.
Chris Mannix of Sports Illustrated was a recent guest on WEEI's Tanguay & Hart show and said if the Blazers were to deal their All-Star guard, the Celtics would make sense.  "I do think the Blazers and Lillard are reaching kind of a breaking point," Mannix said. "He had that Instagram post right after the loss that seemed to suggest he's getting really frustrated with the outcomes of these playoff series. 
"He wants to be in Portland, he's always said that. But there is definitely a league-wide sense that that team had plateaued.  If Portland shops him, Boston is going to be in a good position. If you look around, Bradley Beal is not going to go to Portland because he's not going to re-sign there. You have to get guys to Portland that are on long-term contracts and Jaylen Brown is one of those young guys, 24 years old, that would fit that bill."
Does a Lillard trade make sense for the Celtics?
Who wouldn't want Lillard on their team? In today's NBA world it's a lot more than on-court talent that makes or breaks a deal. Salary plays a great role in whether or not teams pull the trigger on deals, and a Lillard trade might be a classic case.
In the summer of 2019, Lillard signed a supermax extension with the Blazers. That deal includes a $54 million player option for the 2024-25 season, according to Mass Live. His deal doesn't even kick in until this summer, when his salary jumps from $31.6 million to $43.75 million. Each year through that 2-24-25 season his salary increases $3.5 million.
That's a lot of cash for a 30-year-old NBA player. If he's traded during the upcoming season, the team acquiring him will have to send back $35 million in salary. Jaylen Brown, one of two Celtics All-Stars would likely be the guy on the move. His salary for the 2021-22 season is $26.8, so the Celtics would need to add more. Marcus Smart would work, but dealing them both for a 30-year-old player, as good as Lillard is, probably doesn't suit the Celtics well.
Having Kemba Walker on the roster doesn't help the situation. Walker and Lillard together doesn't make a whole lot of sense. Walker's salary ($34.38 million for 2021), combined with his knee problems, won't generate a lot of interest, so including Walker in the Portland deal won't benefit the Blazers. Moving Walker at all will be difficult for Boston.
Teaming Lillard with Jayson Tatum sounds wonderful. Digging deeper and analyzing numbers beyond the basketball court doesn't make a whole lot of sense for the Celtics.