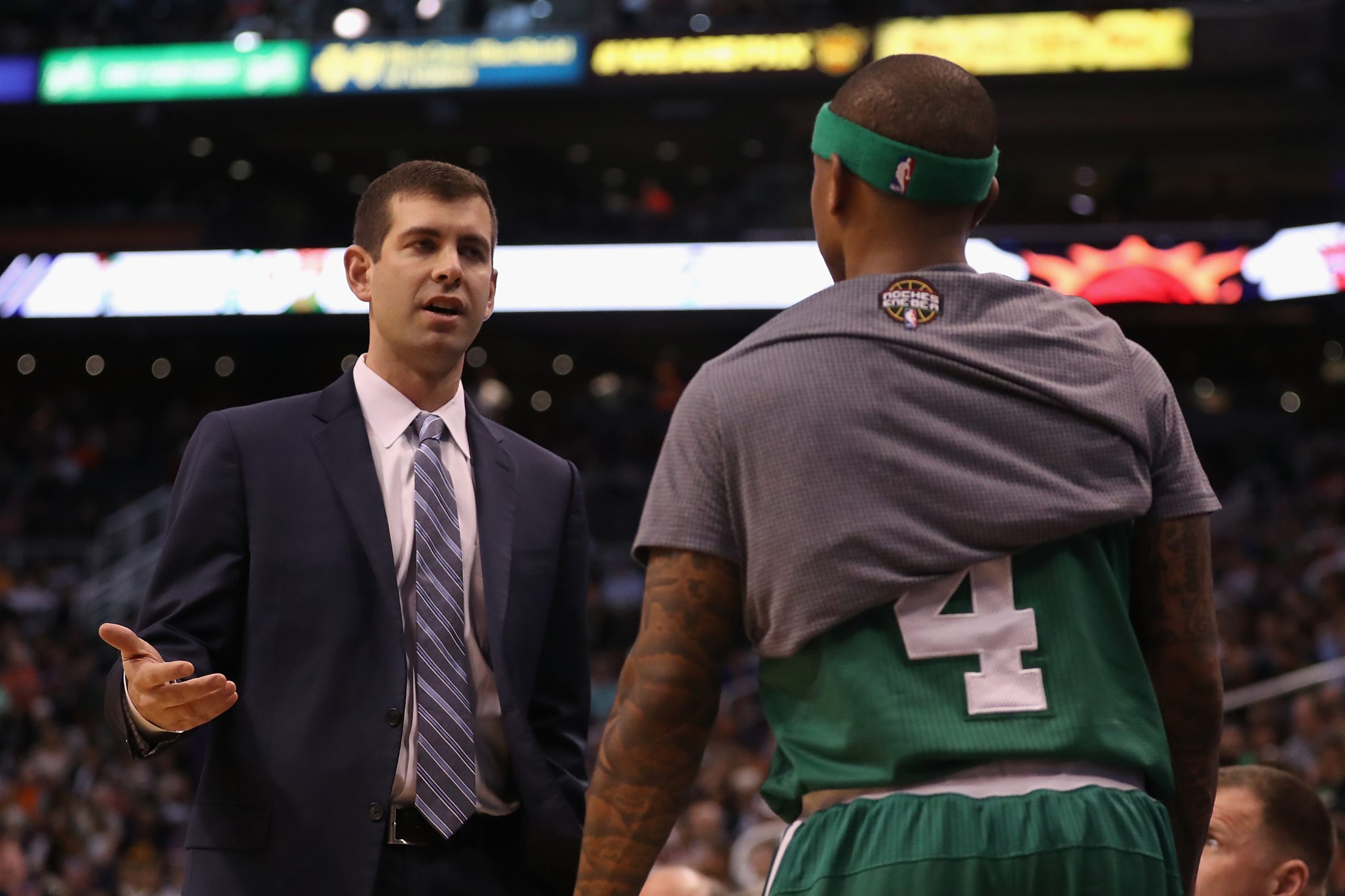 Brad Stevens Talks Isaiah Thomas, Doesn't Say a Whole Lot
Could Isaiah Thomas make a return to the Boston Celtics. Brad Stevens addressed it but didn't say a whole lot on Friday.
The Boston Celtics have some openings. After a busy trade deadline that saw president of basketball operations Brad Stevens ship out seven players and get two in return, the obvious questions popped up. Who else is coming to Boston?
One name that always seems to make its way to the front of the discussion is Isaiah Thomas. Thomas is a fan favorite in Boston and had two All-Star seasons with the team as a high-scoring point guard. Stevens made mention of Thomas during a Friday appearance on a Boston talk show but danced around the topic.
An Isaiah Thomas reunion with Brad Stevens has always been a hot topic in Boston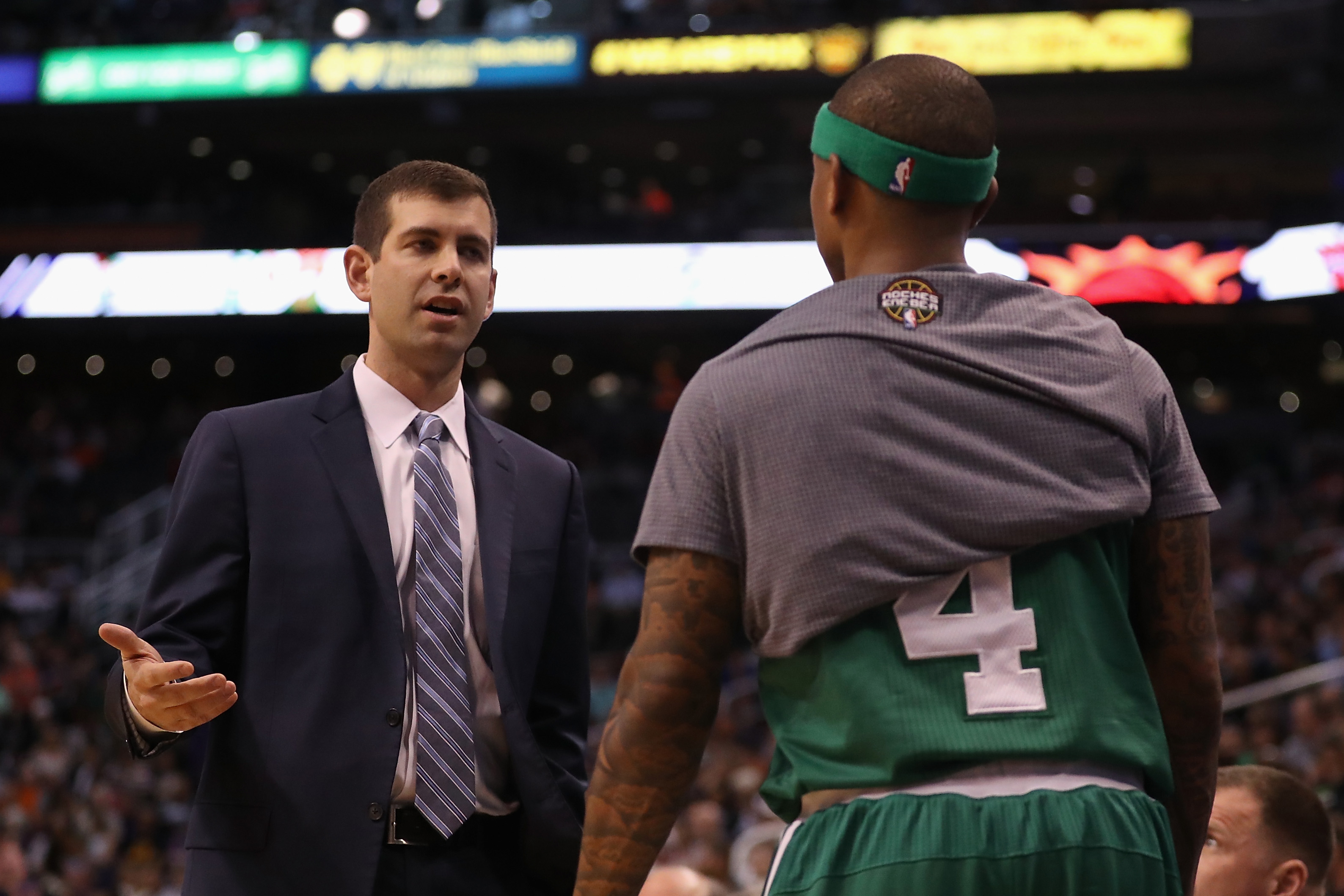 Thomas poured his heart and soul into his 5-foot-9 frame and was the leader of a pair of successful Celtics teams in his two-plus years in Boston. During his time playing for Stevens, Thomas averaged 24.7 points and 6.0 assists. In the 2016-17 season, Thomas averaged 28.7 points and became only the sixth Celtics player ever to score better than 2,000 points in a season.
Thomas was included in a trade that brought Kyrie Irving to Boston in August 2017. The deal brought mixed emotions to Boston fans, who loved the idea of having Irving, viewed as one of the best point guards in the league, come to town. Losing Thomas, however, was tough to swallow.
Thomas gave everything and more during his stint with the Celtics. He played through the unexpected death of his sister, traveling cross country to balance funeral arrangements with playoff games. He won over the hearts of Celtics fans with his play on the court and his courage off it.
He's bounced around the league since his time in Boston. He's had two short stints with the Los Angeles Lakers and Dallas Mavericks this season. With Boston's lack of depth and scoring on the bench the last couple of seasons, Thomas' name has always come up, but the Celtics have never made the call to him.
Brad Stevens talked Isaiah Thomas but didn't say a whole lot
Stevens made an appearance on 98.5 The Sports Hub's Toucher and Rich program Friday afternoon to talk a little basketball. He had been busy reshaping Boston's bench and trying to save some money, making three separate deals Thursday.
Stevens also created five open roster spots by sending out seven players, including Josh Richardson, Dennis Schroder, and Romeo Langford, and getting two in return. Boston received guard Derrick White and center Daniel Theis. Theis is coming back for his second go-round with the team.
Thomas' name came up during the interview, and Stevens acknowledged his love for his former point guard but didn't dig deep into the conversation.
"I love Isaiah," said Stevens, who made it clear he wasn't going to speak in depth about the team's plans on the radio. "I've talked to Isaiah ever since he left.
"We brought in some guys that really know how to play, that can really accentuate our guys, but also have a strong understanding of who they are and what they bring to the table. So we'll assess (if) we need to add a veteran leader or do we need to add young guys that haven't made it yet that are on … good, long contracts to add and meet the needs of our team. There's all kinds of discussions that go on, but that does not change anything about how I feel about Isaiah, regardless of what we decide."
Stevens said he understands why Celtics fans would love to see the return of the man they call IT.
"He's just a special guy, he's a special person, and I understand why everybody feels that way," Stevens said, "so, that's my answer to that."
The trade deadline is gone but the Celtics aren't done
The Celtics pieced together their seventh straight victory on Friday with a 108-102 win over the Denver Nuggets. They used eight players, including White, who came over from the San Antonio Spurs in one of the Thursday deals. He played 28 minutes off the bench and scored 15 points on 6-of-12 shooting.
While the deadline has passed, the Celtics are still looking to make some moves. They had five roster spots after swinging the three deals but have signed Sam Hauser and Luke Kornet for the rest of the season.
Boston will scrutinize the buyout market and make a decision on their next move.
Stevens didn't completely shut down a return of Thomas but didn't come out and say he was an option. Thomas would inject some instant offense into the bench, although White was solid in that role in his debut.
Thomas has said he'd love to return to Boston, but the ball is in Stevens' court.