Bradley Beal Gets Defensive and Goes on Twitter Rant After Stephen Curry's Teammate Calls Him Out About Scoring Title Race
As the NBA playoffs draw near, the race for regular season awards and accolades is heating up.
The Washington Wizard's Bradley Beal and the Golden State Warrior's Stephen Curry are currently locked in a battle for the NBA scoring title. The winner will be settled on the court, but off the court, one of Curry's teammate, Kent Bazemore, took a thinly-veiled shot at Beal.
This dig led Beal to fire off a series of tweets attacking Bazemore, the best of which simply included Bazemore's Twitter handle and fingers pointing at a dancing clown.
Curry and Beal are competing for the NBA scoring title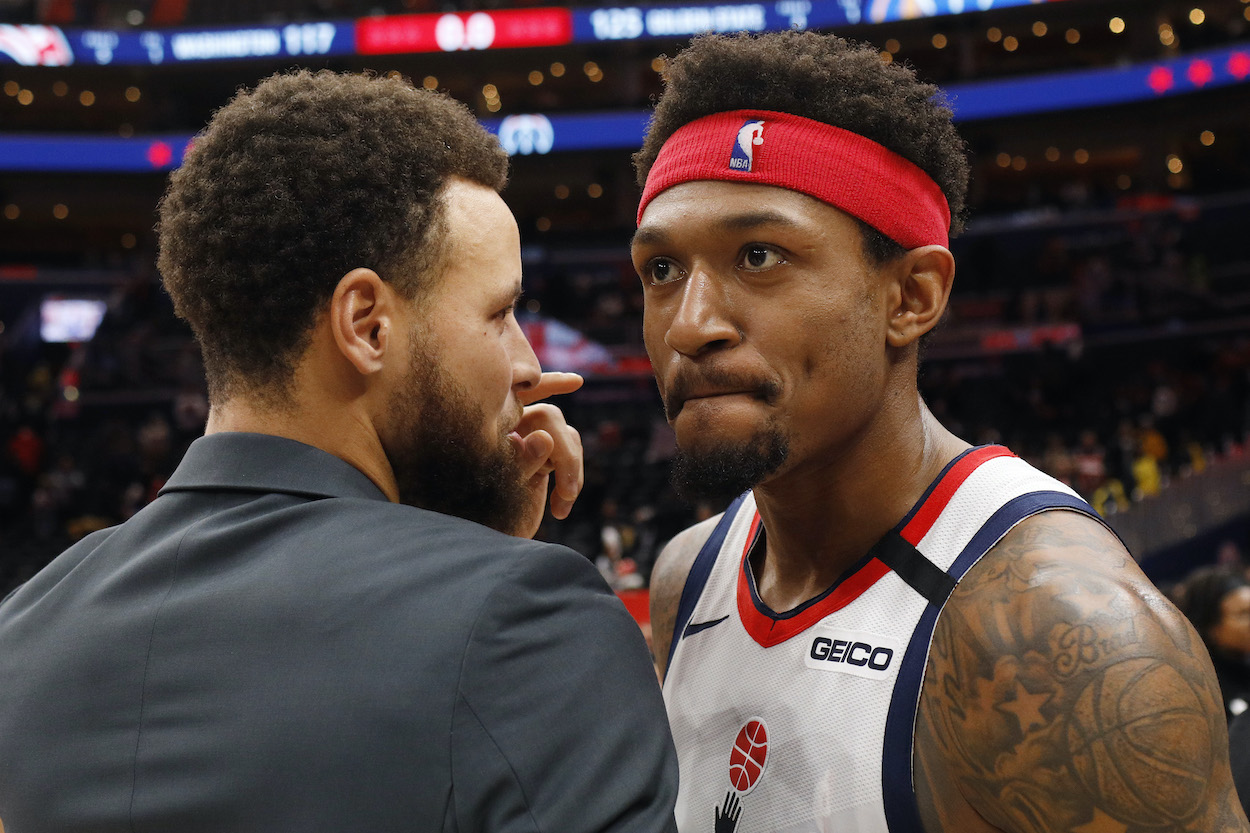 One of the most prestigious honors in the NBA is winning the regular-season scoring title. This title has historically gone to players who become NBA legends. Kevin Durant, Kobe Bryant, and Wilt Chamberlain have all finished atop the league in points per game multiple times. The greatest of all time, Michael Jordan, did it ten times.
With just three games left to play for both Washington and Golden State, percentage points separate Beal and Curry. Beal is currently averaging 31.4 points per game, while Curry is averaging 31.9.
Prior to the Beal/Bazemore battle erupting Monday night, both players had stellar scoring games. Beal put up 50 points in an overtime win against the Indiana Pacers on Saturday, while Curry dropped 36 while beating the Utah Jazz on Monday.  
Bazemore started the beef by praising Curry and taking a shot at Beal
The back-and-forth between Bazemore and Beal started during the Warriors' shootaround before Monday's game. According to ESPN, Bazemore told reporters,
Forty-nine points in 29 minutes, though, that's unreal. Then we got guys hurting hamstrings, trying to keep up. So, ya'll gotta do some research on that.
The 49 points comment is regarding Curry's weekend performance against the Oklahoma City Thunder. The hamstring dig is likely about Beal, who sat out Monday night against the Atlanta Hawks after hurting his hamstring against Indiana.
The comments by Bazemore, who is currently averaging 7.0 points per game, found their way across the country to Beal Monday night.
Beal came back hard at Bazemore on Twitter
Beal did not take kindly to Bazemore's comments and unleashed a furious series of tweets referencing the role player. The string started on Beal's Twitter account with Beal tagging Bazemore and saying, "I don't do the subliminal's!!!!!!!" The former Florida star followed that up by asking his followers, "Lol should I let him live or really go off?"
Apparently, Beal chose the latter.
The Wizards' star tweeted a series of expletive-laden posts, tagging Bazemore in each one. The social media rant included Beal calling Bazemore "straight LAME," telling him to "shut yo ass up a** up," and advising him to "keep that goofy s*** over there."
Beal also responded to and retweeted several tweets supportive of his cause. However, Tuesday morning, Beal seemed ready to move past the beef tweeting, "Blessed to see another day!" with prayer hands and a heart emoji.
Bazemore has not responded on social media but did tell reporters after the game on Monday, "I guess you can't joke anymore."
All stats courtesy of Basketball-Reference