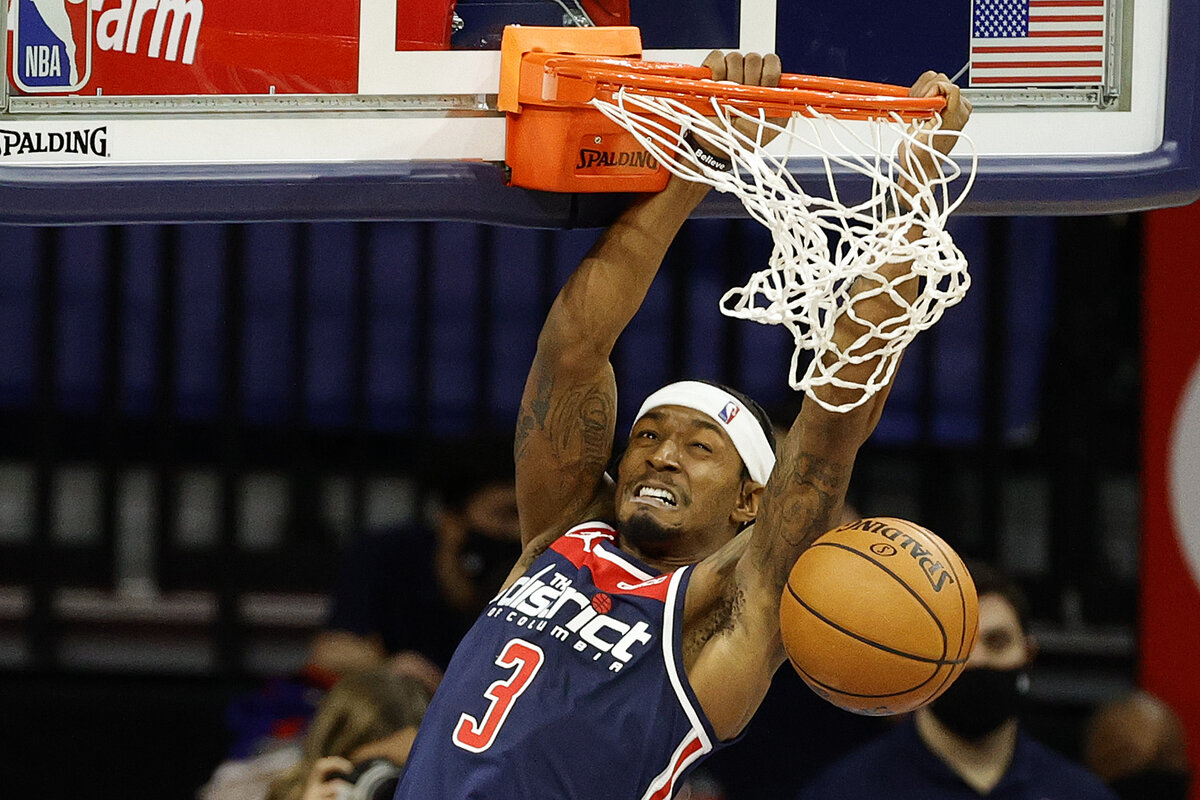 Bradley Beal Grew Up Walking to School Alongside a 2-Time Grammy Award-Winning Rapper
Bradley Beal has had a stellar career for the Washington Wizards. Beal has come a long way since walking to school with Nelly, the Grammy-winning rapper.
Bradley Beal has come a long way with the Washington Wizards.
The third overall pick in 2012, Beal has grown into one of the most important players in modern Wizards history. Although he is now without John Wall, Beal is more than carrying his weight alongside Russell Westbrook in the Washington Wizards' backcourt. 
Beal's journey to becoming an All-Star guard started in Missouri, where he walked to school with a Grammy Award-winning rapper. 
Bradley Beal has had a stellar career with the Wizards
Arguably the greatest benefit of Bradley Beal entering the NBA at 19 years old is that he had so much time to improve.
By the time Beal averaged a career-high 23.1 points in 2016-17, his fifth season, he was still only 23 years old. Now 27 years old, Beal averaged 21 points, four rebounds, four assists, and 1.1 steals in 545 games and 511 starts across his first eight seasons.
Beal drilled 45.2% of his shots and hit an even 38% of his three-point shots. In 40 career playoff games, Beal has averaged 22.7 points on 44% shooting from the field.
Beal began the 2020-21 season in impressive fashion, averaging 34.3 points, 5.3 rebounds, 4.8 assists, and 1.5 steals in the Washington Wizards' first eight games. The two-time All-Star scored a career-high 60 points in a loss to Joel Embiid and the 76ers on Jan. 6, 2021.
Beal grew up in Missouri before he left for Florida
Bradley Beal's success at the NBA level shouldn't come as a surprise to anyone who knew him in Missouri.
Beal averaged 32.5 points, 5.7 rebounds, and 2.8 assists per game as a senior at Chaminade College Preparatory School in St. Louis during the 2010-11 season. He received the Gatorade National Player of the Year and signed with the Florida Gators out of high school.
Beal averaged 14.8 points and 6.7 rebounds on 44.5% shooting in 37 games at Florida during the 2011-12 season.
Bradley Beal and the rapper Nelly are very close friends
Rap music and professional sports, especially basketball, have been joined at the hip for decades.
Bradley Beal is no exception. Growing up in Missouri, Beal was family friends with Nelly, the two-time Grammy Award winner, and walked to school with the "Hot in Herre" rapper.
Nelly has taken the stage in a Beal jersey at several performances over the years.
In a 2014 interview with The Washington Post, Beal explained what it meant having Nelly in his corner.
"It's awesome, because he's basically the first one to do something big from St. Louis and just everything that he's done for the city and he gives back and everything he went through in his life and how he supports the youth. He's definitely been a big impact on everybody. He supports sports to the fullest and everybody that comes out of St. Louis. So I have to show my appreciation and my love to him as well."
Beal joked that Nelly told him to take it easy on the then-Charlotte Bobcats, a team that the latter had a small investment in as a minority owner.
Like Sportscasting on Facebook. Follow us on Twitter @sportscasting19.