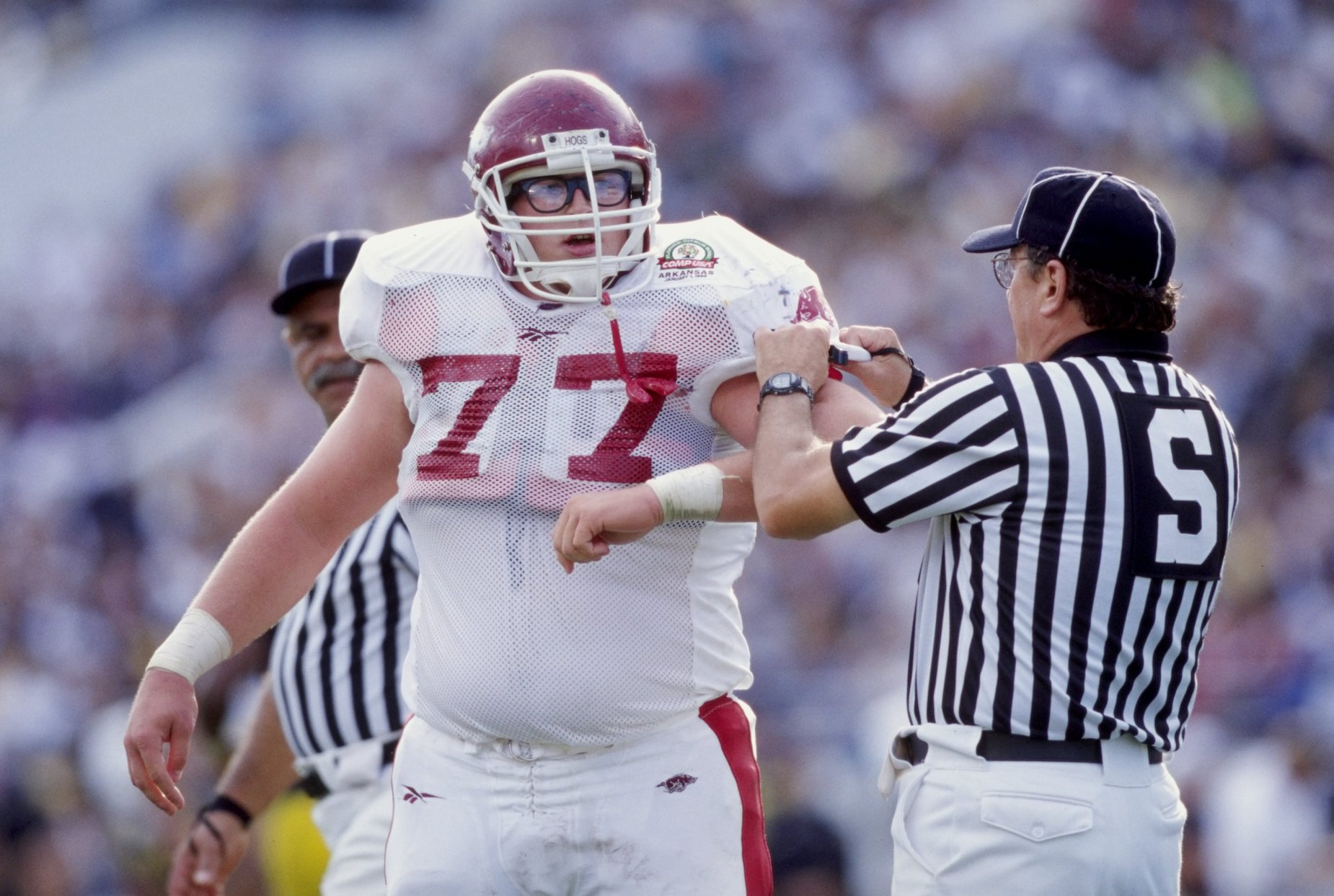 Brandon Burlsworth Rose From Walk-On To All-American but Tragically Died Before Ever Achieving His NFL Dreams
Brandon Burlsworth rose from walk-on to All-American at Arkansas, but tragically died before ever playing a single down in the NFL.
In the world of sports, there are plenty of iconic underdog stories. While you might not know his name, Brandon Burlsworth and his college football career deserve to be at the top of the list. His life and career, however, ended in tragedy rather than triumph.
After his time at the University of Arkansas ended, Brandon Burlsworth seemed poised to realize his NFL dreams. Before he ever hit the gridiron, though, the lineman tragically died in an offseason accident.
Brandon Burlsworth rose from a walk-on to a legitimate player at Arkansas
During the Razorbacks' football history, plenty of great players have hit the gridiron. Few of them, though, have followed the same road as Brandon Burlsworth.
As spelled out in an ESPN college football video, Burlsworth was never the most athletic guy; during high school, he was slow, soft, and didn't see significant playing time until his junior year. He loved the sport, though, and worked his way to all-state honors by the time he graduated.
While he received some offers from smaller schools, Burlsworth wanted to go to the University of Arkansas and play for the Razorbacks. He walked onto the team and, despite spending a season as a redshirt on the scout team, proved his worth; ahead of his sophomore year, the offensive lineman had earned a scholarship.
Once his chance, though, Burlsworth seized his opportunity. He earned first-team All-SEC honors in 1997 and 1998; he was also named a first-team All-American during the 1998 campaign.
A tragic death just days after the NFL draft
After his rise to prominence at Arkansas, Brandon Burlsworth seemed poised to make the leap to the NFL. When the 1999 NFL draft rolled around, the Indianapolis Colts made the lineman's dreams a reality and selected him with the 63rd-overall pick.
Burlsworth never got to join the Colts, though. Just days after the draft, tragedy struck.
As recorded on the Colts' official website, Burlsworth was driving home to Harrison, Arkansas in April 1999; "he wanted to head home, have dinner with his mother, Barbara, and attend a Wednesday night church service." The lineman, however, would never arrive.
"Burlsworth was killed 15 miles from home on a road he had traveled for years when his car drifted into the on-coming lane," the write-up continued. "Two collisions followed, and the life of a wonderful human with vast talents was over."
Brandon Burlsworth is still making an impact more than 20 years after his tragic death
Throughout his football career, Brandon Burlsworth never let adversity stop him from achieving his goals. Even though the lineman's life and career ended in tragedy, he's still managing to make an impact more than 20 years later.
After Burslworth's death, those close to him created the Brandon Burlsworth Foundation; according to the foundation's website, the "Christian organization's mission is to support the physical and spiritual needs of children, in particular those who have limited opportunities. The foundation encourages a strong faith, character, and sportsmanship, developing positive values, and a life pattern that would exemplify 'Doing It The Burls Way."
Under the organization's umbrella, there are multiple programs. Eyes of a Champion, for example, helps "provide free vision exams and glasses to low to moderate income, uninsured children." Burls Kids, which operates in both Arkansas and Indianapolis, brings children to football games and provides them with an unforgettable experience. The foundation also runs football camps and presents several awards and scholarships.
Had he joined the Indianapolis Colts, Brandon Burlsworth probably would have made quite the impact on the football field. While his tragic death may have ended his football career, it didn't stop the lineman's ability to change the world.