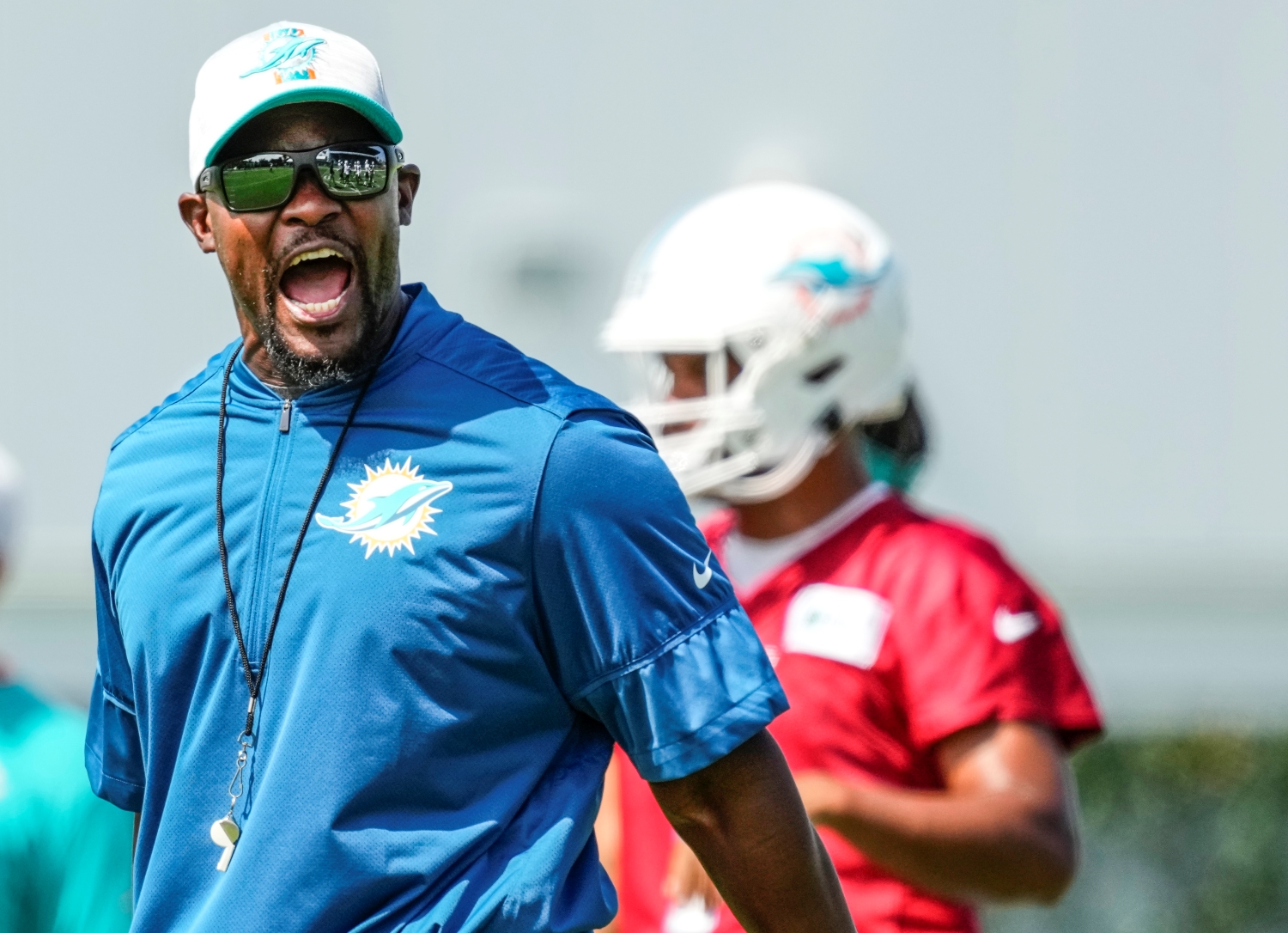 Brian Flores and the Dolphins Have a Major Problem to Worry About That Has Nothing to Do With Unproven Quarterback Tua Tagovailoa
Tua Tagovailoa's development is obviously the most important factor in the Miami Dolphins' success. However, Brian Flores has a major problem to worry about that has nothing to do with the second-year quarterback.
The Miami Dolphins didn't make the playoffs in 2020, but they showed plenty of promise under second-year head coach Brian Flores. And thanks to some strong work by general manager Chris Grier, the Dolphins accelerated the rebuilding process and no longer look like one of the worst teams in the NFL.
However, even though Miami made strides last season, that doesn't necessarily mean Flores will make the playoffs this year. While Tua Tagovailoa's development will undoubtedly have the greatest effect on whether the Dolphins earn a postseason berth, the team has a major problem to worry about that has nothing to do with the unproven quarterback.
Miami's playoff hopes rest largely on Tua Tagovailoa's left arm
Think Miami may have some second thoughts about passing on Justin Herbert? Considering the former Oregon star looked like a 10-year veteran as a rookie starter for the Los Angeles Chargers, it's safe to say his future looks extremely bright.
On the other hand, the quarterback the Dolphins selected with the fifth overall pick in the 2020 NFL Draft didn't exactly light it up in his debut season. Coming off a major hip injury that effectively brought his college career to an end, Tua Tagovailoa showed flashes of Pro Bowl potential. However, despite posting a 6-3 record as a starter, he got benched twice for Ryan Fitzpatrick, and his final numbers didn't look particularly impressive. With only 11 touchdowns and a lackluster 6.2 yards-per-attempt average in 10 games, he certainly didn't come close to making the same impact as Herbert.
The 23-year-old Tagovailoa enters his second season in Miami with a ton of pressure on his shoulders. He's had an up-and-down training camp that's featured some excellent days and some not-so-stellar ones. He needs to become a consistent passer, vocal leader, and clutch playmaker for the Dolphins to become a true playoff contender.
Whether that happens remains to be seen. Miami doesn't boast an intimidating collection of skill players, so Tagovailoa must show he can shine without elite weapons around him.
Unfortunately for the Dolphins, they have a major problem to worry about that has nothing to do with their talented (and unproven) second-year quarterback.
Brian Flores should be concerned about the state of the secondary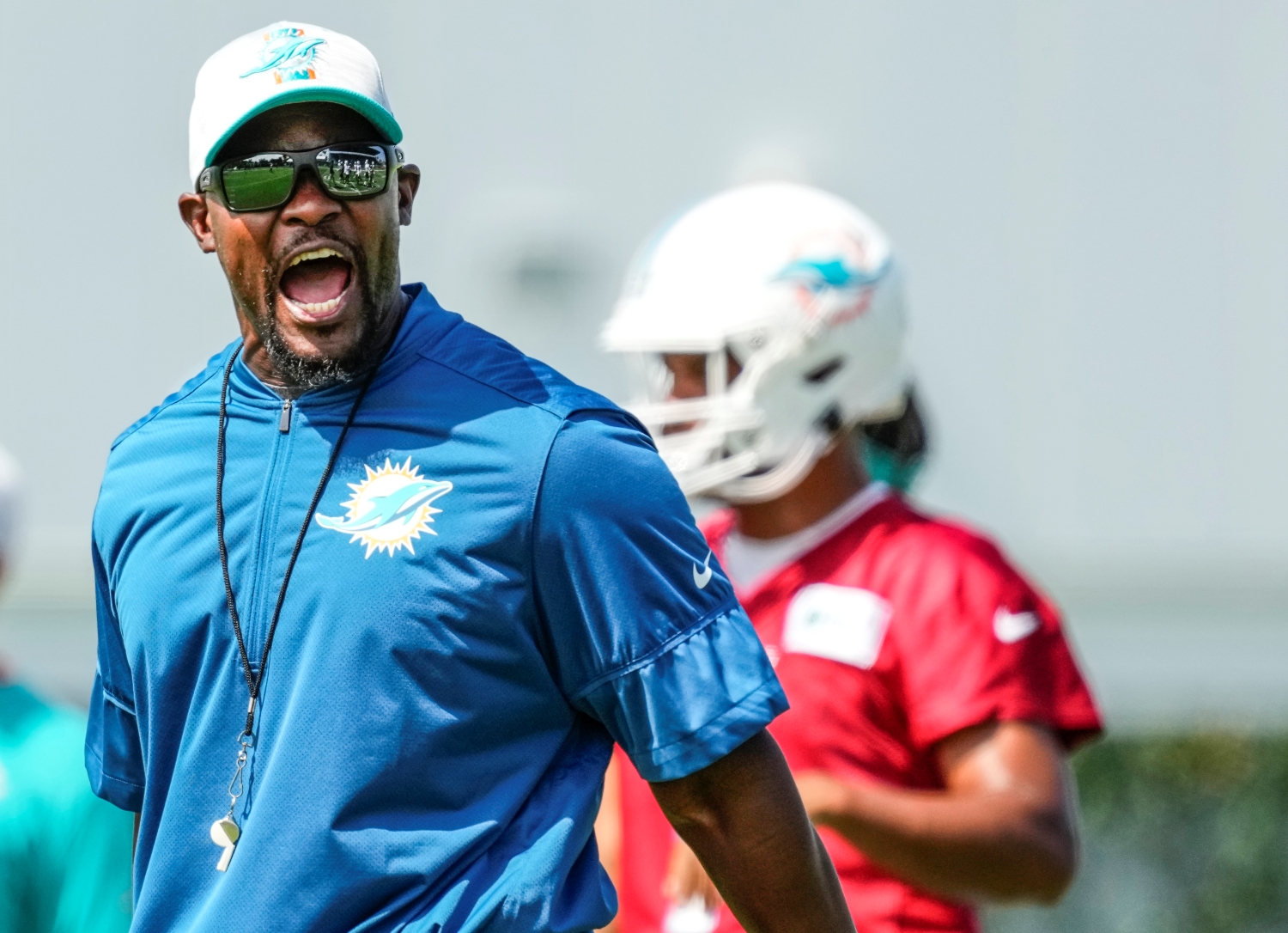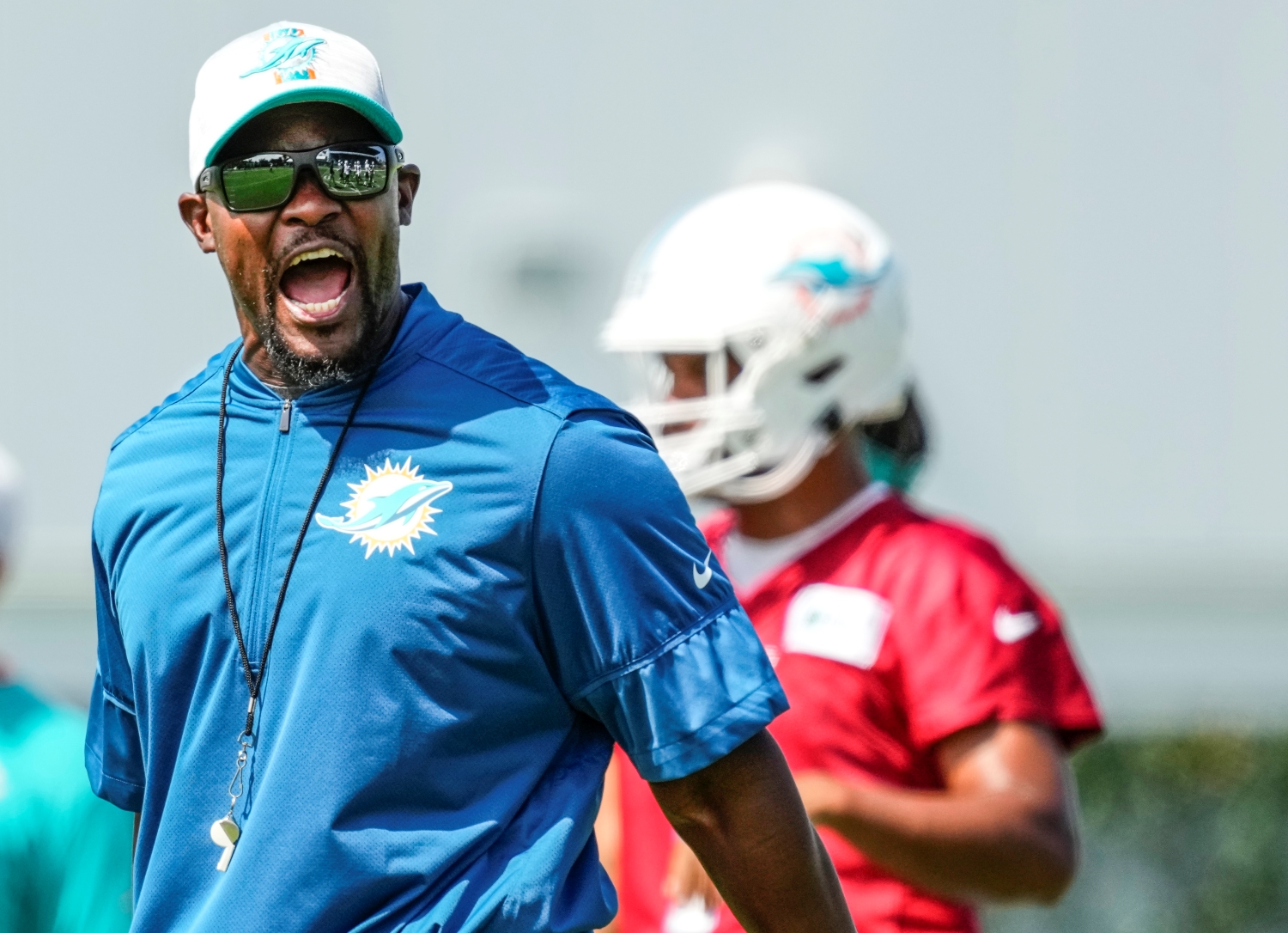 If Tua doesn't take a massive leap, Miami will have a difficult time winning many football games.
But let's not ignore the other side of the ball. After all, the Dolphins went 10-6 a year ago mostly because of their sixth-ranked scoring defense. At the moment, though, the odds of Flores' team finishing that high again seem low. And that's not just because of questions about how the front seven will look.
Surprisingly, a secondary full of big names has some problems that should cause concerns for Flores.
First, the Xavien Howard contract situation remains a major distraction. The All-Pro corner returned to practice on Saturday, but he still hasn't received an updated deal. As much as it may hurt Miami to trade away their most accomplished player, dealing Howard might be the only solution. After all, if the Dolphins don't meet his financial demands, he may hold out and not take the field.
As for some of Howard's teammates?
Saturday wasn't the best day at the office for Byron Jones or Eric Rowe. The former returned from an ankle injury and showed some struggles in coverage. Jones badly mistimed his jump on a deep ball from Tagovailoa to Mack Hollins, which resulted in a 56-yard touchdown. Coming off a year in which he recorded only two interceptions and four passes defended, the former Dallas Cowboys first-round pick needs to step up to justify his five-year, $82.5 million contract.
Meanwhile, Rowe appeared to be in the wrong place on two plays that ended with Tagovailoa touchdown passes. Plus, he got flagged for pass interference. Again, not an encouraging sign that a projected starter got exposed in practice on several occasions.
It's also concerning that 2020 first-round pick Noah Igbinoghene doesn't appear anywhere close to earning a starting job or even a significant role. Relegated mostly to third-team duties, the athletic corner looks in danger of earning the "draft bust" label if he doesn't experience a major turnaround.
Setting expectations for the Dolphins heading into the 2021 season
What seemed like a surefire strength suddenly seems like a potential problem for the Dolphins. Perhaps Howard and the team will reach an agreement that convinces him to make Miami his long-term home. Then again, if the situation doesn't work out that way, the dynamic defensive back will likely get traded, which would open a major hole at a critical position. Plus, that would put more pressure on Jones and Rowe to step up for a secondary that's largely filled with unproven commodities.
Ultimately, the Dolphins may struggle to reach 10 wins again. This is a team that doesn't have many established, in-their-prime stars. In fact, the projected starting lineups on both sides of the ball won't blow anyone away.
Does Miami have upside?
Absolutely. If Tua Tagovailoa rediscovers his college form, the team will be in excellent hands.
Could things go south?
Without a doubt. Considering Flores has cycled through multiple offensive coordinators, benched his supposed franchise quarterback as a rookie, and cut prized free-agent addition and team captain Kyle Van Noy after one year with the team, there are certainly several reasons to question his decision-making ability.
Although the Dolphins don't appear in danger of bottoming out, don't be surprised if they fail to make the playoffs again.
All statistics courtesy of Pro Football Reference.