Bronny James Will Only Be Motivated By His NBA Draft Projection
Bronny James might find some motivation when he finds out his way-too-early 2024 NBA Draft projection.
LeBron James made some noise last week when he said he wanted to play his final year in the NBA with his son Bronny James. The elder James has shown he has no problem changing teams, especially when things aren't going as planned.
For Bronny James, there's some pressure there. He's only a junior in high school and won't be eligible for the NBA Draft until 2024 at the earliest under the current NBA rules. While there might be some motivation to speed things up and play with his famous father, he might even be more motivated after seeing the way-too-early draft projections.
Bronny James has learned to handle pressure well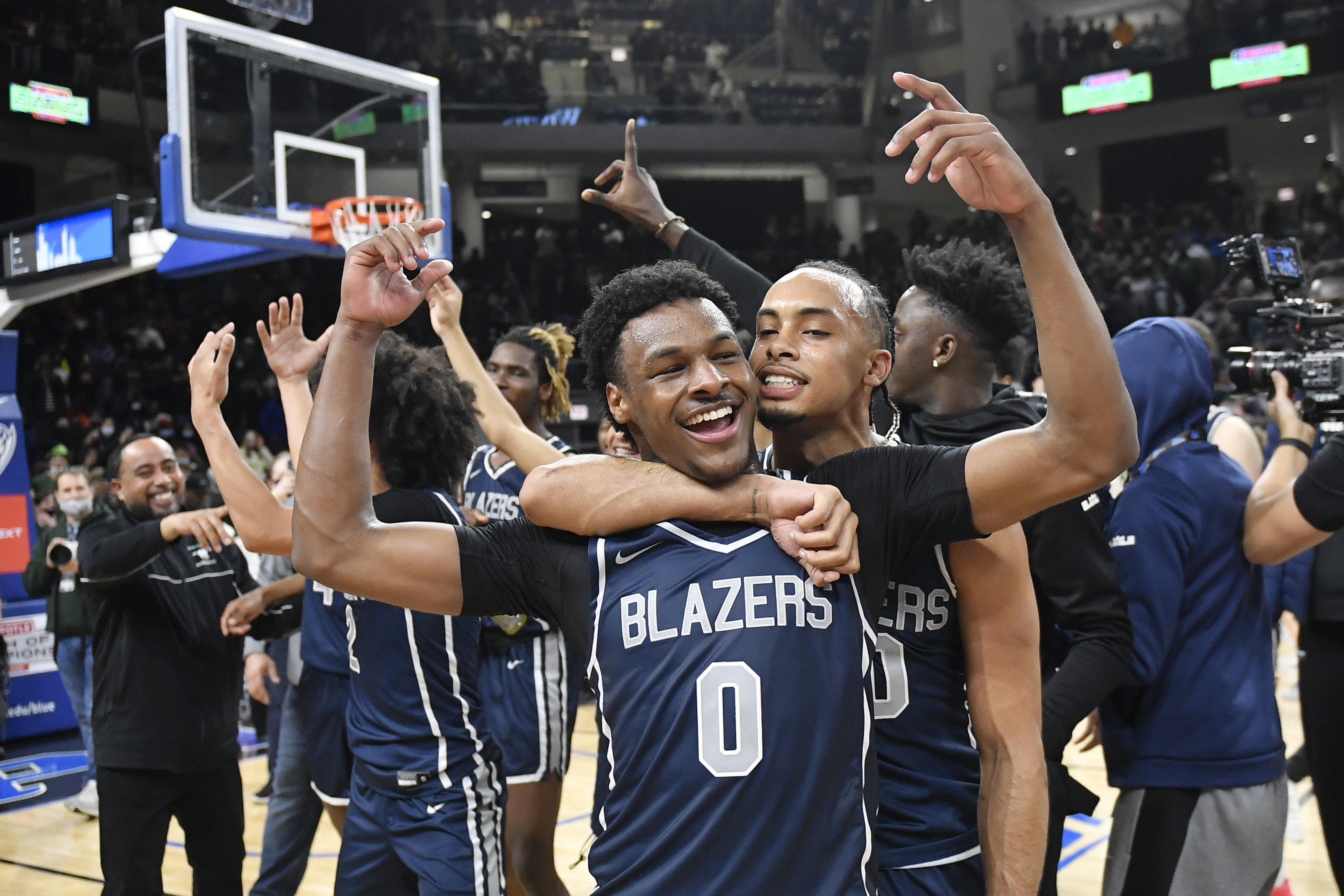 Growing up the son of an NBA superstar, Bronny has been under a microscope his entire life. The pressure is unfair, as are the comparisons to his dad. Through it all, he's handled it like a pro.
Wherever he goes, the gymnasiums are packed. TV crews follow. It's something he's grown up with. to Bronny, it's always been a part of his life.
As a freshman at Sierra Canyon High School in California, he was on the same team as two players taken in last year's NBA Draft. Ziaire Williams was selected 10th overall by the New Orleans Pelicans. The Memphis Grizzlies traded for him and he's averaging 21,7 minutes and 7.6 points in his rookie season.
B.J. Boston was taken in the second round by the Grizzlies, who traded him to the Los Angeles Clippers.
After Williams' senior year at Sierra Canyon, he told Yahoo Sports that he learned a lot from Bronny when it came to handling himself in the spotlight.
"You'd be surprised by all the stuff Bronny has to go through," Williams said then. "It's not fair, but he doesn't let it faze him at all. I'm learning how to be more like that from him, and he's younger than me."
Bronny James will likely be motivated by his early NBA Draft projection
Projecting the 2024 NBA Draft is borderline insanity, but Eric Pincus of Bleacher Report has done some digging.
"Having polled several executives, Bronny James probably projects to be a second-round pick at this point, though it's too early to say with any certainty," Pincus wrote. "A team could reach for the son to lure the father."
As of now, Rivals.com lists the younger James as the 30th best player in the country. He's a 6-foot-2 guard who missed most of his sophomore year with a knee injury.
In last year's NBA Peach Jam, he impressed scouts with a 21-point performance that included six three-pointers.
"Bronny has been a positive surprise," an NBA team scout said after seeing him at Peach Jam. "He's shown me he's more than a last name, he can make shots and handle the ball. He's very even-keeled for someone who's under the microscope."
Bronny's just 17. He's growing. He's maturing. But he's also probably a little motivated by that all-too-early second-round draft projection.
LeBron James isn't helping Bronny's cause
LeBron made quite a stir when he publicly came out and said he wanted to play his final year with his son. Sure, that's the goal, but throwing that out there when his son is a junior in high school just adds to Bronny's plate.
"My last year will be played with my son," James said to The Athletic last week. "Wherever Bronny is at, that's where I'll be. I would do whatever it takes to play with my son for one year. It's not about the money at that point."
It's a bold statement. First, Bronny has to be good enough to make the NBA. Second, will teams cater to a 40-year-old LeBron?
What if Bronny isn't quite ready and is having the time of his life playing at a big-time college? Does he leave to go play with his father?
LeBron shouldn't be dictating when his son is ready for the NBA, especially when Bronny is a junior in high school. For once, this isn't about LeBron. It's about Bronny.