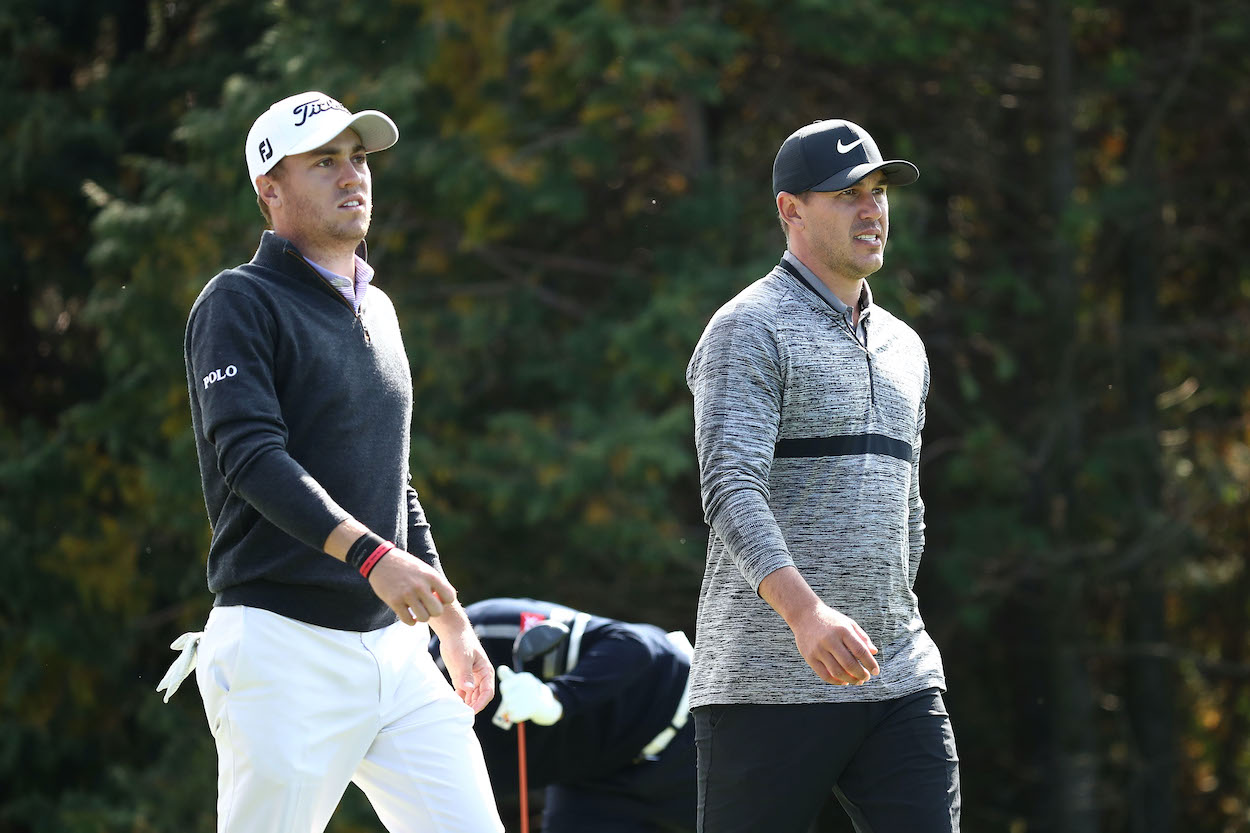 Brooks Koepka Stole $1,000 Out of Justin Thomas' Pocket With a Single Golf Shot
Justin Thomas owes Brooks Koepka $1,000 for a hole out eagle at the Travelers Championship over the weekend.
Professional golfers are no strangers to side bets on the PGA Tour. Whether it be a money match during a practice round leading up to a tournament, a competition on the putting green, or a friendly round at their home course — players always find a way to make golf more interesting.
Brooks Koepka and Justin Thomas have one of the more unique side bets on Tour for $1,000 a pop. It's rare for one of the top players in the world to actually cash in on the bet, but Koepka did just that with an impressive eagle at last weekend's Travelers Championship.
He made sure to let Thomas know about it afterward, too.
Brooks Koepka and Justin Thomas have a $1,000 side bet for PGA Tour events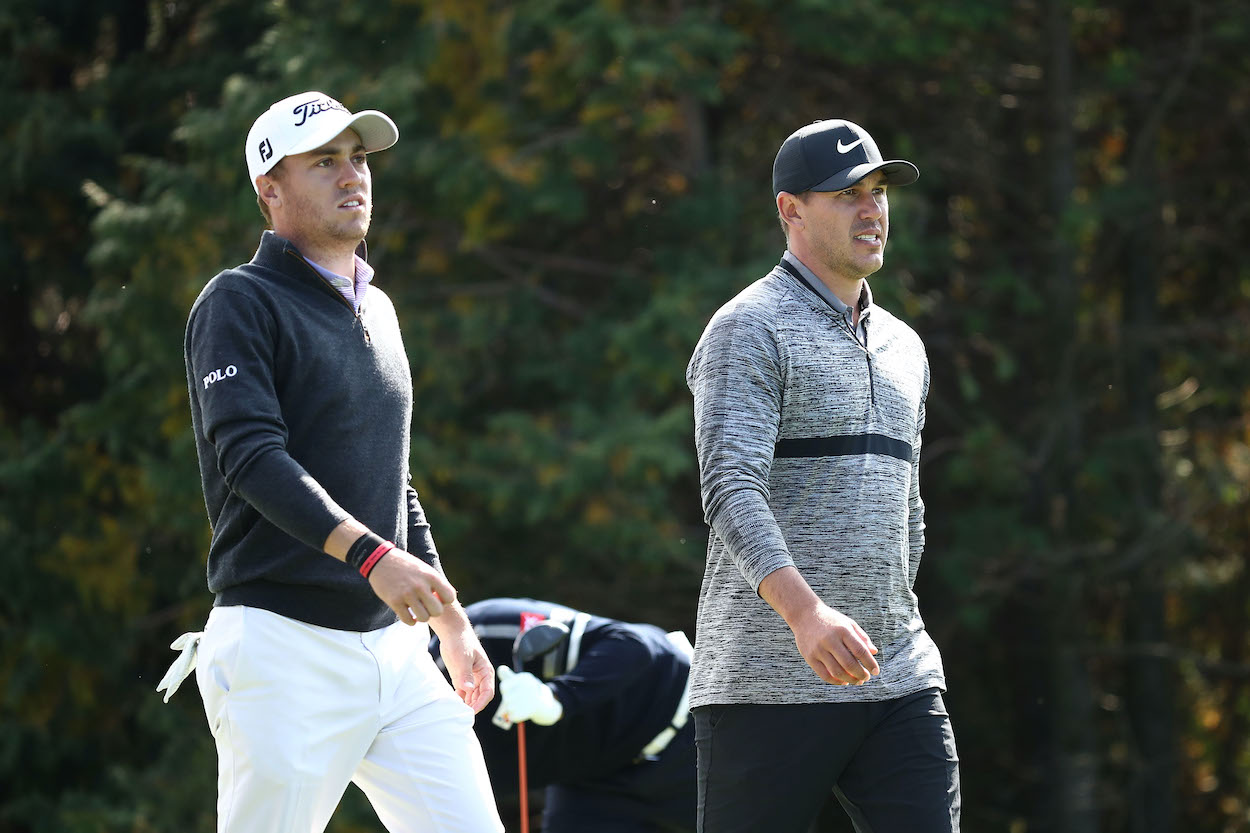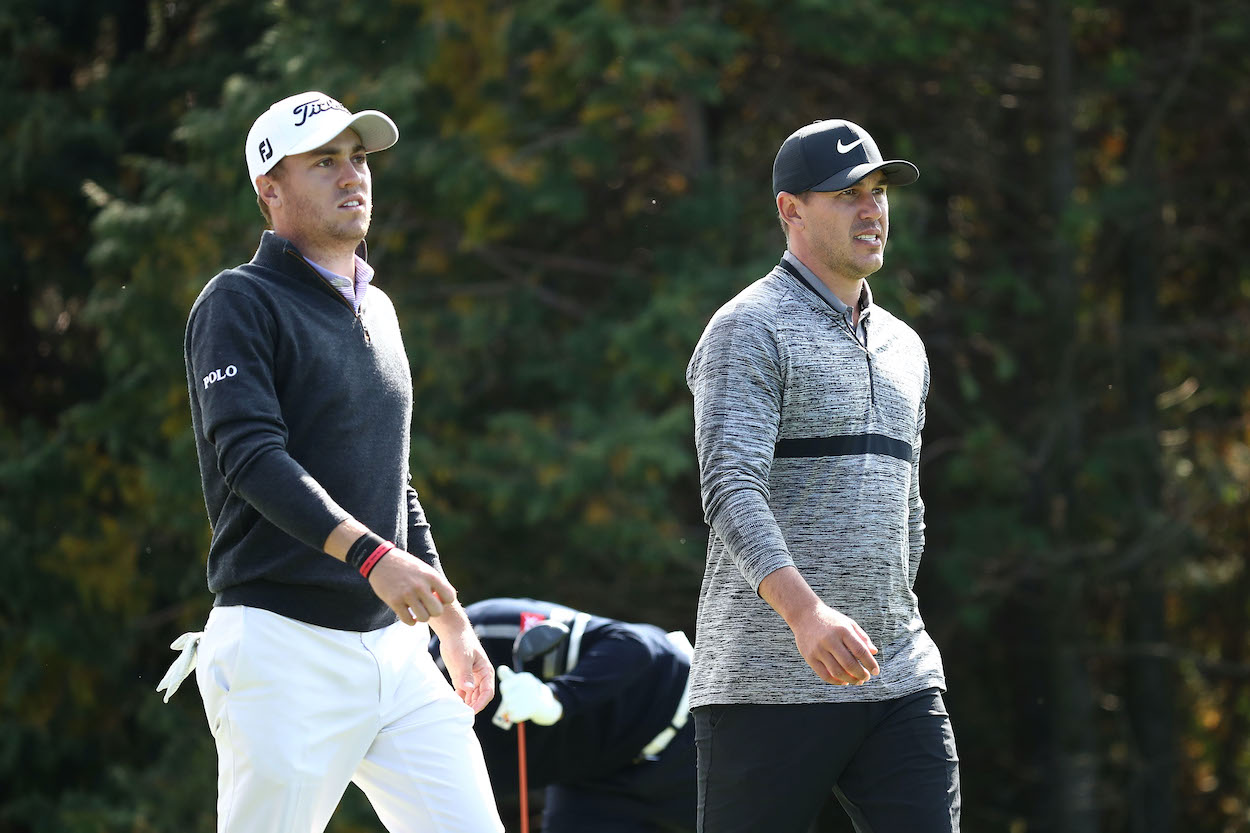 When Koepka and Thomas are teeing it up at PGA Tour events, their obvious No. 1 goal is to win tournaments. But they also have a pricey reason to go straight at pins when the shot allows for it.
A few years ago while playing in South Korea, the two golfers decided on a season-long bet to spice up their careers. The terms? $1,000 whenever either player holes out from 50 or more yards away. The hole-outs are tallied throughout the season, and the winner gets paid out after the final tournament of the year.
Thomas has the lead over Koepka as it stands today, and Koepka even admitted he regrets ever agreeing to the bet in the first place.
"I can't even remember the last time I holed out," Koepka said in 2019. "I don't really hole out much, so that was a stupid bet on my part."
Despite having to fork over thousands of dollars to Thomas over the last few years, Koepka got him back this past weekend with a brilliant hole-out of his own.
Koepka steals $1,000 from Thomas' pocket at the Travelers Championship
During Friday's second round at TPC River Highlands for the Travelers Championship, Koepka was going along quite nicely in the cold, rainy conditions. The big hitter went 2-under par through his first eight holes of the day, and he stared down a 159-yard approach shot into the par-4 18th hole from the middle of the fairway.
Immediately after striking the iron shot, Koepka muttered to his caddie, "I hit it hard." Hard and straight, apparently.
The ball landed softly about 15 feet behind the pin, zipped back with some spin, and disappeared into the hole. Koepka was visibly thrilled about finishing off his front 9 in style, but he was even more excited when he realized he just won $1,000 off Thomas.
Thomas wasn't too pleased
After dunking his approach shot from 159 yards out, Koepka found the closest television camera to send a message to his PGA Tour buddy. He stared into the camera with a smile, made the money sign with his fingers, and shouted, "Justin Thomas!"
Thomas, who wasn't in the field for the Travelers Championship this past weekend, quickly caught wind of Koepka's hole-out. It's safe to say he wasn't too happy about it.
Maybe he'll be able to win that $1,000 back at the Open Championship next month.