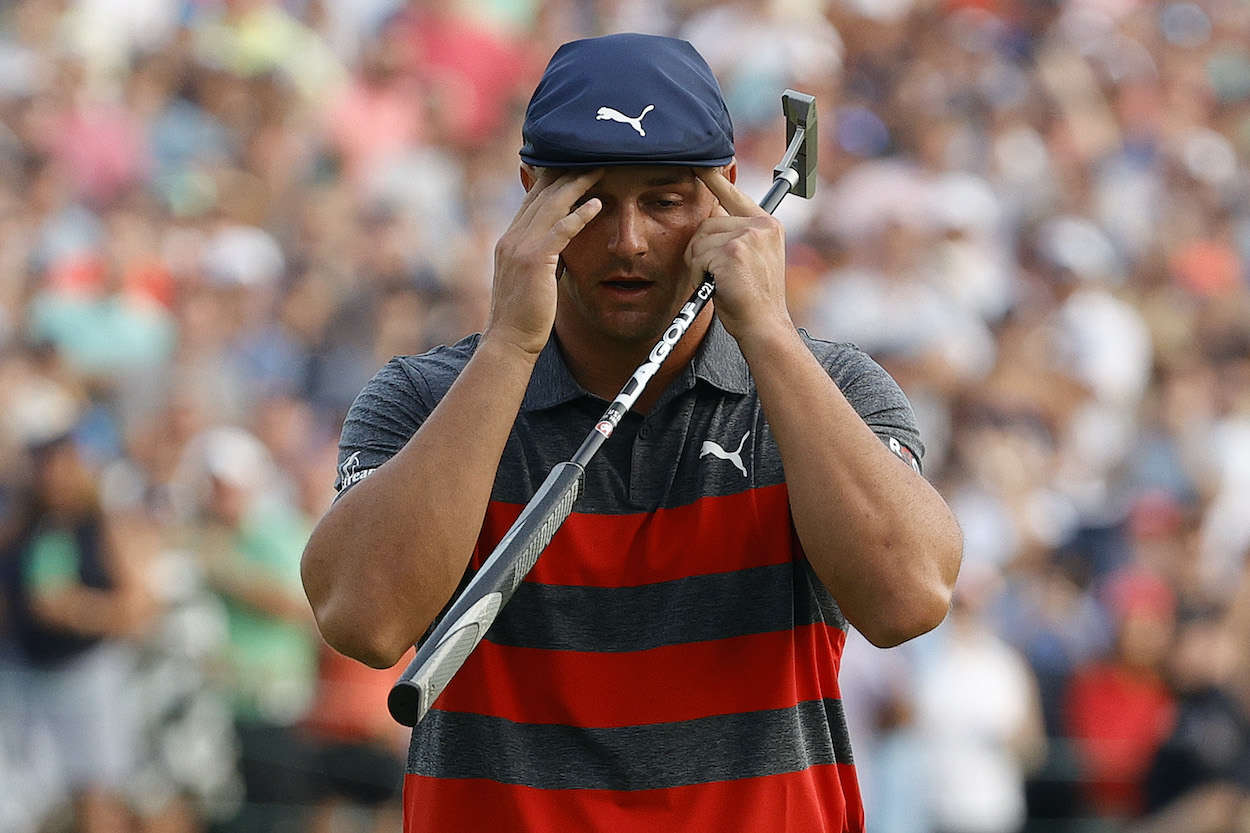 Bryson DeChambeau Finally Snapped and Nearly Fought a Heckling Fan After His Devastating Playoff Loss: 'You Know What? Get the F— Out!"
Bryson DeChambeau finally snapped after his brutal playoff loss to Patrick Cantlay.
Bryson DeChambeau has finally had enough.
After months of listening to irksome fans mockingly calling him "Brooksie" and trying to get under his skin just for fun, the big-hitting PGA Tour star with an even bigger heart finally snapped. The tipping point was a devastating playoff loss to Patrick Cantlay this past weekend in which the entire golf course seemed to be rooting for DeChambeau to fail. One last "Brooksie" on his way off the course, and DeChambeau's pent-up rage exploded out of his body all at once.
Bryson DeChambeau suffers devastating playoff loss at the BMW Championship
In one of the most electrifying PGA Tour events in recent memory, Cantlay outlasted DeChambeau in a six-hole playoff to win the 2021 BMW Championship and vault into the No. 1 spot in the FedEx Cup standings. DeChambeau had five different putts from inside 20 feet to secure the victory, but none of them found the bottom of the cup.
Entering the 72nd hole of the tournament, DeChambeau held a one-stroke lead over his playing partner. Cantlay drained a clutch birdie putt from 21 feet to tie the lead, and DeChambeau missed his 15-foot attempt to win the title. The duo traded pars on the first four playoff holes before making two birdies on the fifth. On the sixth and final playoff hole, Cantlay again holed a long birdie putt and watched as DeChambeau pushed his nine-foot attempt wide.
It was a brutal loss for the 27-year-old, as a victory would've put him on top of the FedEx Cup standings entering the TOUR Championship next weekend. After blowing five chances to take control of the playoffs, DeChambeau snapped.
DeChambeau takes his anger out on a heckling fan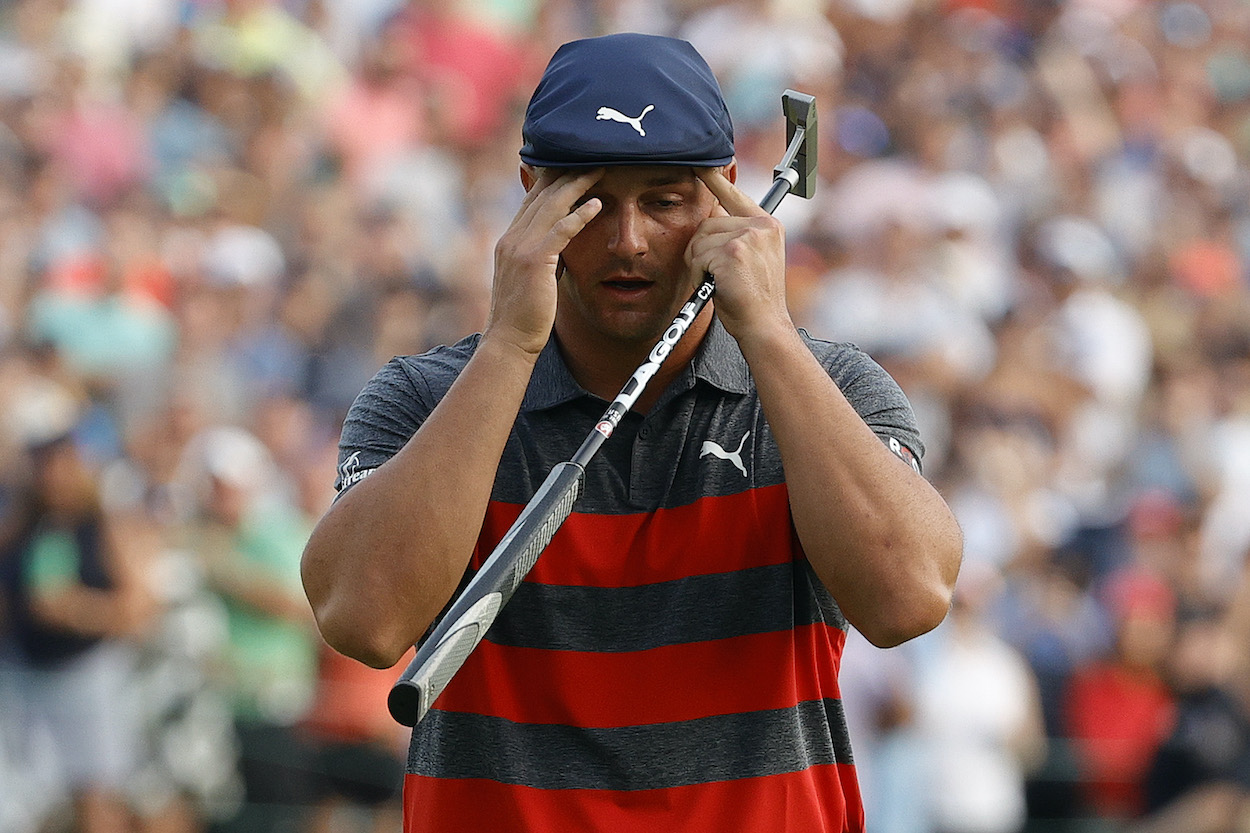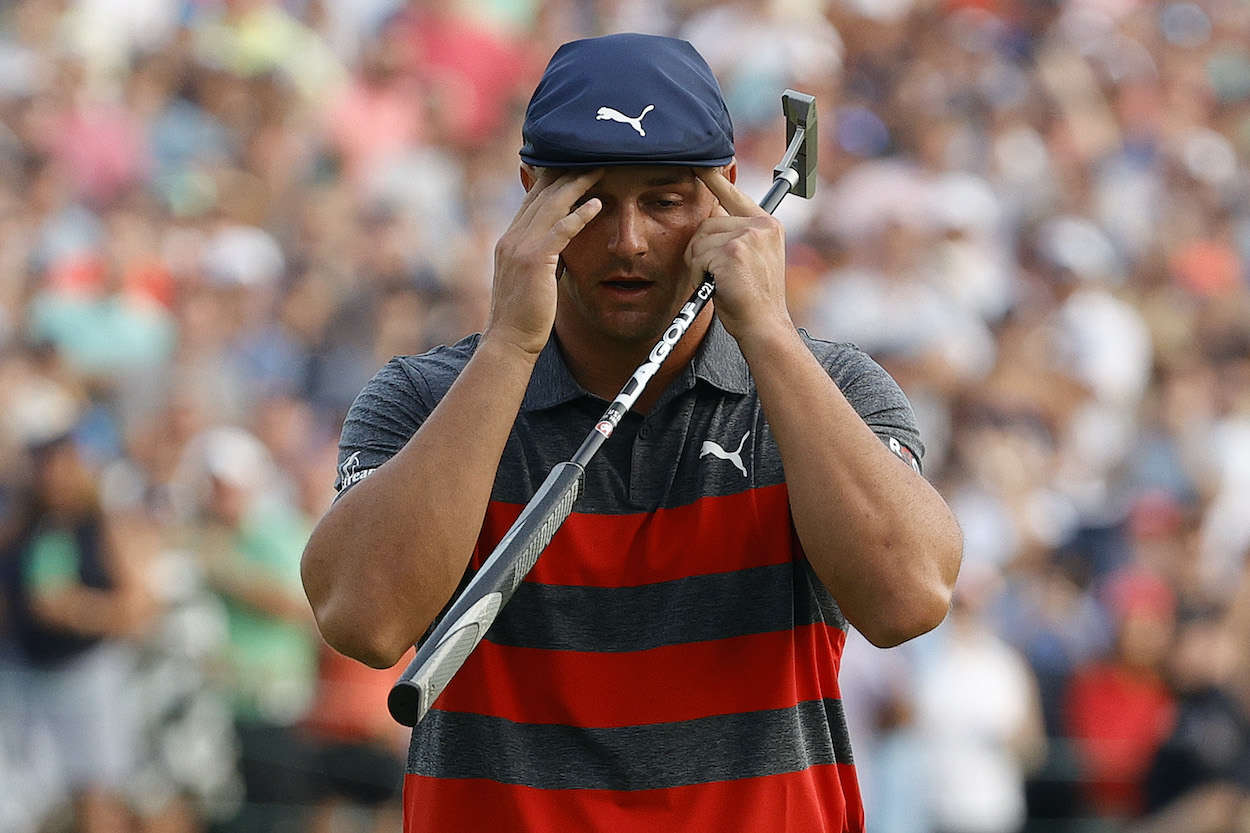 DeChambeau has been hearing "Brooksie" chants ever since Koepka encouraged fans to heckle his PGA Tour rival on the golf course a few months ago. He heard it all day at Caves Valley on Sunday, and as a sensitive soul under his hard exterior, he finally reached his tipping point.
After the tournament ended, DeChambeau walked off the course and handed a young fan his hat. On his way to the clubhouse, another fan gave him one final, "Great job, Brooksie," outlines Kevin Van Valkenburg of ESPN. That was the last straw.
"You know what? Get the f— out!" DeChambeau yelled at the fan, according to Van Valkenburg.
I'm being dead serious when I say it could have gotten ugly really fast. Maybe not "Malice at the Palace" bad, but in that moment, nothing would've surprised me.

Kevin Van Valkenburg
Fortunately for everyone involved, DeChambeau channeled his rage in that moment and called a police officer over to handle the situation. He then continued his eventful journey to the clubhouse with a whirlwind of emotions rushing through his head.
A broken superstar
DeChambeau is arguably the best golfer in the world when everything is right. He threw conventional wisdom out the window long ago and rose to the top of the sport in a way we've never seen before.
He's a true pioneer in the world of golf. He should be celebrated for that.
But he's not.
Instead, DeChambeau has turned into the villain on the PGA Tour every golf fan loves to hate. And the thing about DeChambeau? All he wants is to be loved. He flipped the sport on its head and proved there's more than one way to succeed in the game of golf, and he just wants respect and admiration from the fans for what he's done.
But he continues to be heckled by fans everywhere he goes and trashed on social media on a daily basis. It's honestly impressive that it took him this long to finally snap.
Maybe one day he'll be celebrated for his contribution to the game of golf, but today is not that day.