Bryson DeChambeau Nearly Quit Golf Until a Famous Actor Talked Him Out of It: 'Why Put Myself Through All This Torture?'
Bryson DeChambeau was seriously contemplating walking away from the game of golf, but Chris Pratt gave him some much-needed advice that helped him back on track.
Bryson DeChambeau has been through a lot over the past few months. The entire golf world seems to have turned on the bomber because of his unique approach to the game, his on-course antics, and his seemingly never-ending beef with fellow PGA Tour star Brooks Koepka.
The widespread hate coming DeChambeau's way took such a toll on him that he actually contemplated walking away from the game of golf completely. That was until an unexpected friend and famous actor, Chris Pratt, talked him out of it.
Bryson DeChambeau has become the most controversial figure in golf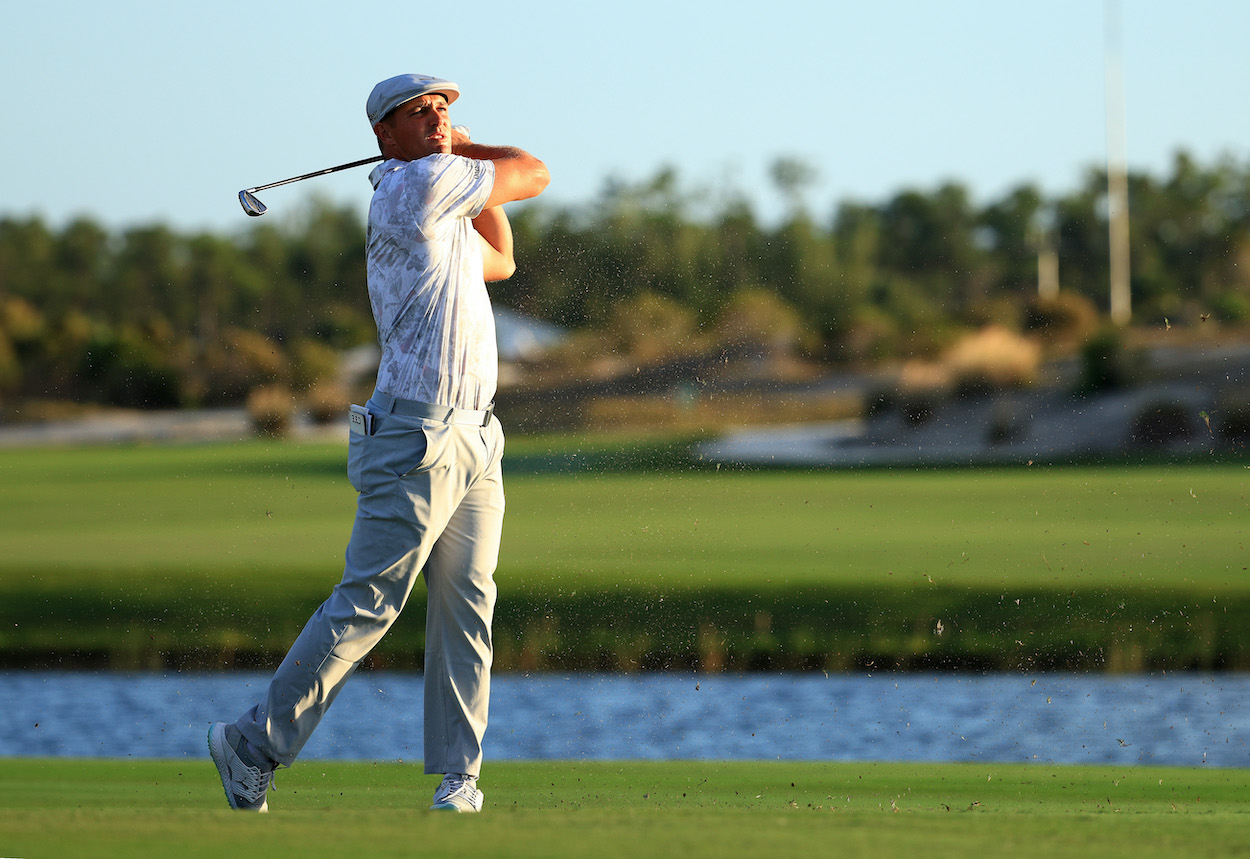 When DeChambeau began his quest to become the longest hitter in PGA Tour history, one of his main goals was to make fans and fellow pros respect and appreciate that someone can thrive on the biggest stage in golf while approaching the game in a completely different way. All the 28-year-old wants is to be liked, but he's instead become one of the most hated and most controversial players on Tour.
From complaining about ants near his ball to blaming his equipment for his poor play at the British Open, DeChambeau has been pushing fans further and further away in recent months. Then came the breakup with his longtime caddie, Tim Tucker, and DeChambeau must've felt as if he had no one left in his corner.
He recently opened up about how that felt.
DeChambeau considered quitting golf
Ahead of this week's Hero World Challenge at Albany Golf Club, DeChambeau spoke to the New York Post about the struggles he's dealt with over the past few months. Incredibly, he admitted he contemplated quitting golf at one point.
There was a point in time — I'm not kidding — where I just felt like I wanted to leave the game. I just felt like, 'I don't need any of this. Why? Why put myself through all this torture?'

Bryson DeChambeau
DeChambeau has won eight times on the PGA Tour, has a major championship to his name, and has also earned nearly $26 million on the course throughout his career. He could retire tomorrow and leave the game with an impressive resume, and that's exactly what went through his head.
"I got hit pretty hard," he told the Post. "That's why I kind of walked away, because people were damaging [my] character. It was all the stuff that was going on in social media. I was like, 'I really don't need this. I can walk away and be totally fine the rest of my life, be happy and go and hit the long ball and call it a day.'"
Chris Pratt to the rescue
DeChambeau told the Post his friends and family helped him out of those difficult times and convinced him that he should keep going. Maybe surprisingly, one of those friends was world-famous actor, Chris Pratt.
"Chris Pratt told me, 'Look, when I'm doing a movie and people are saying the movie's terrible and I'm not a good actor, that doesn't define me,'" DeChambeau said. "I respect him, respect his opinion. He's got a lot of great life advice from things he's been through — some troubling times.
"He told me when I'm out on the golf course, people are going to define you and relate you to the golf. What really defines you is the person you are outside the game of golf. You've got to look at it as an opportunity to show people who you truly are."
If DeChambeau goes on to win any more major championships, he'll have Pratt to thank.
Like Sportscasting on Facebook. Follow us on Twitter @sportscasting19.