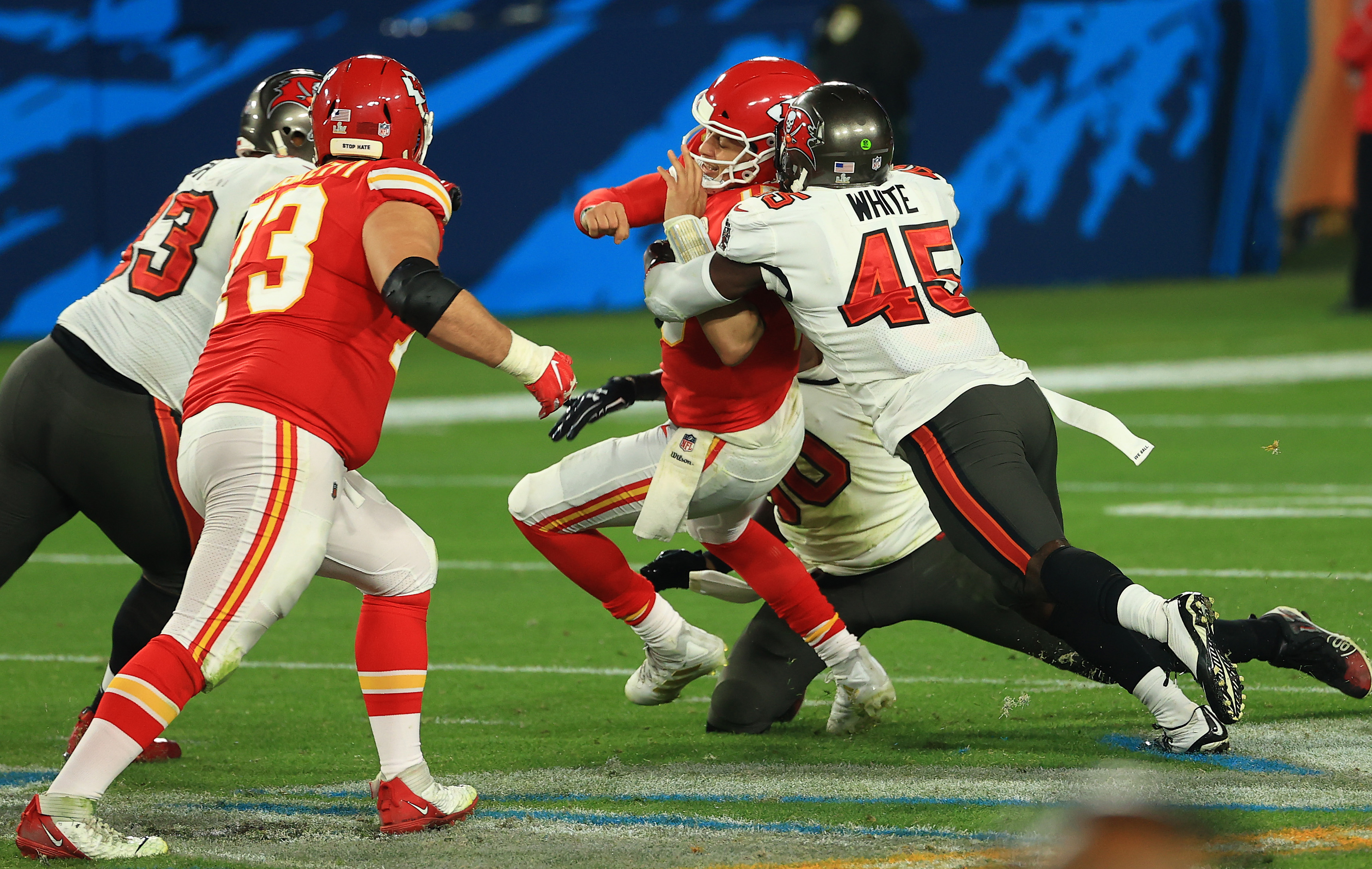 Buccaneers LB Devin White on Super Bowl Rout: 'We Wanted to Blow Them out'
Tampa Bay Buccaneers linebacker Devin White wasn't shocked about the Super Bowl result, saying the Bucs "wanted to blow them out."
It wasn't a shocker that the Tampa Bay Buccaneers defeated the Kansas City Chiefs in Super Bowl 55. The Bucs were a slight underdog, but it didn't stun many when Tom Brady and the Bucs redeemed their Week 12 loss to the Chiefs. What was shocking was how the Bucs' defense shut down Patrick Mahomes and held the explosive Chiefs offense without a touchdown. It was shocking to everyone, but the Buccaneers, especially linebacker Devin White.
The Buccaneers' defense dominated the Chiefs from the beginning
The Tampa Bay Buccaneers were a determined group in Super Bowl 55. They had been beaten at home by Patrick Mahomes and the Kansas City Chiefs during Week 12 of the regular season. They made sure it didn't happen again.
The Buccaneers put up 31 points as Tom Brady threw three touchdown passes and won his seventh Super Bowl and fifth Super Bowl MVP. As good as the offense was, it was the Tampa defense that took charge. The Bucs held Mahomes and the high-octane Chiefs offense to three field goals.
Tampa Bay head coach Bruce Arians was quick to point out the defense, led by defensive coordinator Todd Bowles, for its game plan and execution. "I can't give him enough credit," Arians said of Bowles, according to ESPN. "You know, I think he got a little tired of hearing about how unstoppable they were. I thought he came up with a fantastic plan just to keep them in front of us and tackle real well. Patrick wasn't going to beat us running …"
The Tampa Bay defense frustrated Patrick Mahomes
Kansas City Chiefs quarterback Patrick Mahomes had the worst game of his NFL career. Perhaps, it was the worse game of his life. Although he finished 26-for-49 for 270 yards, he threw two interceptions and most of those yards came late against soft defensive coverage.
"They were the better team today," Mahomes said. "They beat us pretty good, the worst I think I've been beaten in a long time. (Tampa's defense) took away our deep stuff and they took away the sidelines and they did a good job of rallying to the football and making tackles. We weren't executing early, had a few miscues. Guys weren't on the same page. Credit to them. They played a heck of a game defensively and offensively to beat us."
Mahomes was running for his life for much of the game. He was pressured throughout. The Buccaneers dominated a short-handed Chiefs offensive line and it rattled Mahomes, who never got into a rhythm.
Bucs LB Devin White: 'We wanted to blow them out'
Although Tom Brady walked away with the MVP trophy, it could have easily gone to someone on the defensive side of the ball. One of those defensive candidates is linebacker Devin White. White finished the game with a game-high 12 tackles and an interception. He also said the game plan was to crush the Chiefs and esplained what it meant to shut down Mahomes.
"It mattered," White said, according to CBS Sports. "It mattered from the start to the finish. We talked about beating them bad. We knew they weren't physical enough. They're real gimmicky on offense. We don't play like that. We like smash-mouth football and we like coming downhill and getting in the trenches. That's what we're built on. That's why we're the No. 1 rush defense in the league. And that's why on the back end, we strapped up.
"We knew we wanted to blow them out. We knew whatever we gave them in that first game, it was because we gave it (to them). And Todd Bowels wasn't letting that happen in this game." 
.