Buster Douglas Gives His Prediction On the Mike Tyson vs. Roy Jones Jr. Fight
Buster Douglas obviously knows what it takes to beat Mike Tyson. 30 years ago, he famously knocked out Iron Mike in Tokyo in what many believe to be the biggest upset in boxing history. Naturally, with Mike Tyson gearing up to fight Roy Jones Jr. in what is supposed to be an exhibition bout on Thanksgiving weekend (we'll see how that goes), Douglas was recently asked his thoughts on the fight and offered up a prediction. The former champ also revealed that he was once supposed to fight Jones later in the '90s.
Buster Douglas famously knocked out Mike Tyson in 1990
On February 11, 1990, Buster Douglas stepped into the ring with undisputed heavyweight champion Mike Tyson at the Tokyo Dome as a 42-1 underdog. Douglas was a solid heavyweight who, at the time, held a record of 29-4-1 but was seen as a stepping stone for Iron Mike, who was looking forward to a dream matchup and a monster payday with Evander Holyfield. Tyson clearly wasn't in great shape and Douglas, who had lost his mother just 23 days before the biggest fight of his life, took full advantage.
From the opening bell, Douglas was the aggressor, a role usually reserved for Mike Tyson. Douglas clearly wasn't afraid of the champion and took the fight right to Tyson. He was the first fighter since 1987 to make it to the sixth round against Tyson and he just never let up. It's not that Tyson didn't land anything as he hit Buster with plenty of big shots and even floored him in the eighth. But that didn't stop Buster Douglas from attacking.
In the ninth round, Tyson was extremely aggressive as he was trying to end the fight after the knockdown. But Douglas fought off the onslaught and closed Tyson's left eye. Tyson's corner was extremely unprepared and haven't even bothered to bring an endswell and had to settle for putting cold water in a rubber glove to try and stop the swelling.
Essentially unable to see in the 10th, Tyson was hit by a vicious combination from Douglas and hit the canvas for the first time in his career. 10 seconds later, Buster Douglas was the heavyweight champion of the world.
He nearly fought Roy Jones Jr. in the late '90s
Buster Douglas' reign as heavyweight champion didn't last long. He lost to Holyfield in his first title defense in October 1990 and subsequently retired. He spent nearly six years away from the sport before returning to boxing in 1996.
In the late '90s, Roy Jones Jr. was working his way up multiple weight classes and was contemplating a move to the heavyweight division. He'd won the WBC light heavyweight crown in November 1996 and was seen by many as the best pound-for-pound fighter in the world.
In April 1998, Jones knocked out Virgil Hill and dreamed of a big-money heavyweight bout with Mike Tyson or Evander Holyfield. Another name that was apparently thrown around at that time was Buster Douglas. Douglas actually told DJ Vlad recently that there was a fight in place but that Roy Jones Jr. backed out.
"He [Jones] pulled out, his dad told him not to do it.

"It probably wasn't in his best interests to fight me as he was biting off too much."

Buster Douglas on a potential fight with Roy Jones Jr. in the 1990s
The fight obviously never took place and Roy Jones Jr. wouldn't make the jump to the heavyweight division until 2003 when he defeated John Ruiz to become WBA heavyweight champion. However, Jones never defended the title and returned to the light heavyweight division.
Buster Douglas gives his prediction on Mike Tyson vs. Roy Jones Jr.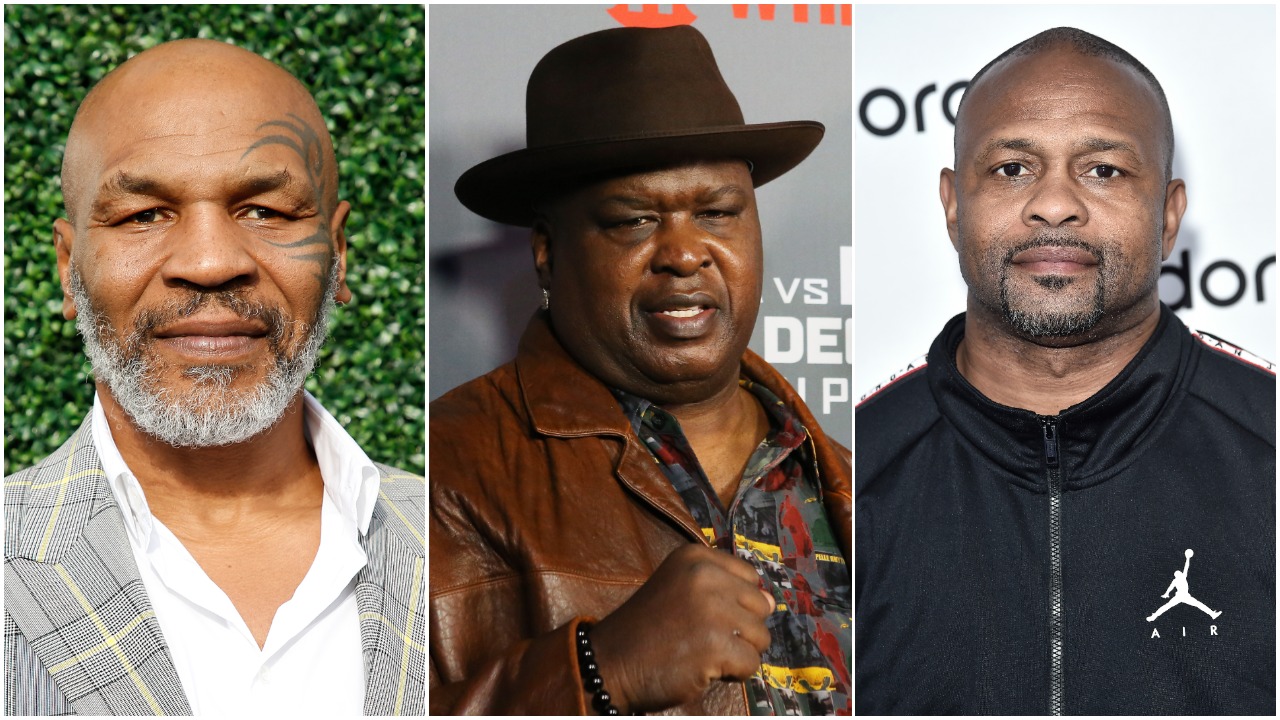 In the same interview with DJ Vlad, Buster Douglas was asked his thoughts on the upcoming Mike Tyson vs. Roy Jones Jr. fight and said that he didn't even quite understand why Jones took the fight in the first place. He then discussed how Jones was thinking about backing out of the fight and still doesn't think that it's going to actually happen. But Douglas went on to say that if it does, Jones has essentially again bitten off more than he can chew.
"I was surprised that it was even announced (at all) because I was like, wait a minute what does [Jones] see that I don't see or, you know, because you've got to actually feel like you can beat somebody to expect the fight with them.

"That was really confusing because I know what he and I went through but then he turns around and he's going to fight Mike, so I was like 'wow'. He must see something or know something.

"But then I see he's really doubting it now, debating or not whether he's going to do it. So I don't think it's going to happen. I think (Roy) he has a chance but it's a slim chance. Slimmer than Buster Douglas."

Buster Douglas predicts Mike Tyson vs. Roy Jones Jr.
And there it is, folks. Buster Douglas is going with Mike Tyson over Roy Jones Jr. We'll keep an eye on some other predictions as the fight draws closer.