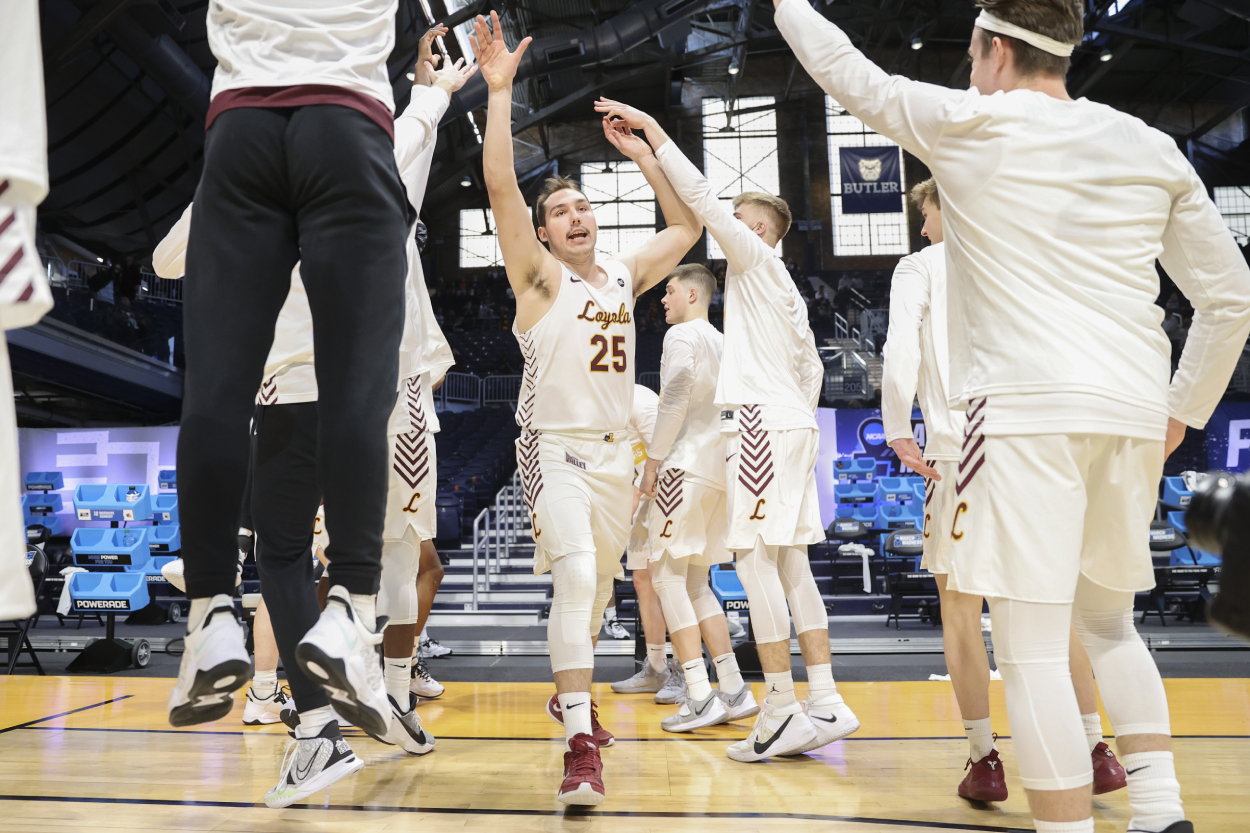 Cameron Krutwig Has Become the Sister Jean of 2021, Thanks to His Brother
Cameron Krutwig might be taking over for Sister Jean in Loyola's popularity contest this year.
The mustache certainly helps, but it Cameron Krutwig's play on the basketball court that's really making people talk. He's the star of a Loyola Chicago team that's making another impressive March Madness run. Krutwig is getting as much notoriety this year as Sister Jean did back in 2018, and he can thank his big brother for it.
Cameron Krutwig leading the way for Loyola Chicago
The Loyola Chicago Ramblers are back in a familiar spot. Three years after taking the NCAA Tournament by surprise, they are doing it again, but on a smaller scale. The Ramblers aren't sneaking up on anybody this year, but they are still America's darlings.
Senior Cameron Krutwig has been the leader of a Ramblers team that knocked off Georgia Tech in the opening round and then Loyola stunned No. 1 Illinois. Krutwig, a 6-foot-9, 255-pound center, has been shining since he was starting on Loyola's Final Four team back in 2018. In his first year at the school, he averaged 10.5 points and 6.1 rebounds and was named the conference's top freshman.
He's back in 2021 and has been the leader on and off the court. He's putting up 15 points and 6.9 rebounds per game. He's changed his game to become more of a scorer. "This year I've got more of the mentality to go score," he said to The Chicago Tribune. "One thing Coach talked to me about is being more aggressive. I like to pass. It's good, but sometimes down the stretch, it's not always about passing."
Sister Jean became an overnight sensation in 2018
With every win, the Loyola Chicago Ramblers collected in the NCAA tourney in 2018, a legend grew. Sister Jean Dolores Schmidt, a then-98-year-old nun, became a star. Sister Jean is the chaplain for the men's basketball team at Loyola and is also its biggest fan.
She was always shown hugging the players before the game and giving them pep talks. She was in the spotlight throughout the tournament and with each win, her popularity soared. By the time Loyola reached the Final Four, there were t-shirts and bobbleheads of Sister Jean all over the place.
If you didn't know Sister Jean before the 2018 NCAA tourney, you certainly did by the time it was over. Sister Jean, at 101 years old, has returned to the tournament and has battled through a pandemic to get a chance to get an up-close look at her Ramblers. The legend continues.
Cameron Krutwig has become the Sister Jean of 2021
Sister Jean stole the spotlight in 2018, but Loyola center Cameron Krutwig has it in 2021. He can thank his big brother for that. Although it's Krutwig's play on the court, along with his personality and, of course, his mustache, that gets him noticed, it was his older brother, Conrad Krutwig, who helped get him to where he is.
Conrad Krutwig is eight years older than Cameron. Conrade, too, was a very good basketball player. He played at South Dakota and never took it easy on his younger brother. "I spanked his you-know-what every chance I could get," Conrad told The Chicago Tribune. "Even when I was a senior in high school and he's 10 in fourth grade, there was no mercy. Video games, driveway basketball, getting shots in the gym, racing to the car, it was 24-7 competitive, and he wanted to beat me so bad at everything."
That drive and all that losing has paid off for Cameron. "I took a lot of losses in those early days," he said. 'Playing one-on-one at 8 or 9 and he was 16, and he just whooped my a**," Cameron said. "(I was) storming off the court crying and stuff like that."