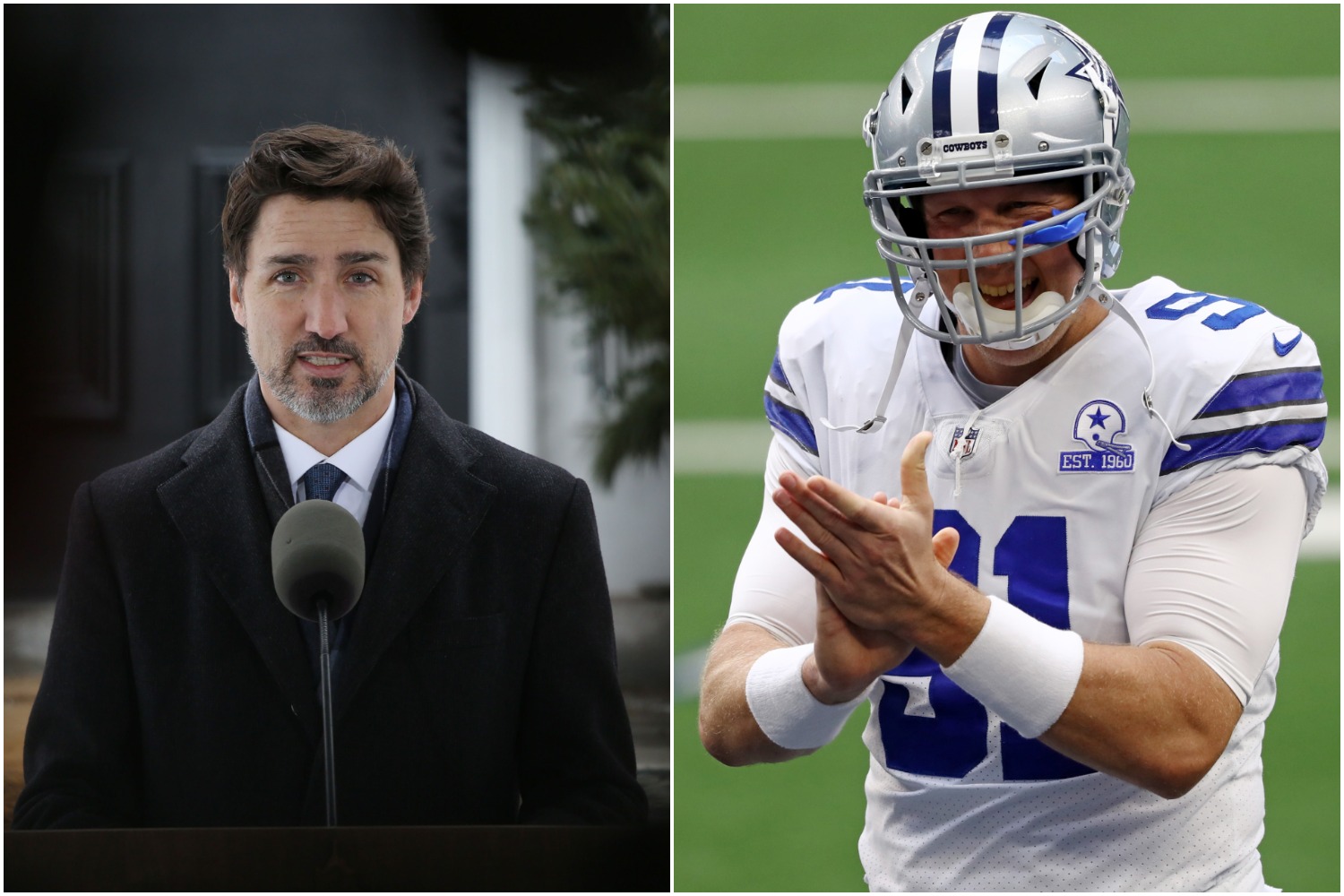 Cowboys Long Snapper L.P. Ladouceur Receives Powerful Message From Canadian Prime Minister Justin Trudeau
Prime Minister of Canada Justin Trudeau gave a huge shoutout to Dallas Cowboys long snapper L.P. Ladouceur for a record he's about to set.
Out of all the positions on an NFL team, long snappers definitely get the least publicity. Seriously, can you even name your favorite team's long snapper without looking at an official roster?
Other than Bill Belichick, most general managers wouldn't even dream of spending a valuable draft pick on that spot. Because as L.P. Ladouceur has proven during his lengthy career with the Dallas Cowboys, all that matters is what you do once you make it to the NFL.
But while long snappers typically don't receive any recognition for their highly-specific skillset, Ladouceur apparently has a huge fan north of the border in Canadian Prime Minister Justin Trudeau.
L.P. Ladouceur has spent his entire NFL career in Dallas
A native of Montreal, L.P. Ladouceur played defensive line at John Abbott College before taking his talents to the University of California. He excelled as the team's long snapper and set himself up for a chance to earn a living for that specialized skill.
In 2004, the Ottawa Renegades selected Ladouceur with the 29th pick in the fourth round of the CFL draft. However, the Canadian-born special-teamer elected to remain in school rather than play in his country's pro football league.
In 2005, Ladouceur signed as an undrafted free agent with the New Orleans Saints. However, he got waived in late August and never played a down for the NFC South franchise.
Meanwhile, the Cowboys entered the season with a rookie long snapper who quickly became a problem. Dallas replaced Jon Condo with Ladouceur and never looked back.
Since he entered the NFL, he has never played for another team. Though he plays a position that doesn't provide opportunities for highlight-reel plays, Ladouceur has provided stability at the long-snapper spot for the Cowboys for well over a decade.
The Cowboys long snapper has a big fan in Canadian Prime Minister Justin Trudeau
L.P. Ladouceur has made just one Pro Bowl in his lengthy career with the Cowboys. And when he retires, the Dallas organization won't exactly be losing a particularly impactful player. Still, his longevity deserves recognition.
Luckily for Ladouceur, he has a huge fan who works in high places.
On Friday, ESPN's Adam Schefter shared a message that Canadian Prime Minister Justin Trudeau sent to the Cowboys long snapper. Needless to say, the most powerful man in Canada didn't hold back in his praise for Ladouceur, who is on the verge of setting a significant record.
"It is with great pleasure that I join the Dallas Cowboys and the National Football League (NFL) in extending my congratulations to Mr. Louis-Philippe Ladouceur on becoming the Canadian player who has played the most games in the NFL," Trudeau wrote.
He described the long snapper's career as "inspiring and remarkable" while crediting Ladouceur's perseverance and determination on and off the field. Trudeau also highlighted the NFL veteran's charity work as a part of his legacy.
"As he reaches this incredible milestone of 251 games played in his illustrious career, Canadians are immensely proud of the brilliance and skill that he has displayed over the year," he wrote. "On behalf of Canadians and fans around the world, I am pleased to congratulate Mr. Ladouceur on this well-deserved recognition."
Two current Canadian-born NFL players have also surpassed the 100-game mark
When L.P. Ladouceur suits up on Sunday, he will officially set the record for the most NFL games played by a Canadian-born player. That accomplishment deserves plenty of praise, as evidenced by Justin Trudeau's powerful statement.
The longtime Cowboys special-teamer certainly sets the bar high at 251 games. But there are also several current Canadian-born NFL players who have put together impressive careers of their own.
Ironically, one of them has also only ever played for the Cowboys.
Tyrone Crawford, who hails from Windsor, arrived in Dallas as the 81st overall pick of the 2012 NFL draft. The 31-year-old has recorded 25 sacks in 109 games (78 starts) as a member of America's Team. That puts him in second place behind his elder teammate.
The only other current Canadian-born NFL player to surpass the 100-game mark plays on the other side of the ball. Luke Willson, also born in Windsor, entered the league as a fifth-round pick by the Seattle Seahawks in 2013.
The 6-foot-5, 255-pound tight end has racked up 111 catches for 1,307 yards, and 11 touchdowns in 102 career games (52 starts). He turns 31 in January and got waived by the Baltimore Ravens on Saturday.
All statistics courtesy of Pro Football Reference.