Chad Johnson Leaves an AFC Championship Game Tip With His $2K Restaurant Tip
Chad Johnson (aka Chad Ochocinco) made plenty of money as a member of the Cincinnati Bengals when he was one of the best wide receivers in the game. These days, Johnson has been known for his generosity.
On Saturday, Johnson had lunch at an Atlanta restaurant, and not only was he generous again with his tip, but he had a tip within the tip.
Chad Johnson was one of the best receivers in the game during his 10 years with the Bengals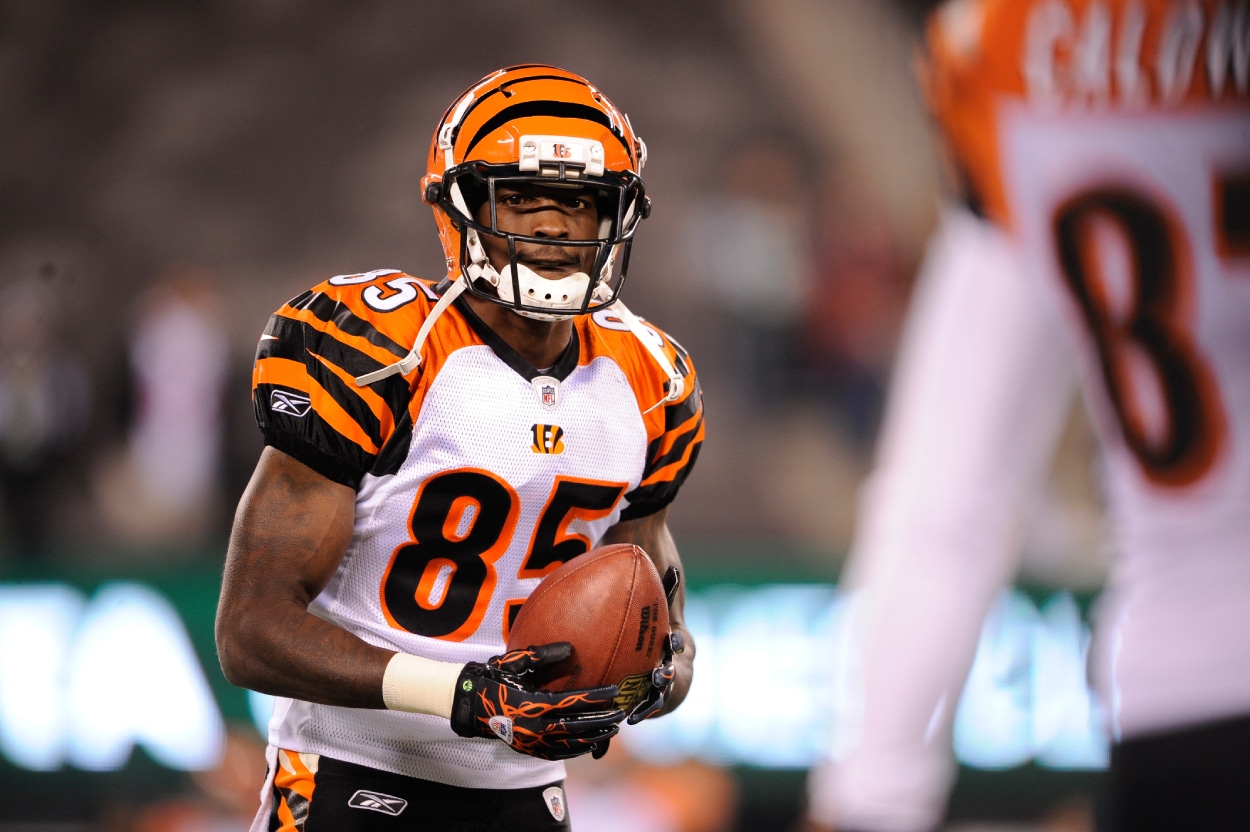 The Bengals selected Johnson in the second round of the 2001 NFL Draft. After playing his college ball at Oregon State, Johnson made three starts in his rookie season, catching 28 passes for 329 yards and a touchdown.
Johnson became a focal point in the passing game in his second season as he had the first of six straight 1,000-yard seasons. He started 14 of the 16 games he played and had 69 catches for 1,166 yards and five touchdowns. The following season, he made the first of his five straight Pro Bowls when he caught a career-high 10 touchdown passes and had 90 catches for 1,355 yards.
In 2005, he had his first All-Pro season when he had career-highs in catches (97) and yards (1,432). He also had nine touchdowns. Johnson followed that up with another All-Pro season in '06, leading the NFL in receiving with 1,369 yards.
Johnson finished with 10,783 yards in 10 seasons with the Bengals. He finished his career with one season with the New England Patriots. He caught 15 passes for 276 yards and a touchdown.
Johnson gives an AFC title tip with his generous tip
Johnson is very active on social media and quite engaging with his fans. On Friday, he tweeted he was in Atlanta and asked which of his followers would like to make $1,000 by picking him up at the airport.
He visited TOAST on Lenox, a restaurant in Atlanta, and posted that the folks were accommodating despite him not having any reservations. He took this into consideration when leaving the tip for his server.
Johnson posted a copy of his receipt that totaled $350.81 after taxes and an already-included gratuity of $50.49. He then added a generous $2,000 tip on top of that.
Included in the tip was another tip. He left a little note about his prediction for Sunday's AFC Championship Game between the Bengals and the top-seeded Kansas City Chiefs.
"The Bengals are winning tomorrow by 12," he wrote on the receipt.