Chargers Safety Kevin Ellison's Football Career Came to an Early End Because of a 'Marijuana Blunt' and 'the Advice of God'
During the 2000s, the San Diego Chargers had plenty of unforgettable talents on their roster. During the 2009 campaign, however, a safety by the name of Kevin Ellison suited up for the squad. He didn't last long as an NFL player, though, and quickly found himself out of the league.
Ellison tried to keep his career going in the Arena Football League, but things didn't go according to plan there, either. His time on the gridiron came to an early end in bizarre circumstances, thanks to a "marijuana blunt" and a supposed message from God. After that, his life took another tragic turn.
Kevin Ellison had a brief NFL career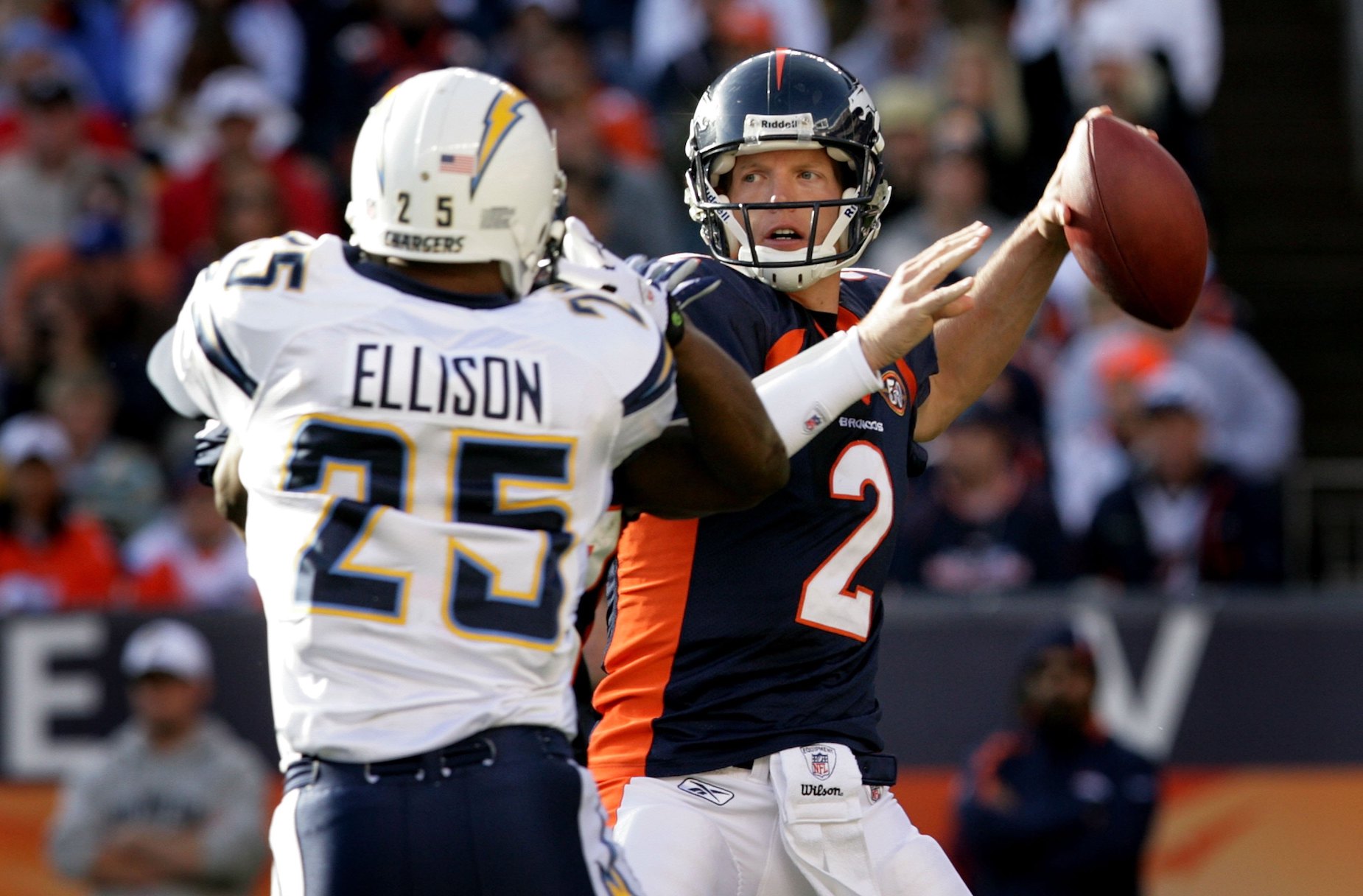 For most football fans, even those who specifically follow the Chargers, Kevin Ellison's name probably doesn't ring too many bells. The defensive back, however, did suit up for some big-name squads during his time on the gridiron.
After an impressive high school career, Ellison headed to USC and suited up for the Trojans. While he didn't see much action as a freshman, he grew into the role; the safety spent four seasons with the program, recording 170 total tackles and five interceptions, before entering into the 2009 NFL draft.
Ellison joined the Chargers as a sixth-round pick but saw limited action with the club. He appeared in 13 games as a rookie, starting nine, and recorded 52 combined tackles. That would be the beginning and end of his NFL career, though.
The Chargers waived Ellison in the offseason and, despite some interest from the Seattle Seahawks, he failed to secure a job.
A football comeback cut short by a 'marijuana blunt'
After spending some time away from football, Kevin Ellison attempted to return to the gridiron with the Arena Football League's Spokane Shock. That comeback, however, was cut short in bizarre circumstances.
As documented by a 2012 story in the Spokesman-Review, Ellison escaped from a fire in his apartment by leaping out the window. He "initially told firefighters that he'd been smoking in bed, but evidence collected at the scene didn't match that explanation."
Eventually, though, additional details emerged and painted a different picture.
While he was in the hospital, Ellison told Spokane Valley Deputy Fire Marshal Clifton Mehaffey that "God had told him to set the bed on fire." According to the Spokesman-Review, court documents also showed that a "federal agent with the Bureau of Alcohol, Tobacco, Firearms, and Explosives [later] contacted Shock general manager Ryan Rigmaiden, who said Ellison told him he started the fire with a marijuana blunt at the advice of God."
While he had impressed during his time with the Shock, the incident understandably ended Ellison's football career.
"He's off the team," Shock owner Brady Nelson explained in a 4 News Now segment. "I mean, he'll never…For one, we would cut anyone who did that. It's just, you can't do that. It's a federal crime."
Kevin Ellison's tragic tale didn't end there, though.
Kevin Ellison tragically died in 2018
Although Kevin Ellison was arrested on federal arson charges, the case was later dismissed after the defensive back paid restitution. Unfortunately, his tragic story didn't end there.
In 2018, Ellison died at age 31. "His brother, Chris Ellison, told the Los Angeles Times that Kevin Ellison had been walking along the 5 Freeway in the San Fernando Valley and that he had been dealing with mental health issues in recent years," an ESPN report explained.
"He was disoriented and didn't know where he was at," Chris said. "I'm sure he was trying to come home and find his family. We love him so much."
After his death, another LA Times story also noted that Ellison had been "diagnosed with bipolar disorder and schizophrenia." Researchers at Boston University also examined the former NFL player's brain. They determined that he had Stage II Chronic Traumatic Encephalopathy (CTE).
"There's an allure to football, people love watching it, people think these guys are demigods, and they make a lot of money," Judy Reisner, Ellison's mother, told the Times. "But they need to be aware of what could happen to them."
Stats courtesy of Sports-Reference and Pro-Football-Reference