Charles Barkley Explains Why LeBron James Is Simply Different Than Michael Jordan and Kobe Bryant
In the world of sports, nothing gets everyone going like a good debate. Within NBA circles, one of the easiest ways to get a conversation started is to ask about the Association's GOAT. Many will default to Michael Jordan. Others will add more modern names like LeBron James or Kobe Bryant into the mix. And while Charles Barkley wasn't directly asked about all-time greatness, he still shared a comparison between those three stars.
As any basketball fan can tell you, Sir Charles is never shy about sharing his opinion on any topic. During an appearance on All the Smoke, that meant explaining his view on the difference between King James, MJ, and Kobe.
Charles Barkley believes that LeBron James is simply nicer than Jordan and Kobe ever were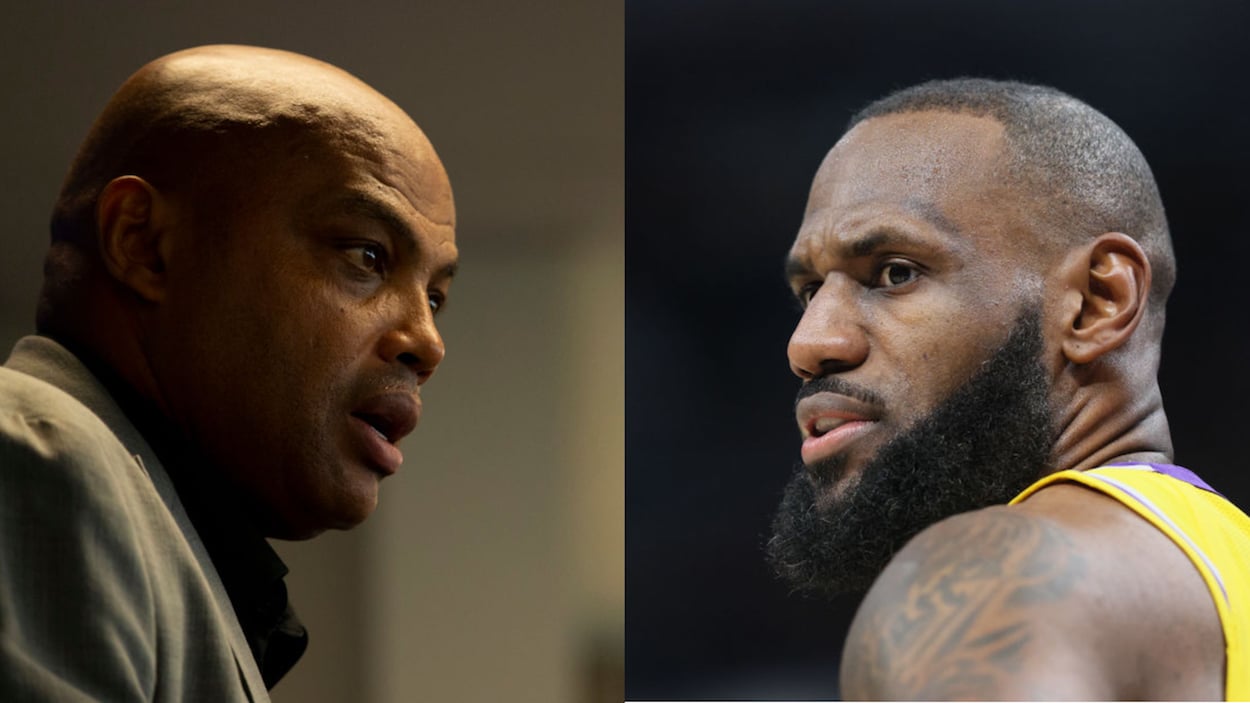 When a former NBA player does the media rounds, they'll usually be asked to share their all-time ranking of professional talent. Although Matt Barnes and Stephen Jackson only asked Charles Barkley for his top-five list, Chuck took things even further and named 15 players.
In that ranking, Michael Jordan took the top spot. Kobe Bryant sat at number six, and LeBron James, at least as of early 2023, was seventh. While that could ruffle some feathers, especially among those in King James' court, Sir Charles had a supporting statement ready to go.
"It's so funny," Barkley explained. "I had an argument with a dude. He's the biggest LeBron fan in the world. And I says, 'Yo, man, I didn't put Steve Nash ahead of LeBron.' No disrespect. I put Kobe Bryant. I says, 'And I love LeBron.' I said, 'But the difference, in my opinion … Michael and Kobe will kill you. Like, LeBron's a nice guy.'"
While that anecdotally makes sense — think of the legends about MJ's trash talk and Kobe's Mamba Mentality, and compare that to the relative lack of similar stories about James — Chuck wasn't done there.
"I says, 'Ain't nobody ever said Kobe and Michael were nice guys,' Barkley continued. "I said, 'Those words ain't never been spoken.' Nobody ever said, 'Man, that Michael Jordan's a nice guy.' I'm like, 'They did? Who said that?' The same thing with Kobe. And there's nothing wrong with that. But LeBron, he's just a nice man. And I got him seven. Yeah."
With that being said, though, Sir Charles did speak rather highly of LeBron elsewhere in the same interview
Upon first listen, it's come away from Barkley's explanation of James, Jordan, and Bryant feeling unsatisfied. What does individual personality have to do with someone's place in basketball history? Lest you think that Chuck was just hating on LeBron, though, we can go elsewhere in the interview to find plenty of praise for the current Lakers star.
While discussing his dislike of Skip Bayless, Barkley noted how it was impossible to only have negative sentiments about King James.
"You can't say bad stuff about LeBron James," Chuck explained. "It's impossible [that everything you say is negative]. It's impossible. And I've said this before. I think LeBron James is the greatest sports story of all time. You know, you look at Kobe, Kevin Garnett, Tracy McGrady, I think those probably three of the greatest straight [from] high school to the pros players. Dwight [Howard], he's great. But they all struggled in the beginning. … That's why I said, for [James] to come into the NBA at 18 years old, he was really good. We had his first game, I think, on TNT. … He played really good."
Beyond that seamless transition, Barkley is also impressed by the King James who exists beyond the basketball court.
"But, in this generation with social media, he's never gotten in trouble," Sir Charles noted. "He's lived up to all the hype. … I think it's probably the greatest story in sports history. Like, to be, number one, be as good from 18 and never really get in trouble in this society where people [are] out to get you. … I think it's probably the greatest story of all time. I mean, it's just amazing, what he's accomplished, what he did, and never gotten in trouble."
Again, you could cynically argue that's a convenient way to avoid actually comparing LeBron's on-court exploits to Jordan and Kobe. At the same time, though, Barkley is onto something.
Sports, at the end of the day, are fundamentally from narratives. No matter which star you're thinking of, their greatness is a story. Michael Jordan lifted the Chicago Bulls to six championships and didn't take any prisoners along the way. Kobe Bryant appeared on the scene as a lanky high-schooler hoping to follow in Jordan's footsteps and became the hero of an entire generation. LeBron was dubbed the chosen one and, while he made a few bad choices along the way, has largely lived up to the hype.
Can you cite stats and figures along the way? Of course, but the narrative does matter.
To take it back to Chuck's initial rankings, it's fine if you want to argue that LeBron James should be higher and that his personality is irrelevant. Barkley, however, does seem to hold him in high regard.