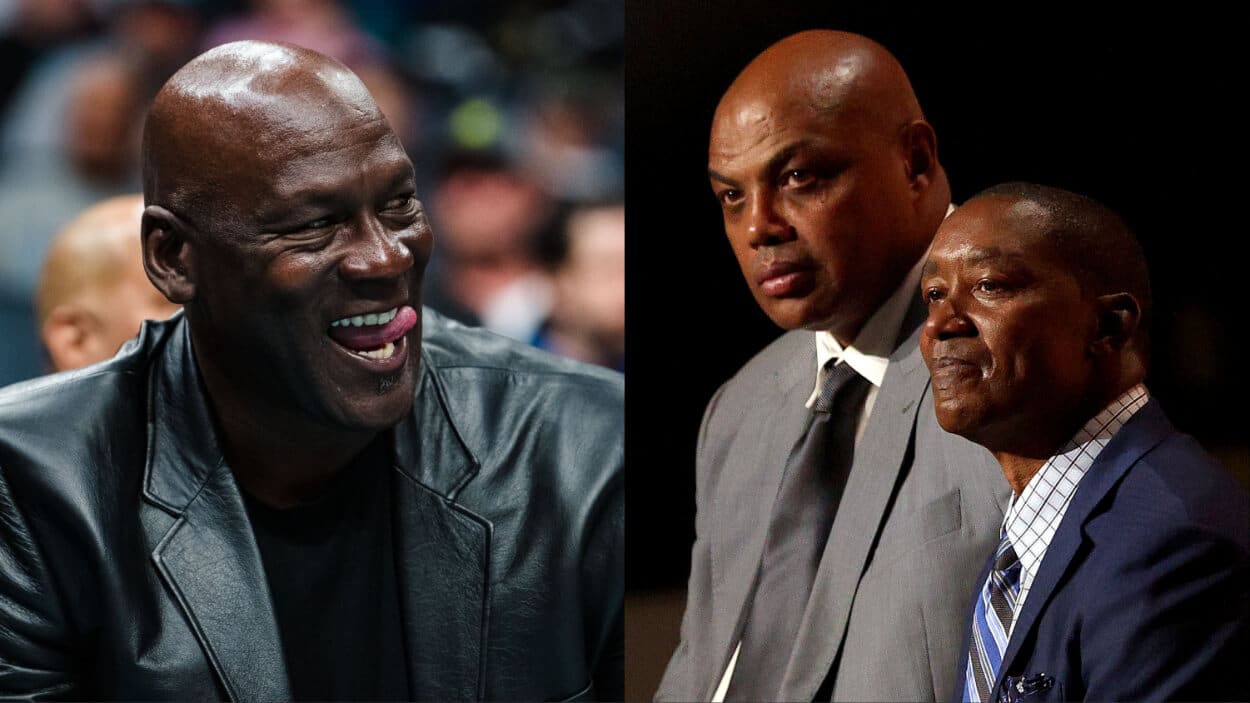 Charles Barkley Threw Michael Jordan Under the Bus When It Came to Isiah Thomas On the Dream Team
Michael Jordan may or may not have kept Isiah Thomas off of the 1992 Dream Team, but Charles Barkley says don't look at him.
The story of the 1992 U.S. Men's Basketball Olympic Dream Team is the story of 11 NBA players, one college kid, and one player the team left at home. The player who infamously didn't make the trip to Barcelona was Detroit Pistons point guard Isiah Thomas, and most believe that Chicago Bulls superstar Michael Jordan is the reason why. That includes Charles Barkley.
Jordan and Thomas were once friends, but the years of rivalry in the Eastern Conference of the NBA soured that. And while there are various stories and opinions as to who was most responsible for leaving Thomas off the Dream Team, Barkley made it clear that it was Jordan's call. And the "Round Mound of Rebound" wants everyone to know that he had nothing to do with it.
Isiah Thomas was the most notable Dream Team omission
To make a long story short, the 1992 Dream Team was the greatest collection of basketball talent ever assembled on one squad. And while it mostly featured the best NBA players in the world at the time, there was one notable exception in Isiah Thomas.
The Piston point guard had led his team to back-to-back NBA championships in 1989 and 1990, and, even at 31 in the summer of '92, he was still a perennial All-Star. However, Thomas didn't make the Dream Team, even though his Pistons coach Chuck Daly was the head coach of the Olympic squad.
Michael Jordan and Thomas famously didn't get along at that point after hard-fought series between the Pistons and Bulls. And when Chicago finally dethroned Detroit, Thomas didn't stick around to shake hands at the end of the series.
With all that at play, the common narrative is that Jordan put his foot down and wouldn't allow Thomas on the team, despite the GOAT's tepid denials over the years. In recent years, Jordan has taken a little more responsibility for the decision but still refuses to take all the blame.
Charles Barkley says it was Michael Jordan who kept Thomas off the Dream Team
These days, Michael Jordan seems to admit that he did play a role in the Isiah Thomas Dream Team snub. Audio of Jordan on tape with legendary sports writer Jack McCallum captures him saying as much, and "His Airness" admitted he played a role in the most recent Dream Team documentary.
However, he also suggests other members of the team didn't want the polarizing point guard there either.
In the past, rumors of Scottie Pippen, Magic Johnson, and even Chuck Daly not wanting Thomas around have bubbled up.
One Dream Team member wants to make it clear that he had nothing to do with it, though, and Charles Barkley is happy to throw MJ under the bus to make his point.
"I want to go on the record saying this — and I've said it a hundred times — and it clearly finally came out that Michael did say he didn't want [Thomas] on the team," Barkley told Jackie MacMullan on her Icons Club podcast.
"I was never asked that question. Isiah probably should have been on that team," Barkley admitted. "But that always drove me crazy because I've said it 1,975 times. They never mentioned Isiah Thomas to me. It was never like, 'Will you play if Isiah's on the team?' That never happened."
It's not shocking that Barkley would throw Jordan under the bus like that these days, as the two no longer speak after a public falling out.
Where does Thomas rank on the list of best NBA PGs of all time?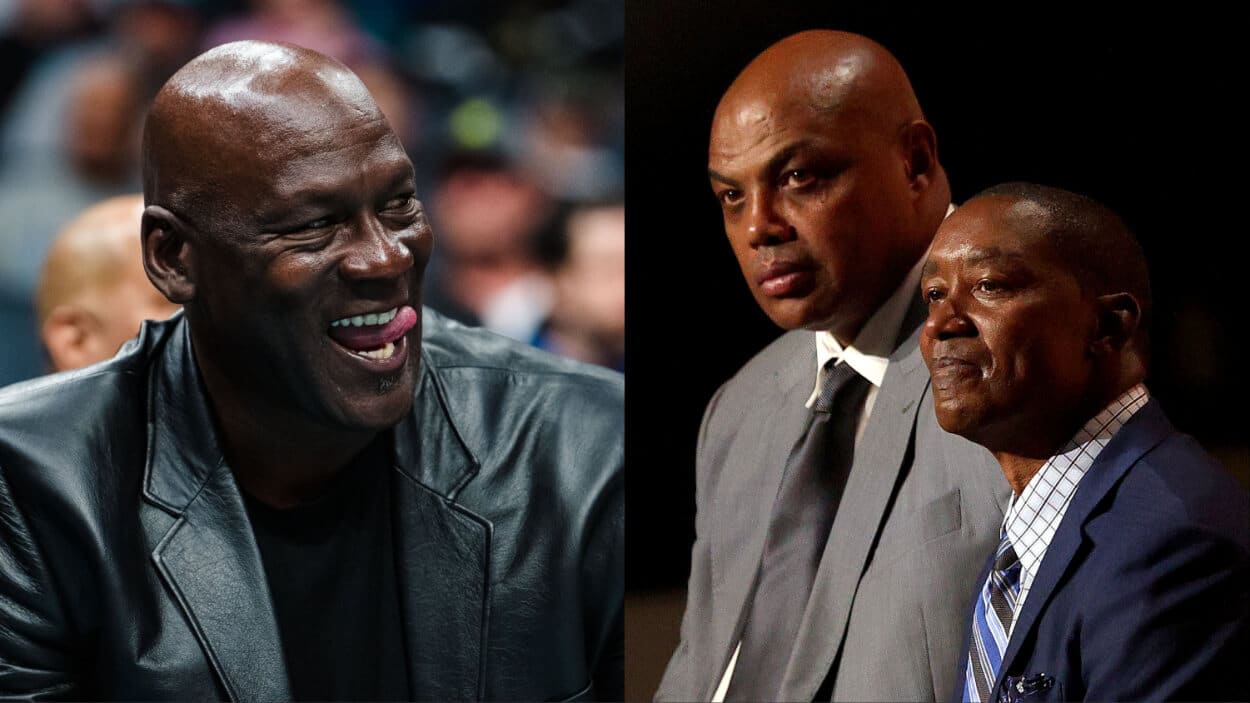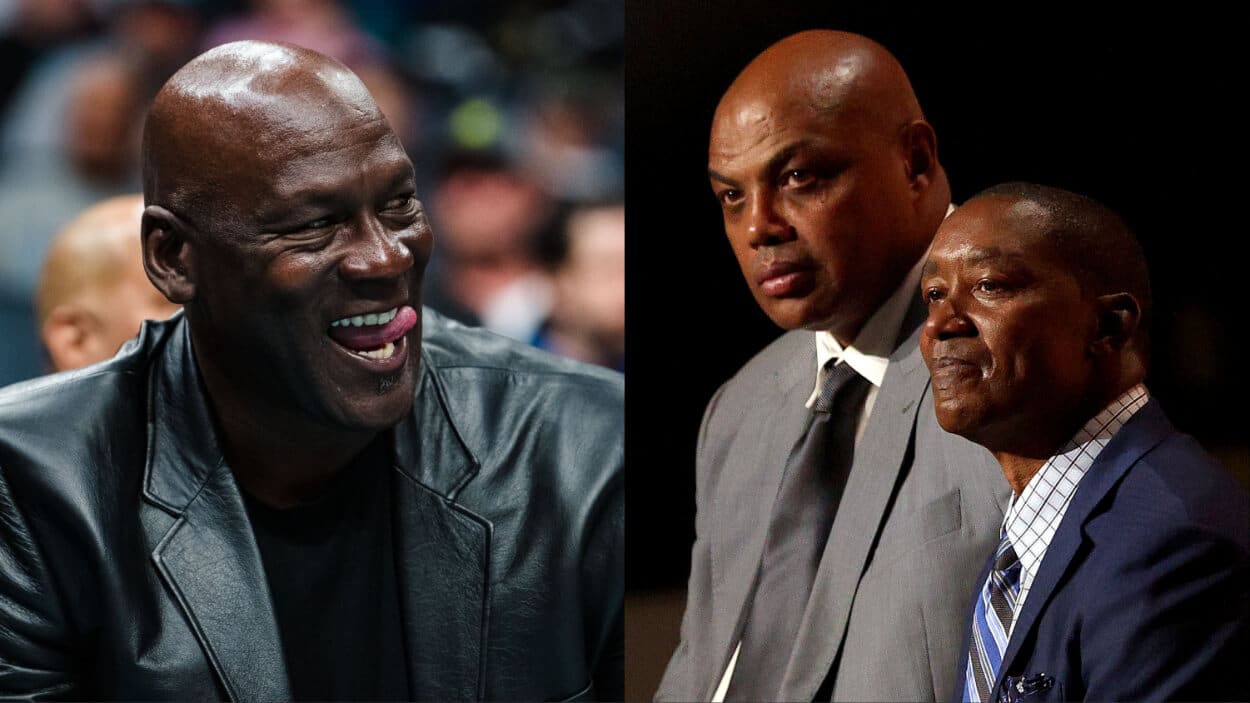 Isiah Thomas was a 12-time All-Star, six-time first-team All-NBA team member, and two-time NBA champion. He won the 1984-85 assists title and the 1988-89 NBA Finals MVP.
But where does he rank among the best point guards of all time?
Thomas is now 10th on the all-time NBA assists list (9,061) and 68th in points (18,822). But that doesn't tell the whole story, as his toughness, leadership, and relentless defense also made him the player he was in the 1980s and '90s.
Thomas is on the NBA's 75th Anniversary Team as one of the 75 (or, really 76) best players of all time. When ESPN ranked the list, Thomas ended up at No. 27 overall and as the No. 6 PG behind John Stockton (No. 24), Jerry West (No. 19), Stephen Curry (No. 16), Oscar Robertson (No. 9), and Magic Johnson (No. 4).
Right behind him on that list are Chris Paul (No. 29), Allen Iverson (No. 31), Bob Cousy (No. 35), and Steve Nash (No. 37).
That ranking seems about right. From a talent perspective, Paul, Iverson, Nash, and even Jason Kidd and Gary Payton were better. However, other than Kidd and Payton later in their careers, none of those players have titles.
As for Cousy, he was from a much different generation facing weaker competition.
The verdict here is that Isiah Thomas is the sixth-best PG of all time, but if you want to put him seven or eight based on your personal preference, that's OK, too.