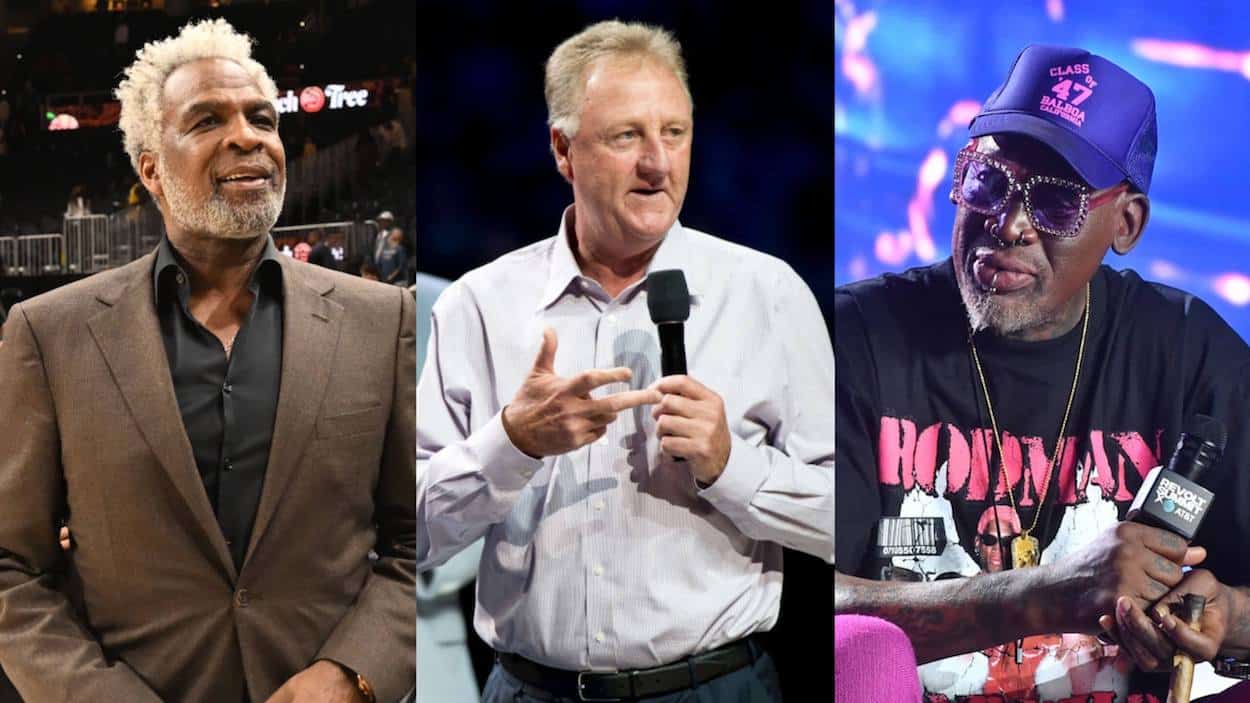 Charles Oakley Throws Some Serious Shade at Dennis Rodman While Coming to Larry Bird's Defense
When it comes to Charles Oakley and Dennis Rodman, you know that neither man will be shy about speaking their mind.
During his time on the NBA hardwood, Charles Oakley earned a reputation as a tough customer. No matter which franchise he was playing for at the time, the Oak Tree wasn't someone to mess with. That reality, it seems, still holds true in retirement.
As you've probably heard, Dennis Rodman took a shot at Larry Bird, suggesting that the famous Celtics forward wouldn't have been able to cut it in the modern NBA. During an appearance on SiriusXM, Oakley was asked about those comments.
And, unsurprisingly, he didn't hold back. Not only did the Virginia Union product pay plenty of respect to Larry Legend, but he also threw some serious shade in Rodman's direction.
Let's check it out.
Charles Oakley has now weighed into the Dennis Rodman-Larry Bird storyline
While the idea of a Charles Oakley and Dennis Rodman feud might sound like an NBA storyline from the late 1980s, things are a bit different these days. The two men have aged since their respective heydays and now talk about basketball rather than hitting the hardwood. That reality, however, has still set the stage for a bit of conflict.
As mentioned above, Rodman recently made headlines with some critical comments about Larry Bird. During their playing careers, the Worm infamously said that Larry Legend was overrated and receiving extra credit because of the color of his skin; an apology was eventually issued, but agent Billy Diamond had to twist Rodman's arm. Time, it seems, has not really healed that wound.
During a VladTV interview, the Demolition Man still didn't sound sold on Bird's talent. He said the Boston Celtics great wouldn't cut it in today's NBA. Instead, he'd be plying his trade in Europe.
As you'd expect, that comment created quite a stir. And, during his own media appearance, Charles Oakley was asked what he thought about Rodman's take.
"Well, I don't know too much good stuff to say about Dennis besides [that] he works hard every night on the court," Oakley told Frank Isola and Brian Scalabrine. "But for us, you know, as far as being a guy you could just talk about and this and that, he's been on a rampage. I don't know, he trying to reinvent himself or do this and that. If you all trying to reinvent yourself, you shouldn't be wearing hats, earrings, shades, and all this and trying to hide up under what you're trying to do. But talk about a legend like Bird, he must have been out for the past 72 hours drinking or something."
While that was already quite the mouthful, Oak Tree wasn't done yet. Now that he had addressed Rodman, it was time to assess Larry Bird.
Larry Bird was a legend. Top-10 great player of all time. You know, the guy won championships. He always carried the team. He always, you know, was just a stand-up guy. One good story I can tell about Larry Bird [is that] every time I went to Boston, we went to shoot-around, they went to shoot-around. When I come back at 4:30, 5 o'clock, he's in there shooting around again. He put the work in, and for someone to discredit his talent and what he be. I mean, Dennis got opinions, but I wouldn't be listening to Dennis if I want to listen to someone about real talent. But I think he's shooting Larry Bird down; I think he shouldn't do that. Top-10 player. You can never do that. Maybe someone in the top 30, 40, but not top 10.

Charles Oakley
There you have it, straight from the man himself. Oakley might not be banging bodies in the paint anymore, but he's still more than capable of following through with devastating force.
Will we hear any more of this saga? At the risk of tempting fate, there's probably not too much more that can be said about Rodman's Larry Bird take.
At the same time, though, this is Dennis Rodman and Charles Oakley we're talking about. Even if the specific topic of conversation changes, it's safe to assume they'll manage to make headlines again.