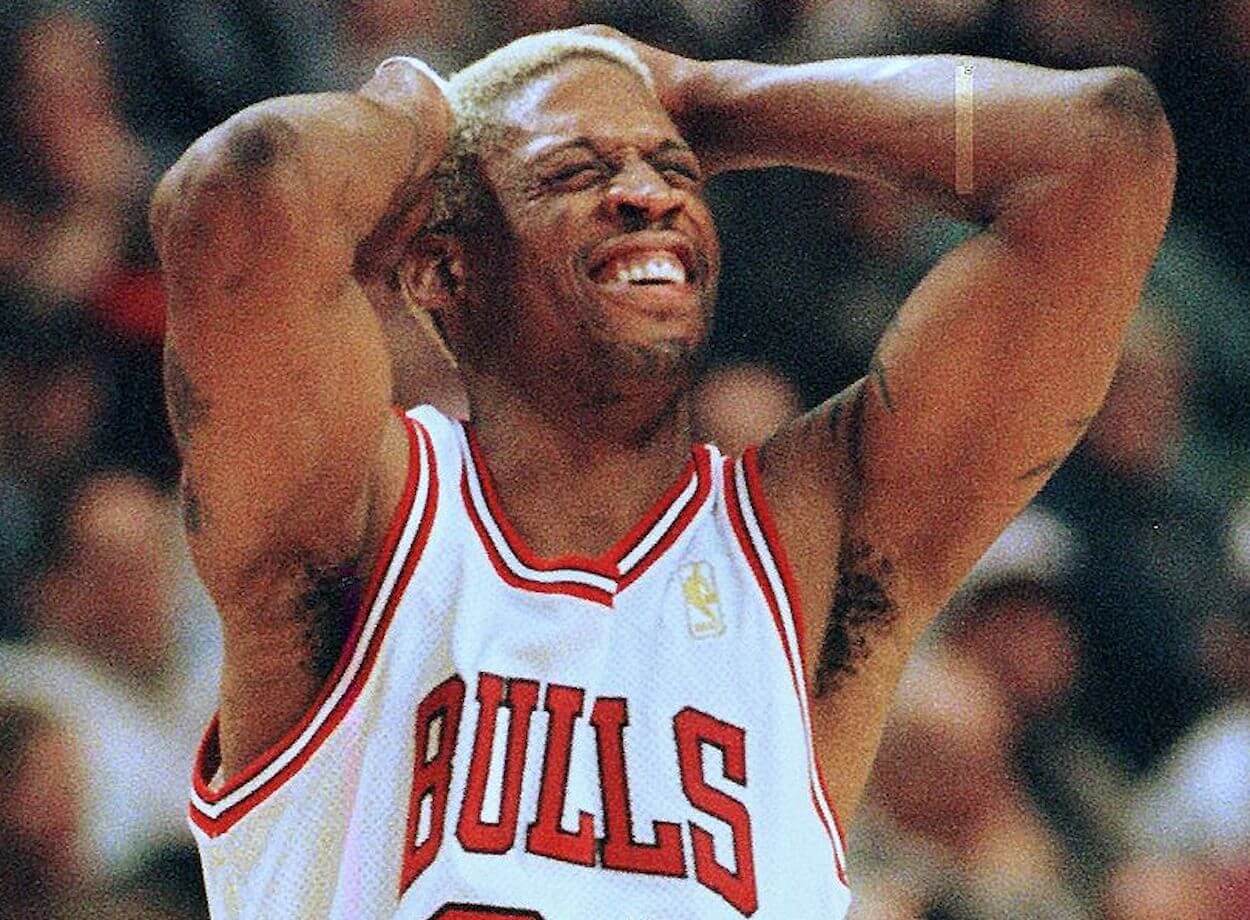 Dennis Rodman Shut the Door And Said He Wasn't Home When Opportunity Literally Knocked
Dennis Rodman always did things his own way, and one of those unique choices almost ended his career before it truly began.
While there have been plenty of memorable NBA players over the years, it's tough to top Dennis Rodman. Beyond his on-court talent — the Worm was a legitimate rebounding expert — the famous forward certainly knew how to make a headline. From his frequently changing hairstyles to his unwillingness to be anything other than himself, it's tough to imagine the Association without Rodman's presence.
At one point in time, though, that looked like a real possibility.
Have you ever heard the cliche stating that opportunity doesn't knock twice? Well, in the forward's case, it literally did. And that second attempt changed the course of basketball history.
Sound unbelievable? Let's check out how Dennis Rodman almost blew his chances of becoming a professional athlete.
Rodman took an unusual road to the NBA, and he almost closed the door on his chances before things really began
For the most part, NBA players follow a standard path to the Association. They make a name for themselves in high school, attend a big-name college, and then enter the pros. Dennis Rodman, however, did things differently.
Growing up, the Worm wasn't much of an athlete; he was cut from the football team, and while he made the basketball team, he was short and rarely saw playing time. Eventually, though, he underwent a growth spurt and, after a stint working in an airport, found himself playing for a local junior college.
That didn't last long, though. The forward struggled academically and left campus after a single semester.
Then everything changed.
During a VladTV interview, Rodman emotionally remembered his time being homeless before a member of the coaching staff at Southeastern Oklahoma State University noticed him and brought him to campus. The future five-time NBA champ, however, almost turned down the offer without hearing what it entailed.
"I think that was one of those breakthrough moments you have in your life, right," the forward explained. "That's what happened. These two guys came and knocked on the door, and, like, they asked, 'Hey, is Dennis Rodman here?' I said, 'No, here's not here.' I'm standing right there, right? And I actually shut the door."
While that may seem like tempting fate in hindsight, Rodman thankfully got a second chance.
"But they knocked again," he added. "I said, 'Yeah, that's who I am,' and stuff like that. I thought I was going to prison. … But there's two coaches from Southeastern Oklahoma. They came, wanted me to go try out for the team."
That decision to knock again — and Rodman's choice to answer the door for a second time — made all the difference.
Had Dennis Rodman refused to open the door, basketball history would look rather different
Over the course of each basketball season, there are plenty of "butterfly effect" moments that set the course of history down a different path. While many of those can be subtle, Dennis Rodman returning to the door is a rather major — not to mention obvious — pivot point.
At the most basic level, a refusal to return to the door would have probably meant the forward ruined his chances of attending Southeastern Oklahoma and playing basketball. Without that experience, it's unlikely he would have ever ended up on any NBA team's radar; it did, after all, take three years of NAIA success and a strong Portsmouth Invitational performance to catch the Piston's attention.
If Rodman doesn't make it to the Association, we can then start pulling on the connecting threads. Without the Worm, perhaps the Pistons face a tougher postseason road; the forward earned his first All-Defensive Team nod during the 1989-90 season and filled Rick Mahorn's shoes, claiming Defensive Player of the Year honors en route to the second ring. Even if you want to argue they would have made it to the promised land anyway — Rodman, for example, was injured during the 1990 NBA Finals — the road to the title would have been tougher.
The same can be said of Rodman's time in Chicago. Would Michael Jordan and Scottie Pippen still have found success without him? Of course, but life would still have been tougher without the third member of their famous trip. While it's easy to focus on his eccentricities, the Southeastern Oklahoma product was the perfect candidate to handle the rebounding and defensive dirty work, allowing his more famous teammates to strut their stuff.
Could the Bulls have won without him? Of course, but it would have required a replacement on the roster or an acceptance that Jordan and Pippen would exert some additional effort when the team wasn't on offense.
And, on a macro level, the NBA would simply have been more boring without Rodman's presence. While he wasn't everybody's cup of tea, it's undeniable that he brought a unique perspective to the Association; that perspective, for better or worse, is irreplaceable.
Thankfully for everyone involved, opportunity literally did knock twice.