Chip Kelly's Disastrous Tenure With the Philadelphia Eagles Led Michael Vick to Tears
When Chip Kelly first made the jump from college football to the NFL, he was expected to revolutionize the league with his lightning-fast offense and unique coaching style. Kelly was an instant success with the Philadelphia Eagles in 2013, but his Oregon magic stopped quacking almost immediately after it began.
By 2015, the same year Kelly took over as the main personnel decision-maker for the Eagles, he had single-handedly decimated the roster, completely lost the locker room, and made an enemy out of an entire fan base. Kelly retreated back to the NCAA in 2017 after a short and calamitous NFL tenure.
During his time in Philadelphia, Kelly was such a poor leader that he actually made Michael Vick cry. Michael Vick! You know, the dude who spent nearly two years in prison before Kelly took the job. Now that's an almost impossible level of incompetence.
Chip Kelly's disastrous tenure with the Philadelphia Eagles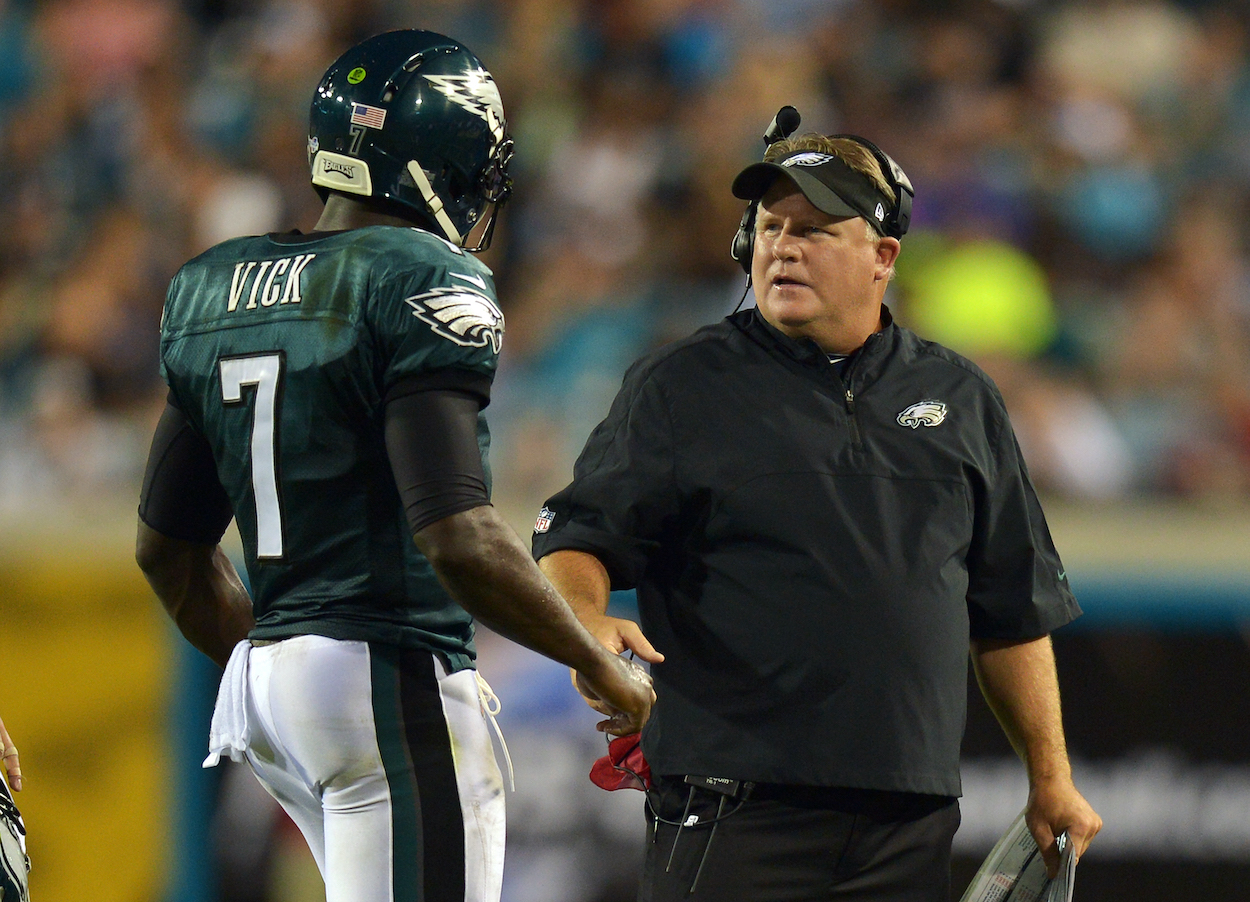 Kelly was considered the golden hire of the 2013 NFL offseason. The longtime Oregon head coach went 46-7 in four seasons with the Ducks, and he led the team to two Rose Bowl games and a BCS Championship Game appearance in 2010.
Kelly was considered an offensive mastermind and a can't-miss hire for the Eagles. He showed plenty of potential in year one, leading Philadelphia to the fourth-highest-scoring offense in the NFL and a playoff appearance behind Nick Foles, LeSean McCoy, and DeSean Jackson. The Eagles went a respectable 10-6 in year two of the Kelly regime, but the nightmare began the following season.
When Kelly took over football operations in 2015, he gutted the roster by trading Foles and McCoy and letting Jeremy Maclin walk in free agency. He replaced Foles with Sam Bradford and McCoy with DeMarco Murray to the tune of five years and $40 million.
Those moves turned out to be disastrous as Bradford was no better than Foles and Murray had by far the worst season of his pro career. After foolishly handing the keys to the kingdom over to Kelly in 2015, the Eagles went 7-9 and immediately fired the head coach following the season.
Kelly made Michael Vick cry during his time with the Eagles
Heading into Kelly's first season with the Eagles, Vick was in a heated starting quarterback competition against Foles. Vick thought he was winning the competition handily, but Kelly didn't exactly agree.
The way Kelly handled the situation as the head coach was so poor that it led Vick to tears. The former NFL quarterback told the "traumatizing" story to Bleacher Report's Simms and Lefkoe podcast in 2019.
"True story: That year, I'm laying in my hyperbaric chamber before a preseason game — I never told y'all this," Vick began. "I'm battling Nick Foles for a starting position. Now, I've been a starter for 12 years of my career. Now I'm in a battle, which I'm clearly winning. Nothing against Nick. Nothing but respect for him. We love him to death. I'm sitting in my hyperbaric chamber with tears coming out my eyes, crying because I'm like I did everything I could for Chip Kelly.
"I showed leadership, the play on the field speaks for itself, galvanized the team when we had a tough time with what happened with Riley Cooper and I'm like, 'It's still not enough.'"
Vick and Jackson both had harsh criticisms of Kelly's system
During the same interview with Simms and Lefkoe, Vick explained that Kelly was too cocky as an NFL coach and believed his system was more important than the players in it.
"We did everything we could to show him that we will give him everything we've got, 110 percent," Vick said. "It was more about his system and himself than us."
Jackson, who was also there for the interview, wholeheartedly agreed.
"It's like this: You have a coach who comes in and brings in his own stigma, or his culture, or his philosophy," he said. "[Kelly's] was one of the cultures where he didn't believe in players; it was his system.
"In the NFL, it's players that win championships. Don't get me wrong — the New England Patriots have a system that Bill Belichick has installed. … I just felt like, there's players in this league. You have Tom Brady, you have [Julian] Edelman, you have [Rob] Gronkowski, you have all these pieces to the puzzle, and Chip Kelly was one of those coaches like, 'This is my system.'"
Jackson went on to say Kelly told the offensive starters that they didn't have starting positions when he arrived in Philly. Vick, McCoy, and Jackson were multi-time Pro Bowlers at that point in their careers, but Kelly never gave them the benefit of the doubt.
"[Kelly] messed up the dream team," Jackson said. "We really could have been Super Bowl champs."