Christopher Bell Backtracks on Comments Critical of Joe Gibbs, and It's Not a Good Look for the Organization
Christopher Bell isn't known for producing headline-making comments like his Joe Gibbs Racing teammate Denny Hamlin. That's why the eye-opening remarks the 28-year-old driver made last week on a podcast about the team owner caught most by surprise. 
Over the weekend in LA, Bell backtracked, telling reporters that he had done a "bad job" of conveying what he wanted to say in his initial words. But did he? It's hard to watch what's happening between the driver and team owner and not see some resemblance to something similar that occurred with Kyle Busch before his departure from the organization.
Christopher Bell calls out Joe Gibbs and his dislike of dirt racing
Christopher Bell, like many NASCAR drivers, comes from a dirt-racing background. He's a three-time winner of the prestigious Chili Bowl. Last week during a podcast appearance, he talked about his success at the event and his future plans for racing on the dirt.
"I love the Chili Bowl. It's a very special place to me," Bell said. "Definitely the largest event that I grew up going to as a kid and it means the world to me that I've been able to win it. But Joe Gibbs has been extremely, extremely vocal about his — I don't want to use the word hatred, but it's pretty close to hatred — towards dirt-track racing. He does not love dirt-track racing or open-wheel racing at all. 
"Me and Coy had a great relationship. Coy Gibbs, I would always funnel my dirt track stuff through Coy, and Coy loved it. He thought it was really good for me to do, and he would kind of tell his dad that we talked about it, and he thought that it was fine for me to go do. So obviously, Coy passed away in November, and I kind of lost that connection, and Joe was very vocal about me, not dirt-track racing. So, for the time being, I'm not going to be dirt-track racing."
Bell backtracks on previous remarks
Unsurprisingly, Bell's comments made headlines, and fans responded on social media. Officials at JGR also saw the comments and were none too pleased. That was obvious over the weekend when Bell met with the media before the Clash, addressed the situation, and offered a dramatically different tone.
"I feel like I need to clear the air a little bit," he said. "My comments definitely didn't reflect my situation, my relationship with Joe Gibbs, and you know, my standing with the team. Joe, himself, the entire Gibbs family has been nothing but helpful for me and inspiring for me. 
"Joe has not mentioned any dislike for dirt-track racing. The only thing was his wanting to keep me healthy, whether that was racing or being out on the lake or anything. He just had my best interest in mind. I did a bad job of portraying that. I don't know what the future holds for me dirt-track racing, but my comments were not well put."
Could future at JGR be in jeopardy?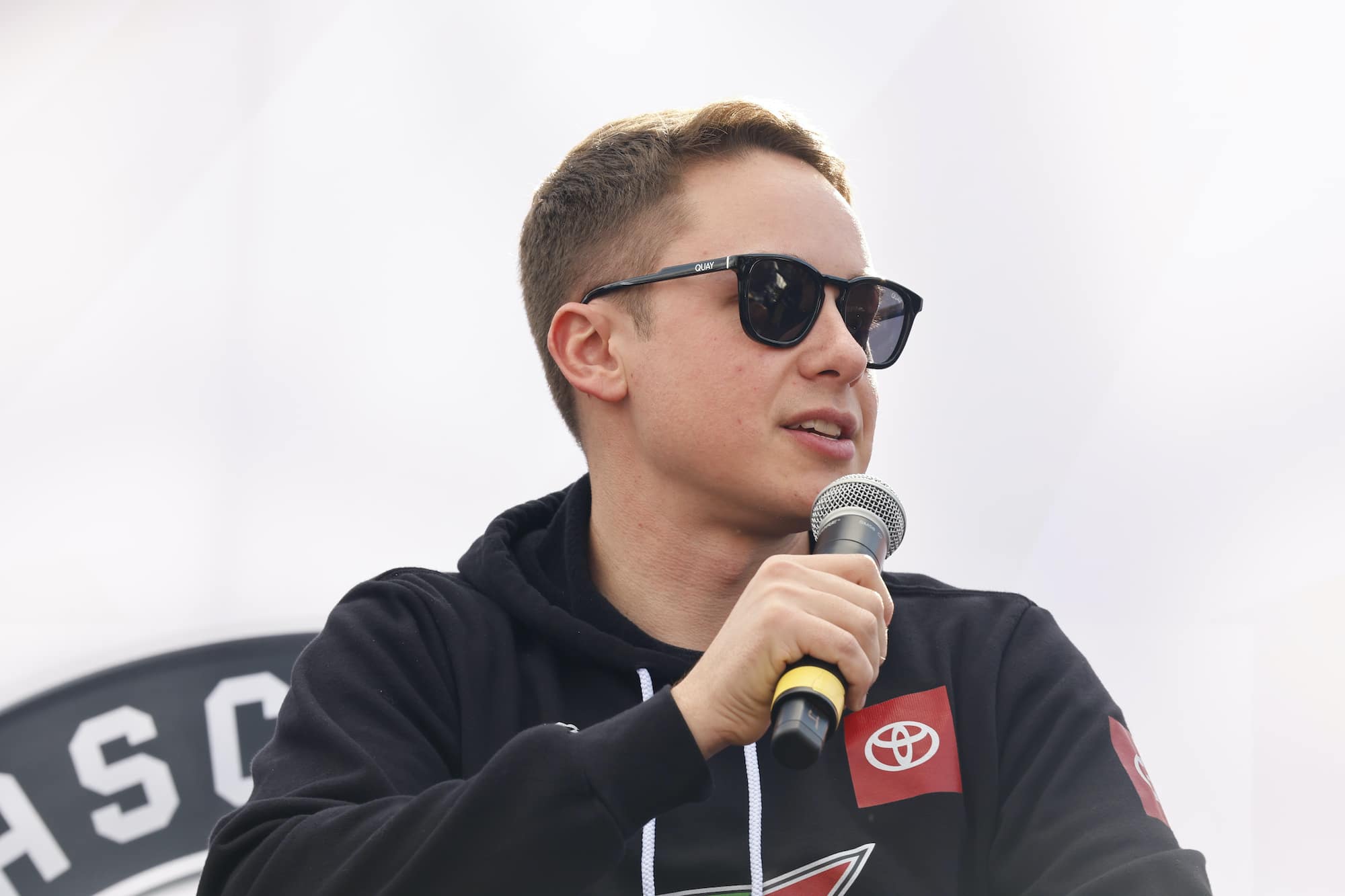 Bell admits his future in short-track racing is in question, but the bigger much more important question is — could his future at JGR also be up in the air?
For starters, the team announced a long-term extension for him in October. That was days after his walk-off win at the Charlotte Roval and before his second walk-off at Martinsville to advance to the Championship 4 race. The organization clearly recognizes his value and wants him in the fold for years to come.
But the same could have been said of Kyle Busch. He was a valuable asset to the company and no one ever envisioned the two-time champion racing anywhere else. And we all know how that turned out.
What's even more interesting is Busch went down a similar path with Gibbs, where the driver thought he was running in the Indianapolis 500 and had sponsors lined up, only for the team owner to deny him.
Bell's situation might all blow over, and nothing ever comes of it. But the fact that Gibbs has a track record of preventing his drivers from racing in other series, and based on the driver's initial comments, only had his ability to race on dirt taken away because of Coy's death is problematic at best.