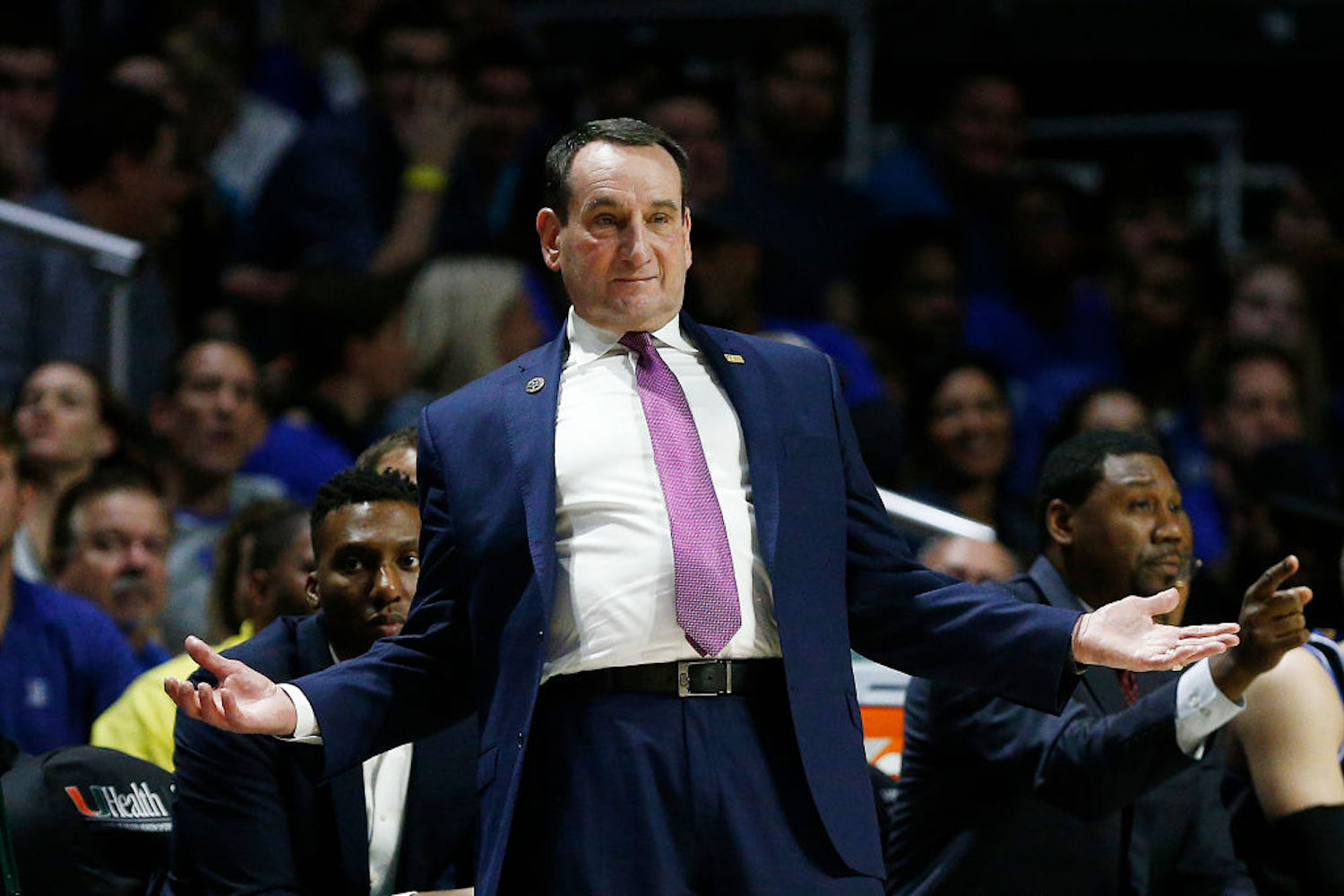 Coach K Hints at Shutting Down the Season After Duke's Slow Start: 'Everyone Is Concerned'
Mike Krzyzewski and the Duke Blue Devils haven't started so hot this year, and now Coach K is questioning if the season should continue.
The Duke Blue Devils have gotten off to a disappointing start to the 2020 college basketball season. They've already lost twice on their home court through four games, and Coach K is already changing his stance on playing the season in light of the COVID-19 pandemic.
Before the season, Mike Krzyzewski was adamant that the NCAA needed to hold a postseason tournament this year after canceling in March. But after Duke's slow start, Coach K is now questioning whether the season should even continue. Are Krzyzewski's comments really keeping student-athlete health in mind, or are they just stemming from Duke's early struggles?
Coach K was all-in on the 2020 college basketball season
Before the 2020 season, Coach K said college basketball couldn't afford to cancel the NCAA Tournament two years in a row. Krzyzewski appeared on ESPN Radio's Keyshawn, JWIll & Zubin in August and spoke about the need for a 2021 postseason.
"We're the thing that the NCAA is most concerned about because men's college basketball and the tournament pays for something like … it produces 98% or more of the money for the NCAA," Krzyzewski said. "We need to have the tournament. We can't have it where two years in a row you don't have the NCAA tournament."
Duke has gotten off to a rough start
Normally, Duke is a juggernaut at Cameron Indoor Stadium. But whether it's the lack of fans or the lack of talent this season (or both), the Blue Devils have been underwhelming on their home court to start the season.
Duke started the 2020 season with a narrow, 10-point win against Coppin State as a 39.5-point home favorite. The Blue Devils followed their season opener up with a six-point home loss to Michigan State.
After another unimpressive victory over Division I rookie Bellarmine, Duke lost another ranked matchup Tuesday night against Illinois by 15 points. It marked the worst home loss for Duke since 1983.
Coach K can't be happy with how his young, inexperienced team has looked so far this year, and now he's changing his stance on the 2020 season.
Coach K hints at shutting down the season
After Duke's loss to Illinois on Tuesday night, Coach K spoke about how COVID-19 has affected the season and whether the NCAA should continue with the schedule.
"I don't think it feels right to anybody," Krzyzewski said in his postgame press conference Tuesday. "I mean everyone is concerned. We made an assessment. I'm not sure who leads college basketball. It's done by committee. Anything that's led by committee is not agile in handling a situation. There was a consensus. It wasn't like well-planned. Just that we were going to start Nov. 25. That was made without knowing where the vaccine was, how many cases. Basically, it was more a mentality of get as many games in as possible. I would just like for the safety, the mental and physical health of players and staff to assess where we're at."
Is it possible Coach K is switching his opinion because of Duke's early struggles? Apparently not, according to Krzyzewski.
"Look, I just got my butt beat by a lot," he said. "Anything I say, someone can say, 'He's saying that because he got his butt beat.' Do I think things should be done a little bit different? I mean, yeah. A lot of kids aren't going to be able to go home for Christmas. It's probably a time when they should, for mental health. But we're just plowing through this."