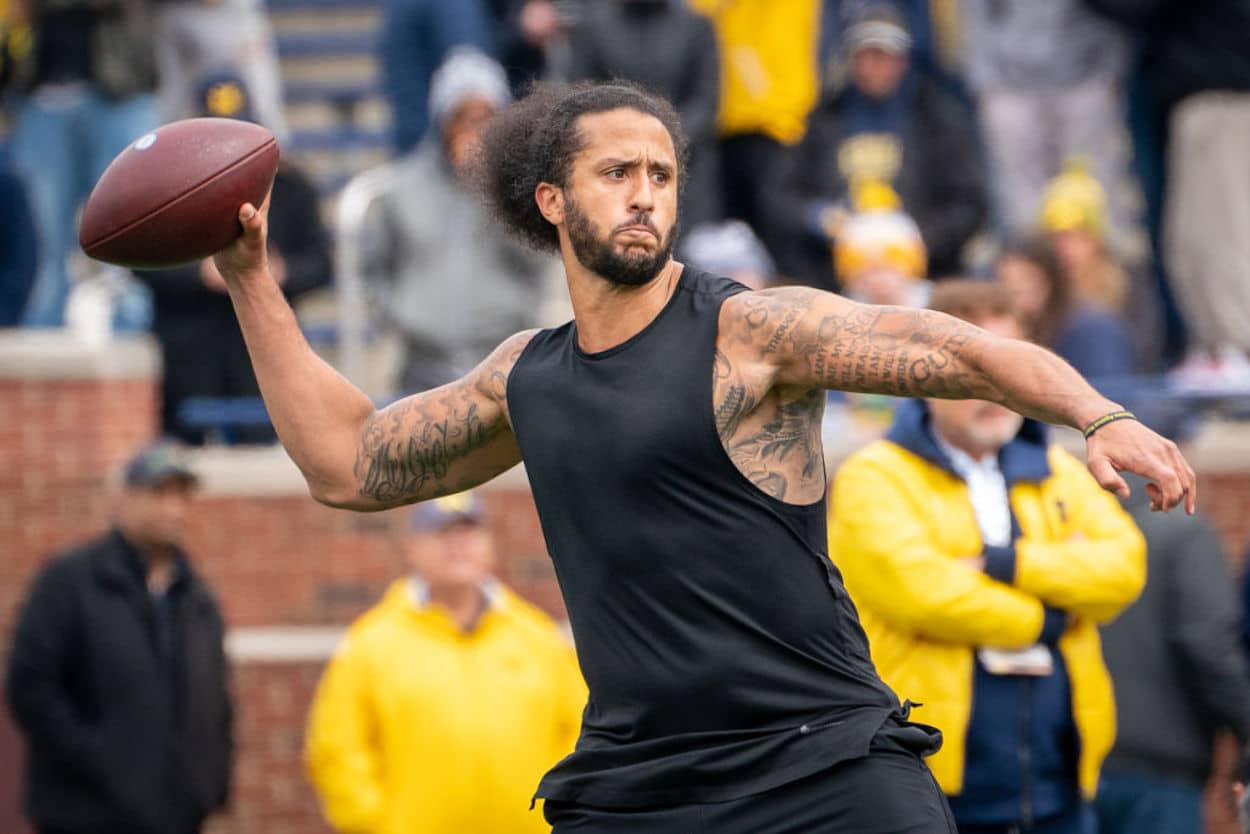 Colin Kaepernick 'Didn't Blow Everyone Away' During His Raiders Workout, but It Still 'Went Well'
If you were curious how Colin Kaepernick's workout with the Las Vegas Raiders went, Albert Breer has you covered.
While it's been quite a while since Colin Kaepernick appeared in an NFL game, the quarterback might have taken a step back toward the gridiron. The former San Francisco 49er recently worked out for the Las Vegas Raiders; owner Mark Davis has previously spoken in support of Kaepernick, and it seems like the club could be on the hunt for a new backup quarterback.
That story obviously generated plenty of headlines, and we now know a bit more about how the workout went. According to Sports Illustrated's Albert Breer, Kaep "didn't blow everyone away," but, on the whole, the session was "a really good development."
Colin Kaepernick reportedly did enough to keep himself in the running for a contract with the Raiders
Given the fact that he hasn't played professional football since 2016, it'd be understandable if Colin Kaepernick showed a bit of rust. Teams would presumably be more interested in seeing if the things that made him a breakout star, like athleticism and arm strength, remained intact. According to Breer, that's more or less what the Raiders saw.
"The Raiders' workout of Colin Kaepernick … was positive," he wrote in May 30's MMQB column. "I'd say the door is being left open for a deal, but it probably won't happen right now. The workout itself went well. He didn't blow everyone away or anything like that. But he showed he was in shape, and that his arm strength is still intact, even at 34 years old and after five seasons out of the league. The upshot for Vegas, as I see it, is twofold. One, owner Mark Davis has long been an advocate for Kaepernick, and his cause, and so being the team to give him an opportunity lines up with where the boss is philosophically. Two, there just aren't a zillion NFL-capable quarterbacks out there. So if you're going to be a team that looks under every rock, as Josh McDaniels said the Raiders would be last week, this makes sense as one to turn over. For now, my sense is Kaepernick did well enough to keep himself in the discussion."
So, where does that leave the quarterback? At this point, he'll probably have to play the waiting game.
"And my guess is the Raiders give themselves the rest of the spring to look at the guys they've been working with behind Derek Carr, Nick Mullens and Jarrett Stidham, and then reassess," Breer continued. "But for now, it's a really good development for a quarterback who's actually three-and-a-half years older than Carr, and I think genuinely wants a chance to compete somewhere for a job this summer (I'm not sure NFL teams were convinced that was the case in the past)."
If we take everything at face value, Kaepernick certainly has a shot at a roster spot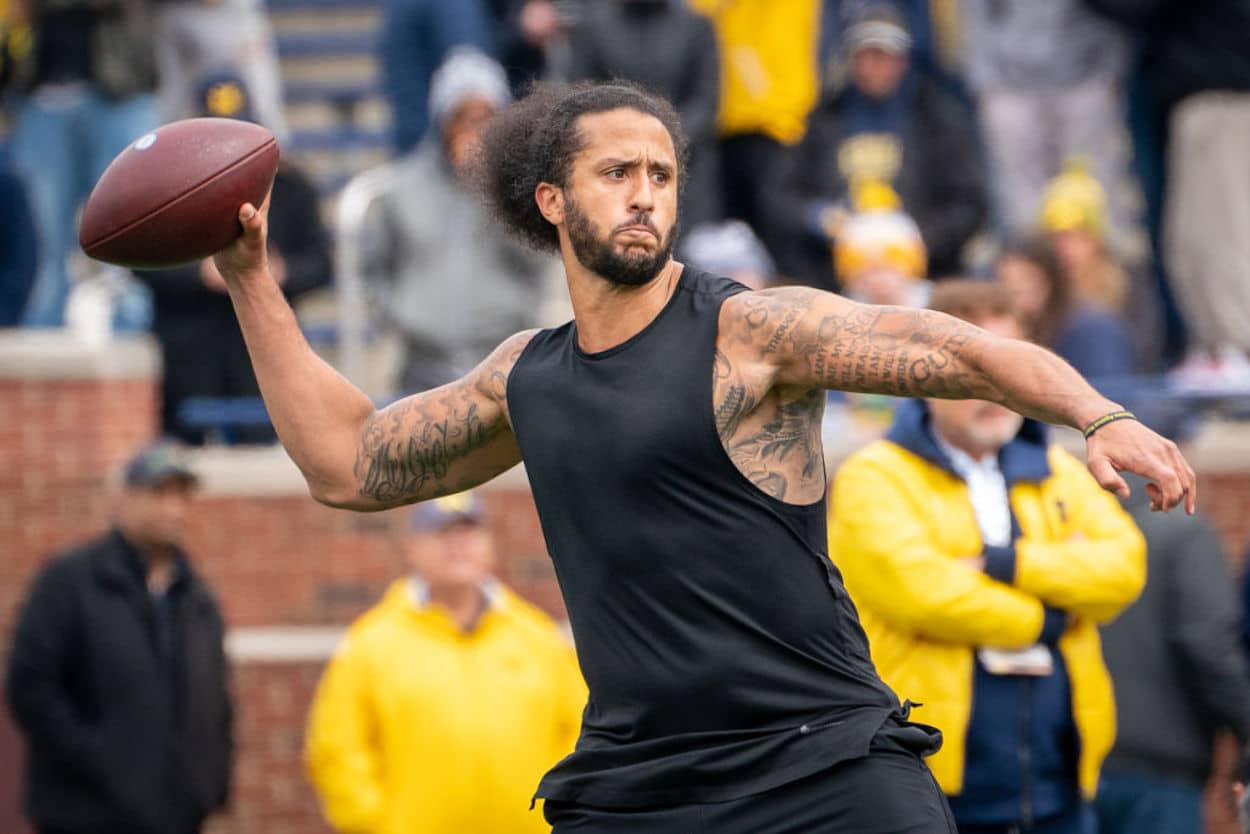 Breer wasn't the only one to share that sentiment, though. On an NFL Total Access segment, Mike Garafolo said that he believes Kaepernick will be on an NFL roster for the 2022 campaign.
"I'll say yes," he explained. "And I think it may very well be the Raiders. And the fact that they didn't sign him immediately is not necessarily an indication that they have moved on. It's more about let's see where this goes, let's see our roster, let's see where else he winds up working out. That could be a factor, as well. But I'll say yes, and likely in Las Vegas. We'll see."
While there are some obvious caveats there — Kaepernick will turn 35 during the upcoming campaign and has spent multiple years away from football, which could complicate a return — one reality remains. If you're only looking for a backup quarterback, Kaep is probably better than your alternative options.
In this case, let's consider Mullens and Stidham. The former man has spent four years in the NFL, starting 17 games. He's thrown for 4,861 yards in those contests, with 26 touchdowns and 22 interceptions. Stidham's professional resume is even shorter, as he threw 48 total passes during two years in New England.
While we don't know what the Raiders want in their backup quarterback — you could argue there's some value to having Stidham on the roster as a potential development project — it seems unlikely that the organization will look at either of those two men and say, "He can win us eight games in an emergency." If you simply want a backup who can hold down the fort if Carr suffers an injury, Kaepernick certainly deserves consideration. Is he going to steal the starting job and throw for 45 touchdowns while running for 20 more? Of course not, but, as Breer said, there's a limited talent pool. If the former 49er can simply do more than the other backups out there, he should be considered for the job.
At this point, though, everyone involved will simply have to play the waiting game. Kaepernick has gone five years without an NFL job; it's going to take at least a few more months to change that.
Stats courtesy of Pro-Football-Reference