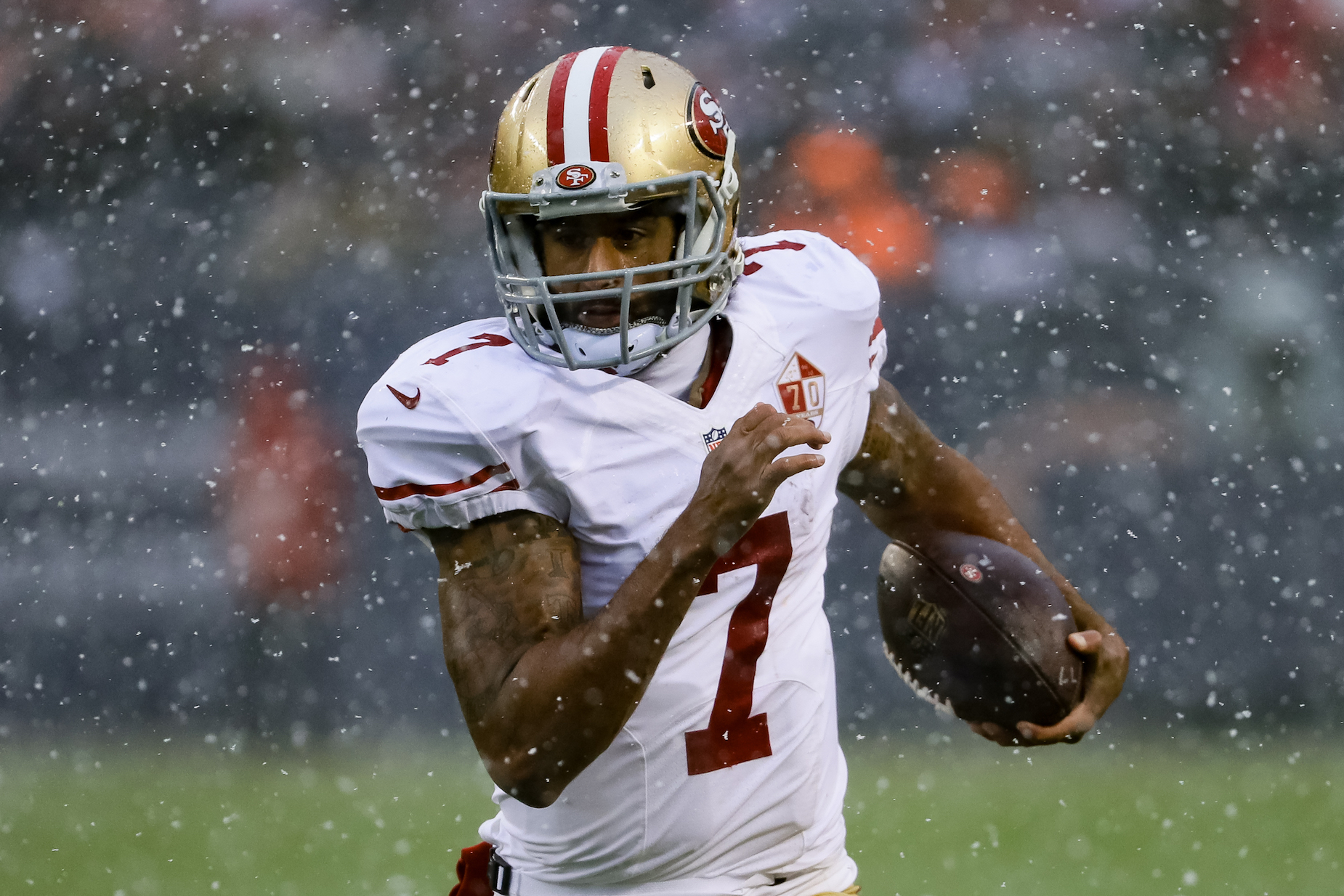 Colin Kaepernick Doesn't Have an NFL Job, But His Football Career is Still Raising Money for Charity
It's been several years since Colin Kaepernick last played an NFL game, but the quarterback's football career is still raising money for charity.
While he hasn't been on an NFL roster since the end of the 2016 NFL season, football fans haven't forgotten Colin Kaepernick. During his time with the San Francisco 49ers, the quarterback's reputation drastically changed. After taking over the starting job, he seemed like the league's next dynamic, dual-threat star; then, he took a knee in protest during the national anthem, changing the course of his career.
With the 2020 season about to begin, Colin Kaepernick still hasn't landed an NFL job. Despite that reality, the quarterback's football career is still helping to raise money for a good cause.
Colin Kaepernick's time on the gridiron
These days, Colin Kaepernick's name is synonymous with taking a knee in protest during the national anthem. Prior to 2016, though, the quarterback looked like he could become the NFL's next star.
Although Kaepernick also showed potential as a baseball pitcher, he decided that his future was in football. That took him to the University of Nevada; during his four seasons under center, he piled up 10,098 passing yards, 4,112 rushing yards, and 141 total touchdowns.
When the 2011 NFL draft rolled around, the San Francisco 49ers traded up to select Kaepernick with the 36th-overall pick. While he started his career on the bench, the young quarterback would eventually get his chance.
Alex Smith suffered a concussion during the 2012 campaign, giving Kaepernick a chance to shine. He promptly led the 49ers to the Super Bowl; while they couldn't lift the Lombardi Trophy, he showed enough to keep the starting job. The following season, the QB went 12-4, throwing for 3,197 yards and 21 touchdowns while rushing for 524 yards and five additional scores. San Francisco reached the NFC title game, and Kaepernick looked like a star.
His rise to stardom, however, didn't continue. Kaepernick suffered some injuries and lost his starting job; at the same time, though, the 49ers organization's instability didn't do him any favors. The quarterback then protested during the 2016 season and, after opting out of his contract, couldn't find an NFL gig.
Giving plenty of money to charity
While Colin Kaepernick's NFL career may be a thing of the past, the quarterback earned plenty of money during his time on the gridiron. We also know that he's given a sizable chunk of change to charity.
After his initial protests, Kaepernick pledged $1 million to charity. As laid out by David Fucillo of Niners Nation, that money was distributed to a variety of causes over several months, ranging from the Coalition for the Homeless to the Lower East Side Girls Club.
Beyond that $1 million, Kaepernick has also founded the Know Your Rights Camp. Through that charity, he's continued to make an impact in the community; according to a TMZ Sports report from July, the foundation is "using more than $1.75 mil to help out 'Black and Brown communities'—making big moves to fight COVID and help people who are behind bars."
Colin Kaepernick's rookie card will help raise more money for charity
Those efforts, however, aren't Colin Kaepernick's only contribution to charity. While the quarterback hasn't been able to land an NFL job, his football career is still helping raise money for a good cause.
One of Kaepernick's NFL rookie cards, which features an autograph and the NFL shield from a game-worn jersey, is currently for sale through Goldin Auctions. According to the listing, the card is a "wholly unique, limited-edition piece is serial-numbered '1/1," and has received a '9' grade from Beckett.
As of Tuesday, September 8, the current bid is $2,400; TMZ, however, stated that experts estimate card could fetch as much as $25,000. No matter the final price, though, 50% of the proceeds will be going to Kaepernick's Know Your Rights Camp.
Even without an NFL job, Colin Kaepernick's football career is still making an impact.
All stats courtesy of Sports-Reference and Pro-Football-Reference