Colts Legend Jeff Saturday Vehemently Calls for Carson Wentz's Departure: 'When the Moments Mattered Most, He Really Didn't Step Up'
The Indianapolis Colts' Carson Wentz experiment went exactly the way fans hoped it wouldn't: It was a failure.
Wentz had a decent bounce-back year for Indy after leading the NFL in interceptions in 2020. But the Colts went from winning 11 games and making the playoffs with Philip Rivers last year to going 9-8 and missing the postseason in 2021.
Given the team's significant regression, most finger-pointing has gone toward Wentz. And at least one of them came from the hands of a Colts legend as former Pro Bowl center Jeff Saturday recently called for Indy to move on from the QB.
Carson Wentz played a massive role in the Colts' collapse
The Colts looked like a legitimate threat to go on a deep playoff run just a few weeks ago. They were 9-6 and controlled their own destiny.
However, after Indy fell to the Las Vegas Raiders in Week 17, the now-three-win Jacksonville Jaguars completely embarrassed their division rival in Week 18. The losses culminated in the Colts missing out on a postseason appearance.
And while none of their seven Pro Bowlers showed up in their final game of the year, Carson Wentz's poor play was a continuation of a trend that started in November.
During the most crucial stretch of the season, Wentz's production took a turn for the worse, and he failed to carry his team when it needed him most. In the final eight games, the North Dakota State product threw for 1,365 yards, 10 touchdowns, and four interceptions, and he lost two fumbles. Wentz also had only two games during that stretch in which he threw for over 200 yards and six in which he didn't throw for more than one touchdown.
Sure, his 27-7 touchdown-to-interception ratio was promising this season. But Wentz's 3,563 total passing yards were nothing to write home about, and his inability to win games for the Colts through the air resulted in their embarrassing collapse.
Jeff Saturday called for the Colts to move on from the quarterback
Jeff Saturday is one of the greatest Colts in franchise history. He played for the team in 13 of his 14 NFL seasons and earned five of his six Pro Bowl selections in Indy. Saturday was also a two-time first-team All-Pro, and he helped lead Indianapolis to a Super Bowl win during the 2006 season. So, when Peyton Manning's former protector speaks on the team, his comments shouldn't get overlooked.
And on Jan. 11, he called for the Colts to move on from Carson Wentz.
"I think they do (need to move on from Wentz)," Saturday said on an episode of First Take. "… Consistently throughout the season, when the moments mattered most, he really didn't step up and do things that you would expect that type of quarterback with that type of investment to make."
Saturday then added that Indy's Week 18 performance wasn't just on the QB, as the entire team didn't show up. But he said when a franchise adds someone like Wentz, "There has to be huge upside."
"When the moments matter most, that cannot be the position that you're concerned about," he said. "You have to have … kind of the Jimmy [Garoppolo] mentality. He might not be the greatest, but when that drive, that signature drive has to be had, when the Rams and the 49ers just played, Garoppolo steps up and makes that drive. That's what you have to have for Wentz. He doesn't have to carry you all season, but, man, you gotta have him in certain moments put the team on his back and carry that. He did not do it really in any point of games this season, in my opinion. So, I think if you're the Colts, you're looking for the next person to do that."
Can the Colts realistically move on from Carson Wentz?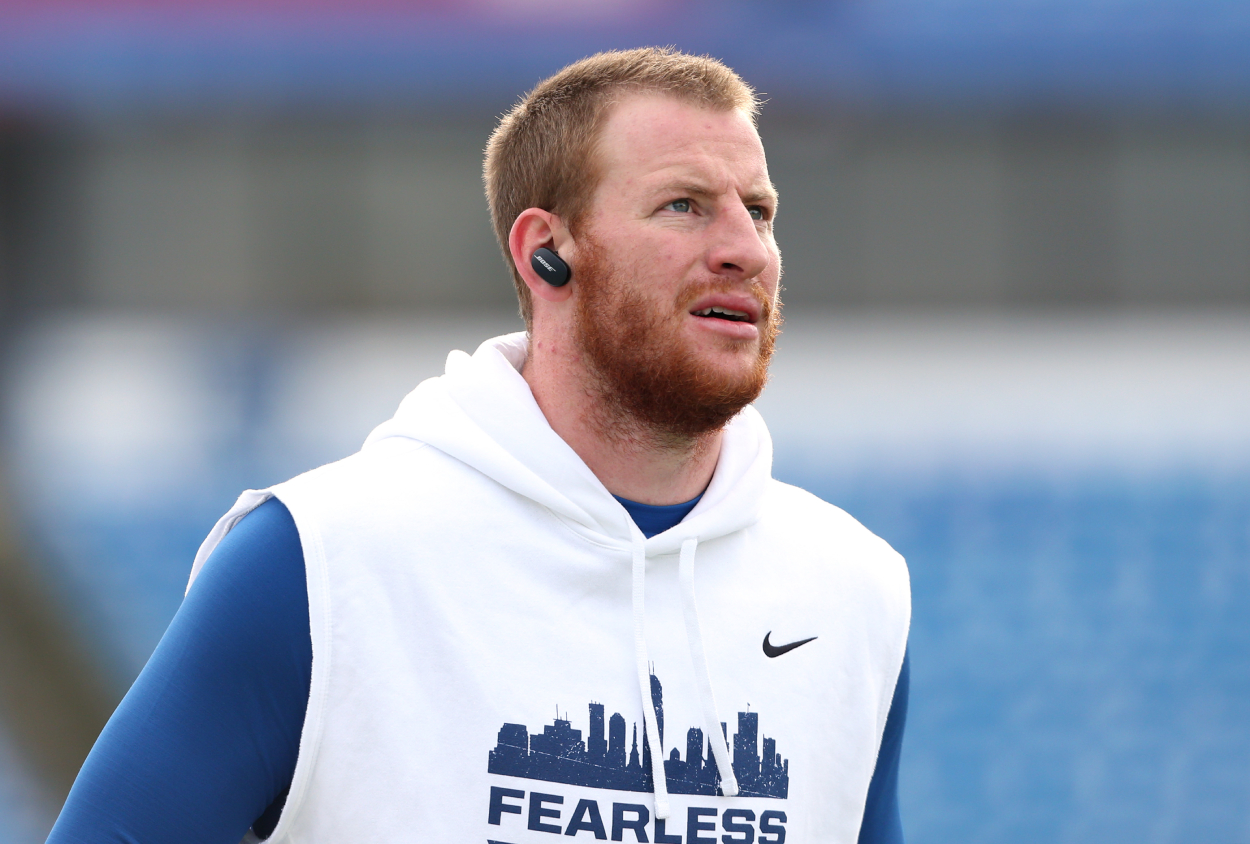 Jeff Saturday's comments on Carson Wentz are certainly something. It wouldn't be surprising if Colts general manager Chris Ballard took them into consideration when deciding what to do next.
But can the team actually move on from the signal-caller?
Well, as reported by CBS Sports, the only guaranteed money left on Wentz's contract is $15 million. He is supposed to make $28.3 million in salary next season, so the Colts could save $13.3 million by releasing him. But they would then need to find a QB to take his place and also pay them.
And it's unlikely they would find a cheap one.
The Colts lost their first-round pick when acquiring Wentz from the Eagles last offseason. So, they probably won't get a young rookie in the draft who can succeed on a cheap salary next year, similar to what the New England Patriots have in Mac Jones. And aside from rookies, there aren't too many great options out there.
Maybe Russell Wilson will become available in a trade. But how much can Indy afford to give up after last year's deal for Wentz? The front office could also look at free agents, but the best free-agent QBs are probably Marcus Mariota, Andy Dalton, and Jameis Winston. Are any of those guys better than Wentz?
All in all, Saturday is right. The team needs to move on from its starting quarterback. But the next option could be hard to find.
Stats courtesy of Pro Football Reference