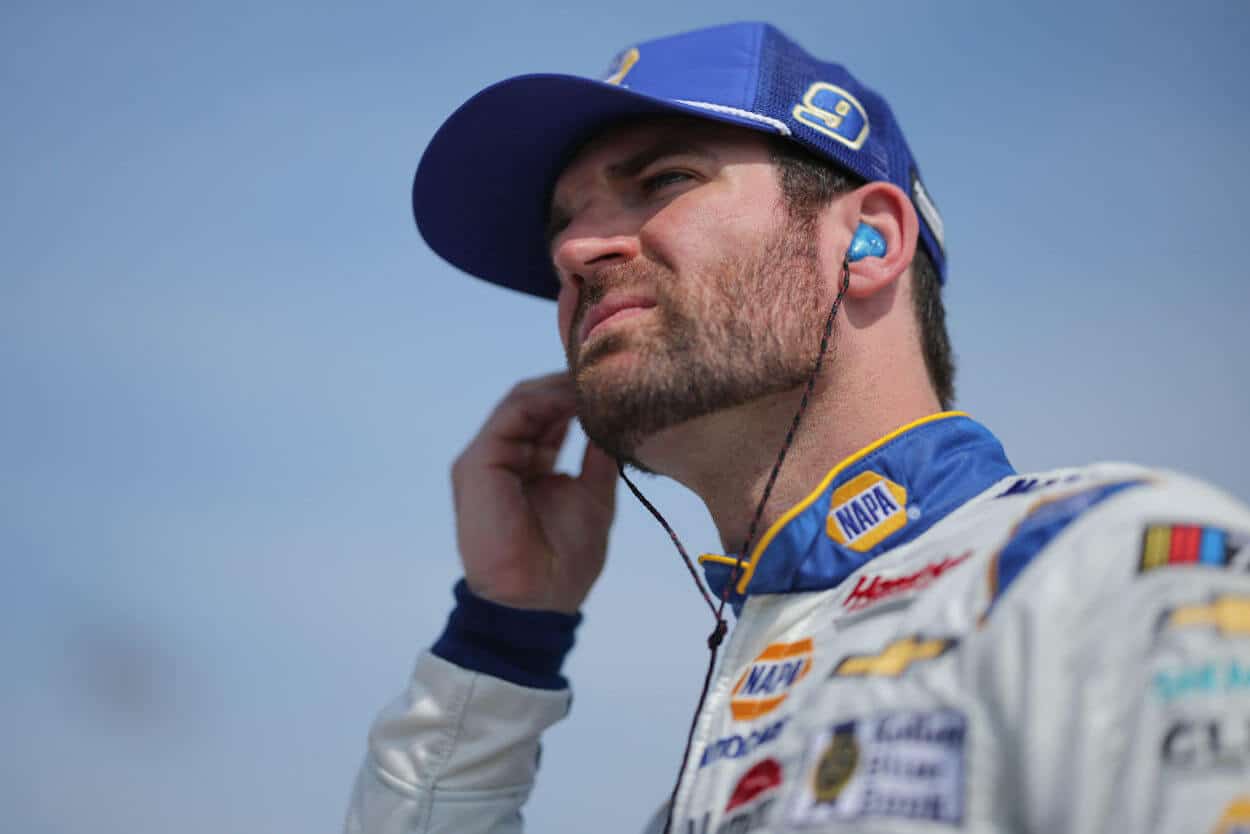 Corey LaJoie Has the Opportunity of a Lifetime, and He Dang Well Better Not Blow It
Sometimes, sports present us with a real-life fairy tale. That's what could be happening as Corey LaJoie heads to Gateway.
If you're into feel-good stories and sentimental fairytales, you'll want to tune into Sunday's NASCAR Cup Series event at World Wide Technology Raceway in Madison, Illinois.
The reason?
The guy behind the wheel of the No. 9 Hendrick Motorsports Chevrolet will be Corey LaJoie — the longsuffering driver of the No. 7 Spire Motorsports Chevy, which LaJoie will step away from this weekend only while Chase Elliott serves a one-race suspension for deliberately wrecking Denny Hamlin in Monday's race at Charlotte.
To get a sense of how far apart Hendrick Motorsports and Spire Motorsports are in depth of resources, driver talent, sponsorship, and accomplishments, just imagine a newborn baby going out to fight former heavyweight champion boxer Evander Holyfield in his heyday.
To say this is merely a great opportunity for LaJoie would be a gross understatement. That's because it's not just a great opportunity; it's the opportunity of a lifetime. And if LaJoie ever wants to get a full-time shot with a more competitive team, he best make the most of what team owner Rick Hendrick has given him on Sunday.
Corey LaJoie's candid appeal to Rick Hendrick years ago finally paid off
With frequent 2023 Chase Elliott fill-in Josh Berry and all of Berry's fellow full-time NASCAR Xfinity Series drivers far away from World Wide Technology Raceway this weekend as they compete in the Xfinity race in Portland, team owner Rick Hendrick didn't have a deep bench to pull from to replace Elliott on short notice.
So, Hendrick went with Corey LaJoie, a driver whose Cup Series resume — consisting of two top-five finishes and no wins in 214 starts — leaves a lot to be desired but is noticeably bereft of any outings with quality teams that field remotely competitive race cars.
Put LaJoie in the right situation, and maybe, just maybe, he can produce. That's clearly the bet Rick Hendrick is placing by sticking LaJoie in the No. 9 car this weekend. Hendrick also certainly hasn't forgotten the handwritten letter LaJoie delivered to him back in 2020 when Hendrick Motorsports was seeking a successor for seven-time Cup Series champion Jimmie Johnson in its iconic No. 48 Chevrolet.
In that letter, LaJoie — the son of two-time NASCAR Xfinity Series champion Randy LaJoie — politely requested that Hendrick consider him as a replacement for Johnson, who was set to retire from full-time Cup Series racing at the end of the 2020 season.
LaJoie ultimately didn't land the coveted ride, but the honesty, vulnerability, and sincerity he displayed in the handwritten note clearly left an impression on Hendrick — the most successful team owner in 75 years of NASCAR history.
Corey LaJoie's future likely hangs in the balance this weekend at Gateway
If Corey LaJoie can go out Sunday at the St. Louis-area track known as "Gateway" and finish in the top five or at least somewhere close to that, his phone may start ringing off the hook come Monday morning with top-tier team owners wanting to talk with him about possibilities for 2024 and beyond.
Although Hendrick Motorsports has all four of its drivers under contract through 2025, Stewart-Haas Racing and Joe Gibbs Racing may both be looking for a driver in 2024 if Aric Almirola and Martin Truex Jr. decide to retire at the end of this year (which is a real possibility).
So for LaJoie, Sunday's race at Gateway isn't just about Sunday. It's about next season and the year after that and the year after that, and so on.
Set to turn 32 in September, LaJoie doesn't have all that many years left before he'll be considered to be past his prime driving years. This being so, his window of opportunity to secure the big promotion he's long been seeking is shrinking.
LaJoie must take full advantage of the moment and milk it for all it's worth. Failure to do this will almost inevitably result in him remaining stuck with a backmarker team and everyone forever wondering how much talent and potential he actually had.