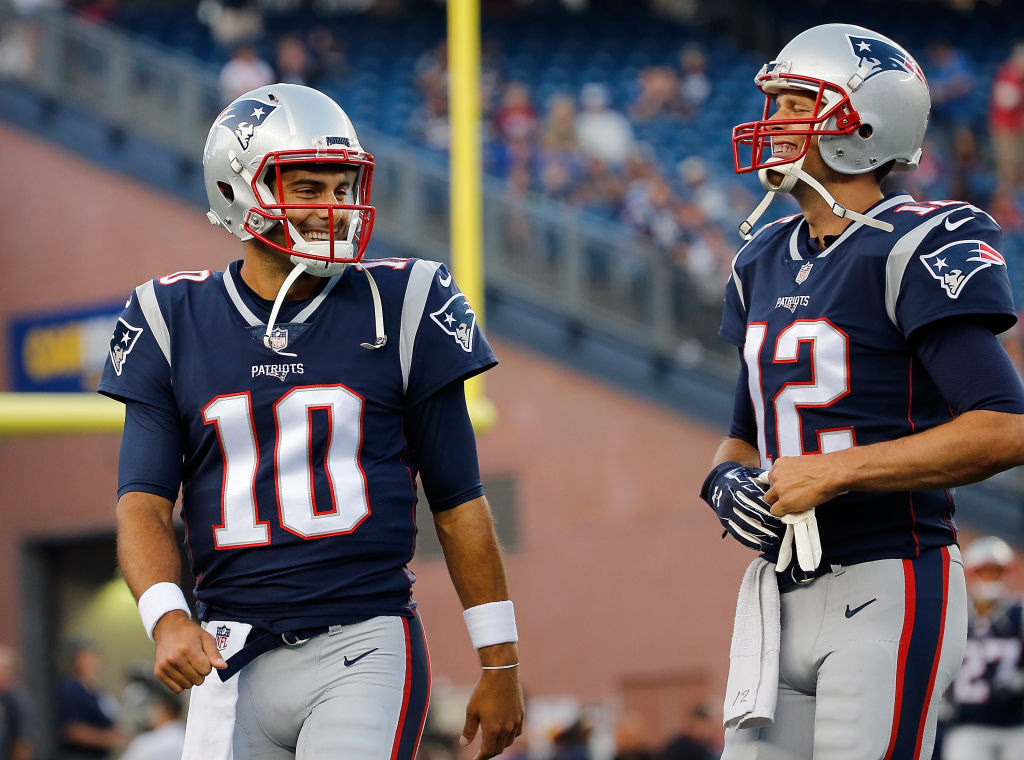 Could Tom Brady and Jimmy Garoppolo Actually Swap Teams This Year?
Could New England Patriots quarterback Tom Brady and San Francisco quarterback Jimmy Garoppolo swap NFL teams in 2020?
The Tom Brady watch continues. With each passing day, rumors continue to swirl about a possible landing spot for the six-time Super Bowl champion and first-time free agent who has played 20 seasons with the New England Patriots.
Brady's been linked to several teams, including the Tennessee Titans, Los Angeles Chargers, Las Vegas Raiders, Tampa Bay Buccaneers and more. The latest rumor, which is quickly catching steam, has Brady heading home to San Francisco with current 49ers quarterback Jimmy Garoppolo returning to where his NFL career began.
Would San Francisco want a 43-year-old Tom Brady?
If the 49ers are going all in to win now, the deal could make sense. Garoppolo's postseason numbers were hardly eye-popping and his performance in Super Bowl LIV wasn't earth-shattering, especially in the second half. Brady's poise, experience, and overall talent just may have been enough to this year to be the difference between a Super Bowl victory and a Super Bowl defeat.
With a strong defense and young talent (still on their rookie contracts) at the skill positions, it might be the right time to bring in a veteran quarterback with tons of Super Bowl experience to put San Francisco over the top. The 49ers got to the big show without the most decorated quarterback in NFL history and just might be able to win it with him.
Brady, however, will be 43 years old when the 2020 season gets underway. Garoppolo is 28. Does it make sense to give up on a relatively young quarterback who took his team to the Super Bowl in favor of an aging veteran, even if that veteran is Tom Brady?
Would trading for Jimmy G make sense for New England?
If Brady left New England, there aren't a whole lot of options to replace him. Current Patriots backup quarterback Jarrett Stidham has thrown for all of 14 yards and one interception in his very brief NFL career and would hardly be the team's first option.
The Patriots' other options would be to sign free agents such as Teddy Bridgewater or Marcus Mariota, or they could trade for a veteran like Andy Dalton, but that would still leave the future of the quarterback position unsettled.
Having Garoppolo back in the fold would bring a promising young quarterback, who is already familiar with Bill Belichick's system, back to New England. Garoppolo is by far the best option to help the Patriots win now and also build for the future.

Where does Tom Brady stand?
All has been quiet in the Brady camp, but there may have been a little clue that took place that weekend at a Syracuse basketball game – depending on how you read it.
During Syracuse's home game against North Carolina on Saturday, Brady and Patriots teammate Julien Edelman were at the game, and when the camera focused on the pair, Edelman looked at Brady and said, 'he's coming back. He's coming back.'
Brady sheepishly turned away and said something that appeared to sound like 'no, he's not.' Upon further review, Brady may have said, 'he's got it.' You decide.
Despite all the speculation on where Brady might be playing next season, most sportsbooks have the Patriots quarterback remaining in New England. DraftKings Sportsbook and Westgate Sportsbook both have New England as next year's landing spot as a significant favorite.