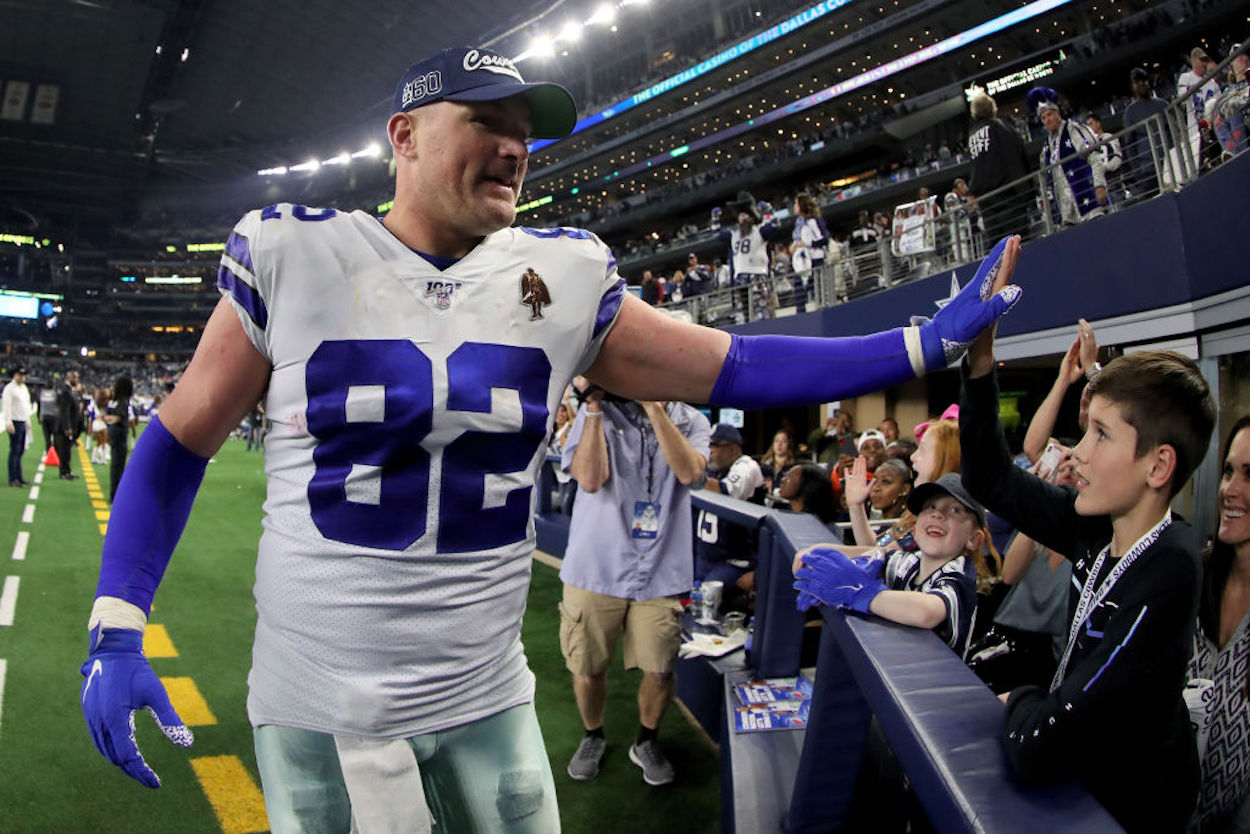 Cowboys Legend Jason Witten Already Has His Next Job Lined Up in Retirement
Longtime Cowboys tight end Jason Witten just recently announced his retirement from the NFL, and he's already found his next adventure.
Jason Witten is officially calling it quits (again) on his NFL career after 17 years in the league and 16 with the Dallas Cowboys. When he first retired in 2018, Witten took his experience and football knowledge to the broadcast booth for ESPN's Monday Night Football, but that turned out to be a short-lived experiment.
This time around, Witten is going a different route with his post-retirement plans.
Jason Witten retires a second time
After a long and successful NFL career, Jason Witten is finally moving on to his next stage in life. The longtime Cowboy officially announced his retirement from football last Wednesday. Witten has fooled us all with a retirement announcement before, but this one seems to be legit.
"I am walking away," Witten told the Fort Worth Star-Telegram via text message last week. "I gave it all I had."
Witten played 15 seasons with the Cowboys before hanging up his cleats for the first time in 2018. After taking a year off to explore a broadcasting career, Witten returned to the Cowboys in 2019 to play another year. He later signed with the Raiders in 2020 and spent his final NFL season in Las Vegas.
Witten finished his NFL career with 13,046 receiving yards and 74 touchdowns. He made the Pro Bowl 11 times and was named a First-Team All-Pro twice. Witten will be eligible for the Pro Football Hall of Fame for the first time in 2026.
Jason Witten set to make the leap to coaching
After Witten announced his retirement last week, many around the football world speculated he would turn to coaching. At the same time, rumors quickly started surfacing about the University of Tennessee possibly showing interest in Witten for their head coaching vacancy.
On Monday, Witten announced he will, in fact, shift his focus to coaching in retirement, but not with who you might think. Witten will become the head football coach of Liberty Christian in Argyle, Texas, which is the high school that his children attend.
Why did Witten choose Liberty Christian?
Before he chose Liberty Christian as his next adventure, Witten fielded multiple offers to coach at the NFL and college levels. So, what drove him to make his decision?
"Faith. Family. Football," Witten said in a statement released by the school. "In this next chapter, it is important to me to be the best father and husband I can be, while making a positive impact in the community and share the wisdom I've accumulated over the years to positively impact the next generation."
"I am very excited about Jason coming on board and joining the Liberty Christian coaching staff," Liberty athletic director Johnny Isom said. "We have an extremely talented, hard-working group of coaches and he will undoubtedly prove to be a wonderful addition. The football program will be in great hands under his leadership and I cannot wait to see the impact that he will have on the lives of athletes."
Don't be surprised if Witten works his way up the ranks and eventually finds himself standing on the NFL sidelines again. Only this time he'll be wearing a headset instead of a helmet.