Troy Aikman Sends a Reassuring Message to Cowboys Fans About Dak Prescott's Future
The Dallas Cowboys are still dealing with the seemingly never-ending Dak Prescott saga. Prescott still hasn't been signed to a long-term deal five seasons into his NFL career, as the two sides can't seem to find a middle ground in negotiations.
With another offseason rapidly approaching, Dallas fans are worried they might lose their franchise quarterback to the highest bidder, but Cowboys legend Troy Aikman says not so fast.
The Cowboys have a decision to make regarding Dak Prescott
The Cowboys had an opportunity to lock Prescott into a long-term contract last summer, but the two sides couldn't agree to terms before the July deadline. Instead, Dallas signed Prescott to his $31.4 franchise tag for the 2020 season.
The Prescott contract situation became more complicated after the QB fractured his ankle early in the season against the New York Giants. He missed the rest of the year due to the injury, and there's no guarantee he will return next season at full strength.
That leaves team owner and GM Jerry Jones with a difficult decision to make. Does he risk it and pay Prescott top-tier quarterback money to lock him into a long-term deal? Or does he slap another franchise tag on Prescott and hope he doesn't go running for another team next offseason?
Jones has a potentially franchise-altering decision to make this summer. Let's see if he gets it right.
Troy Aikman reassures Cowboys fans about Prescott's future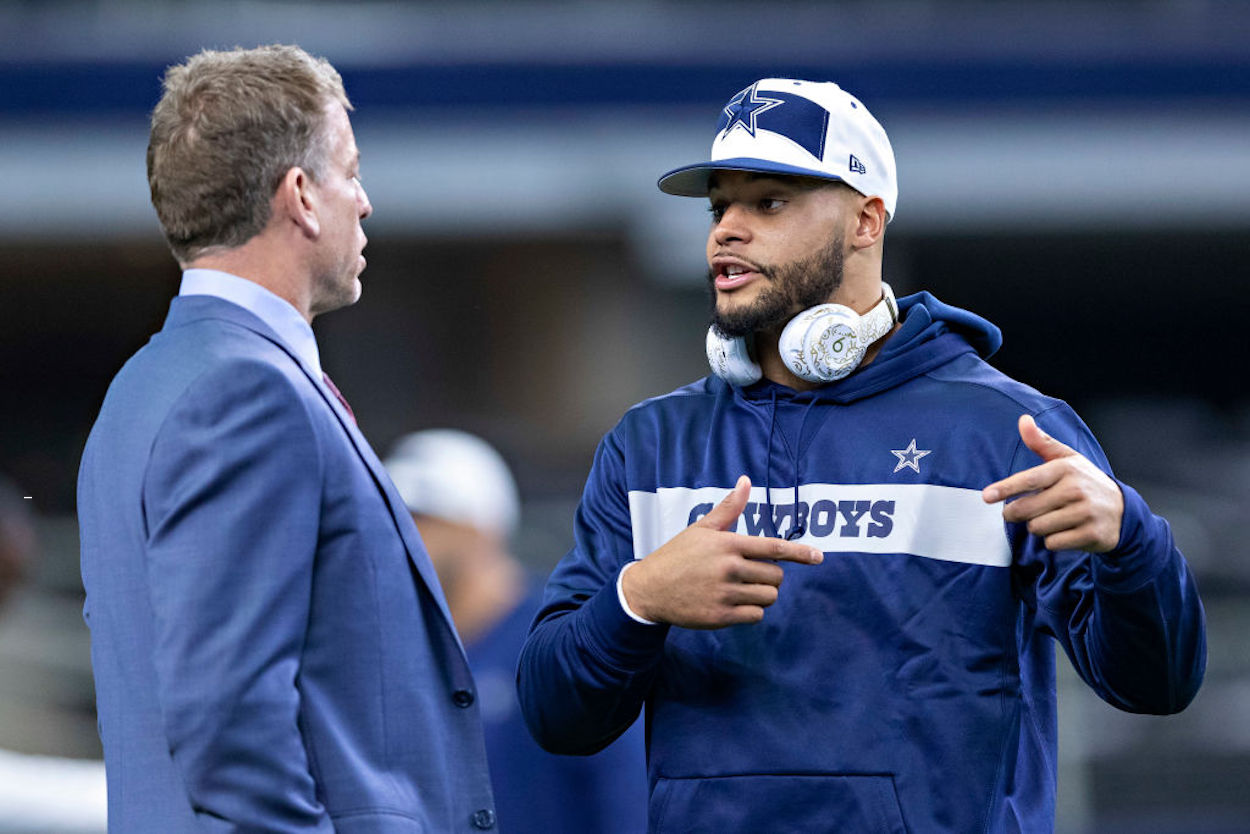 Cowboys fans might not feel confident about Dak Prescott's future in Dallas, but one Cowboys legend sure does. Troy Aikman, who won three Super Bowls with the Cowboys in the 1990s, doesn't see Prescott going anywhere any time soon.
"Well, I wouldn't rule anything past Jerry [Jones]," Aikman said this week on The Musers on 96.7 FM/1310 AM The Ticket. "I say that as a compliment. I think he's always trying to figure out what they can do or how he might be able to do something that will give them a chance. But I don't see Dak not playing in Dallas… Going back to what we were talking about with Brady and Tampa Bay, it just reiterates the importance of that position."
Aikman says the Cowboys have a lot more work to do
Besides signing Prescott, Aikman believes the Cowboys still have plenty of work to do to get back to the Super Bowl contenders they were in the '90s.
"Dallas has that guy in Dak and now it's just a matter of him staying healthy," Aikman said. "But there's a lot of other parts to it. There are a lot of things that go into being successful. I've said it before, I just don't think you can come up that short that many times and say that — and this is any organization — and say we're doing it the right way. I think you have to look at things really, really hard. You may conclude that Tampa really didn't do anything. I don't know. But it does get everybody's attention when you see a team like them bring in Brady and kind of stay the course with Bruce Arians."
Will Aikman's Prescott prediction come true, or will the Cowboys be in the market for a new quarterback soon?