Cowboys Owner Jerry Jones Is 'Scared to Death' for a Legitimate Reason
The first time that owning the Dallas Cowboys scared Jerry Jones was in 1989, after he took possession of a once-proud franchise that had fallen on hard times.
Jones paid $150 million for a team that missed the playoffs four straight seasons after 20 consecutive years of winning records. The financial commitment was huge. Jones' entire fortune stemmed from the volatile oil and gas industry, always little more than a recession away from potential ruin.
No team is more valuable than the Cowboys in 2021, according to Forbes, but Jones remains scared.
The Dallas Cowboys are coming off a horrendous year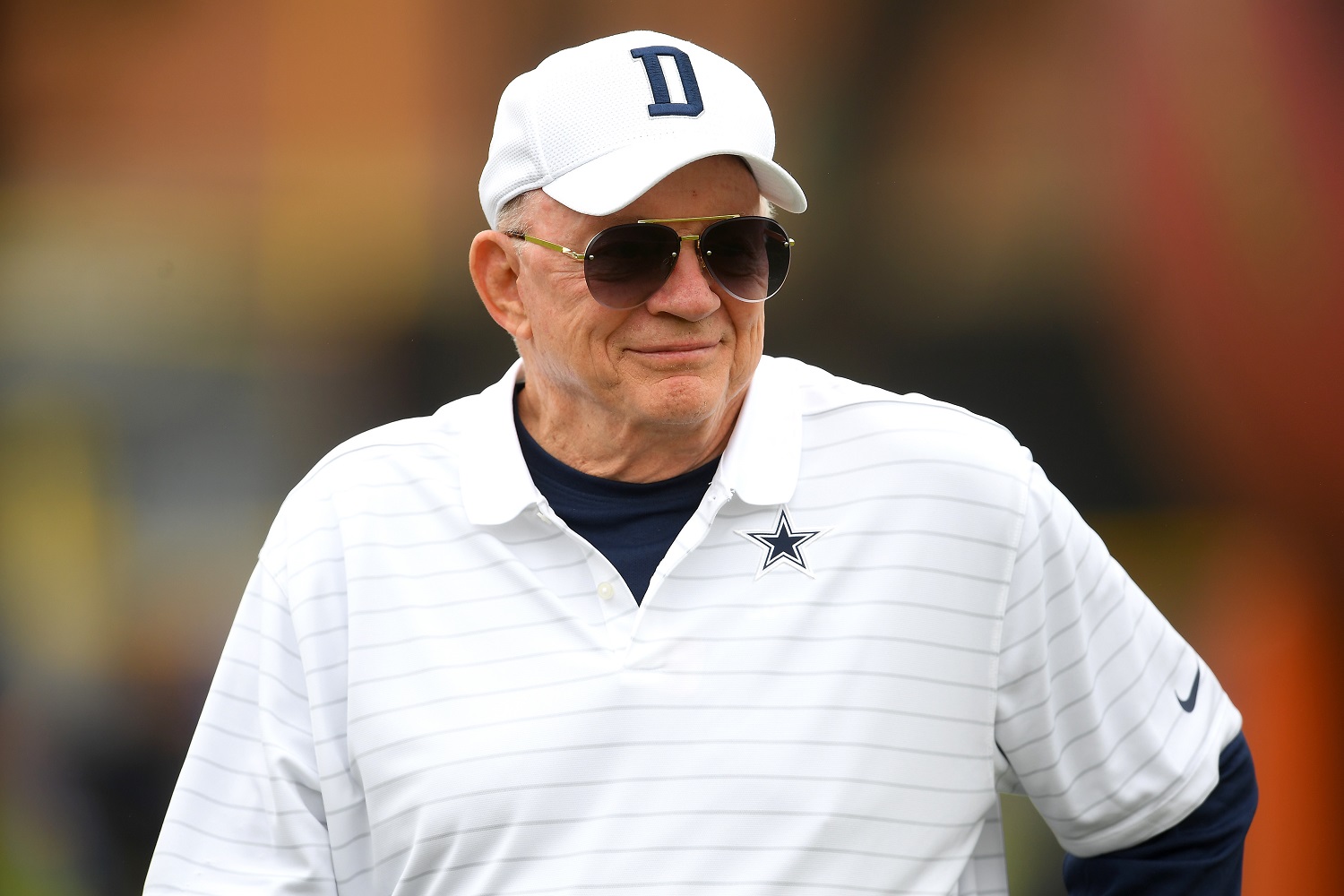 The NFL is cycling through the challenges of the COVID-19 pandemic for the second time. A year ago, most offseason work went by the wayside, and teams conducted preseason practice at their training facilities. The league canceled the exhibition schedule but managed to play a full season despite postponements triggered by positive virus tests.
Squeezing in a full season was of little consolation to Jones and his team. Every home contest the Cowboys played with restricted attendance cost the owner millions of dollars in game-day revenue.
Losing quarterback Dak Prescott to a gruesome ankle injury barely a month into the season set the tone for a 6-10 record in the NFL's most anemic division. The pandemic deprived Jones of every other aspect of ownership that made the Cowboys fun and invigorating for him.
Jerry Jones explains being 'scared to death'
Launching the 2021 preseason with the traditional training camp in Oxnard, California, boosts Jones' spirits and re-ignites any competitive spirit that COVID-19 doused last year.
"I feel as driven as I was when I first bought the team," Jones said, according to The Star-Telegram. "I was scared to death then, and I'm scared to death now. I worry about what's happening out here in the economy, the COVID, and I worry about our place in it, in the NFL, and where the place is in sports.
"But the thing that means the most to me, and I can probably be anywhere in the world, I want to be here right now. I want to be here with our team."
Jones says the Cowboys have reached approximately a 70% vaccination rate for front-line personnel. They need to get to 85% in order to qualify for reduced restrictions as they go through the preseason. Doing so would mark another milestone on the road back to normalcy.
On the other hand, he knows that the pandemic is still out there.
Jerry Jones' competitiveness remains intact
The rebuild after purchasing the Cowboys took Jones and Jimmy Johnson two seasons. They made the playoffs in 1991, then won Super Bowls after the 1992, '93, and '95 seasons. They haven't been back to a conference championship game since.
Jones has spoken in the past about how he wouldn't hesitate to write a check if it would return his team to the Super Bowl. In that respect, nothing has changed.
"The facts are that I would right now, if I could, and I knew that I had a good chance to do it, I'd do anything known to man to get in a Super Bowl. That's a fact. There's nothing, in my mind, that has a higher priority than that."
That's not necessarily realistic coming off a 6-10 season. It wouldn't take much improvement to win the NFC East, but getting to Super Bowl 56 looks like too heavy a lift at the moment.
"It's a better world to be naïve than to be skeptical and be negative all the time," Jones said. "I do my best work, I think, when it's more positive. I need it to be promising."
Positive and promising definitely beats scared.
Like Sportscasting on Facebook. Follow us on Twitter @sportscasting19.