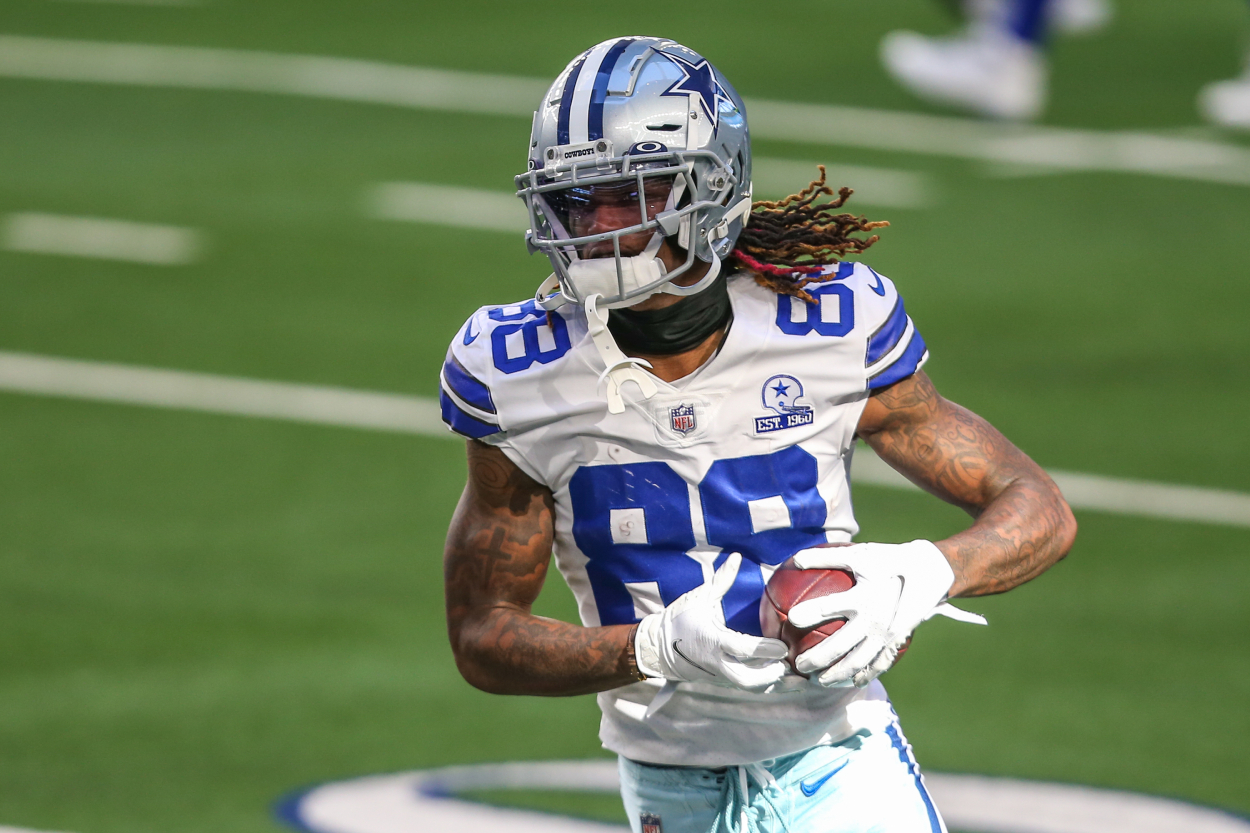 Cowboys WR CeeDee Lamb Is Channeling Hall of Famer Terrell Owens Heading Into the 2021 NFL Season
The Dallas Cowboys have had many great receivers over the years, and CeeDee Lamb has a chance to become one of them. In fact, as he heads into his second season, Lamb is channeling a former Cowboy and Hall of Famer in Terrell Owens. If he does so successfully, he can become a star.
Wide receiver CeeDee Lamb was one of the breakout rookies in 2020, as he had a big year for the Dallas Cowboys despite quarterback Dak Prescott missing most of the season. However, there is always room to improve, and Lamb appears to be doing just that. In fact, as he heads into the 2021 NFL season, Lamb is channeling a former Cowboy and Pro Football Hall of Famer in Terrell Owens.
CeeDee Lamb had a breakout rookie season for the Cowboys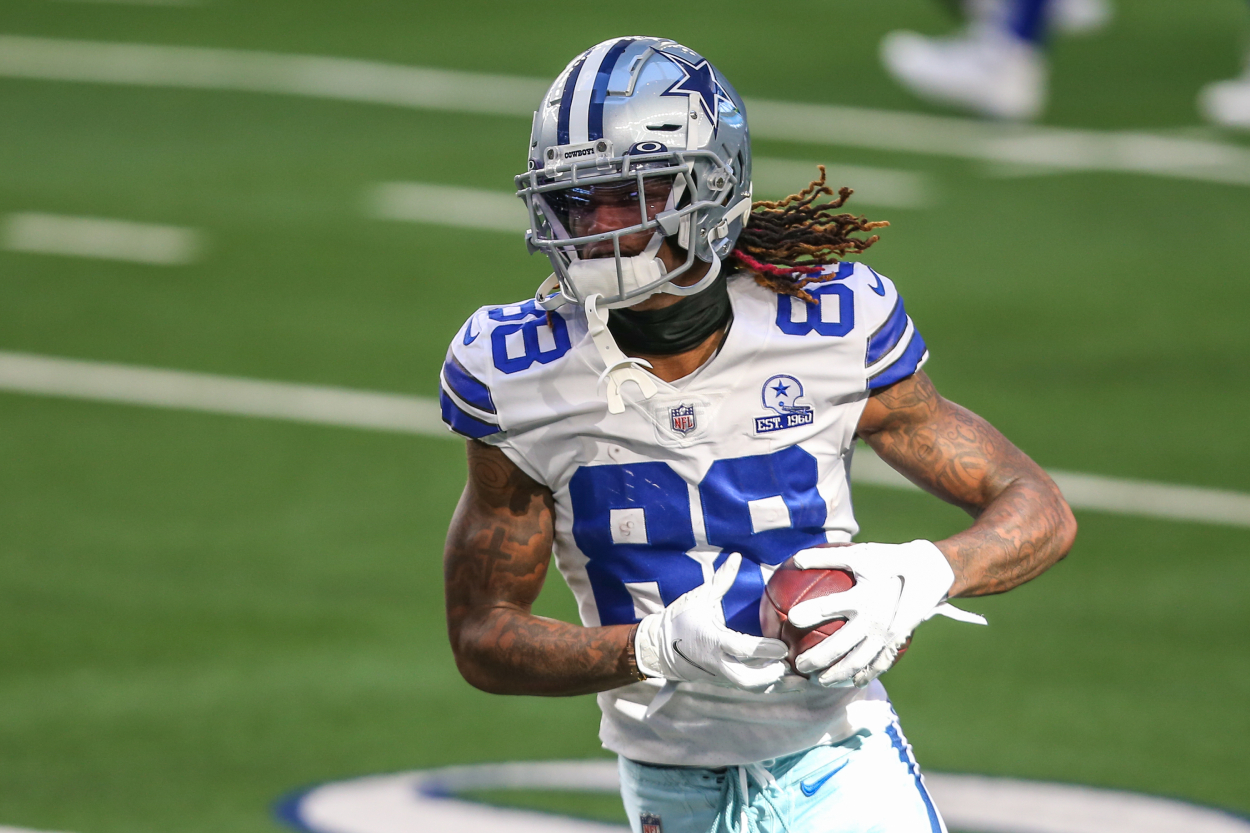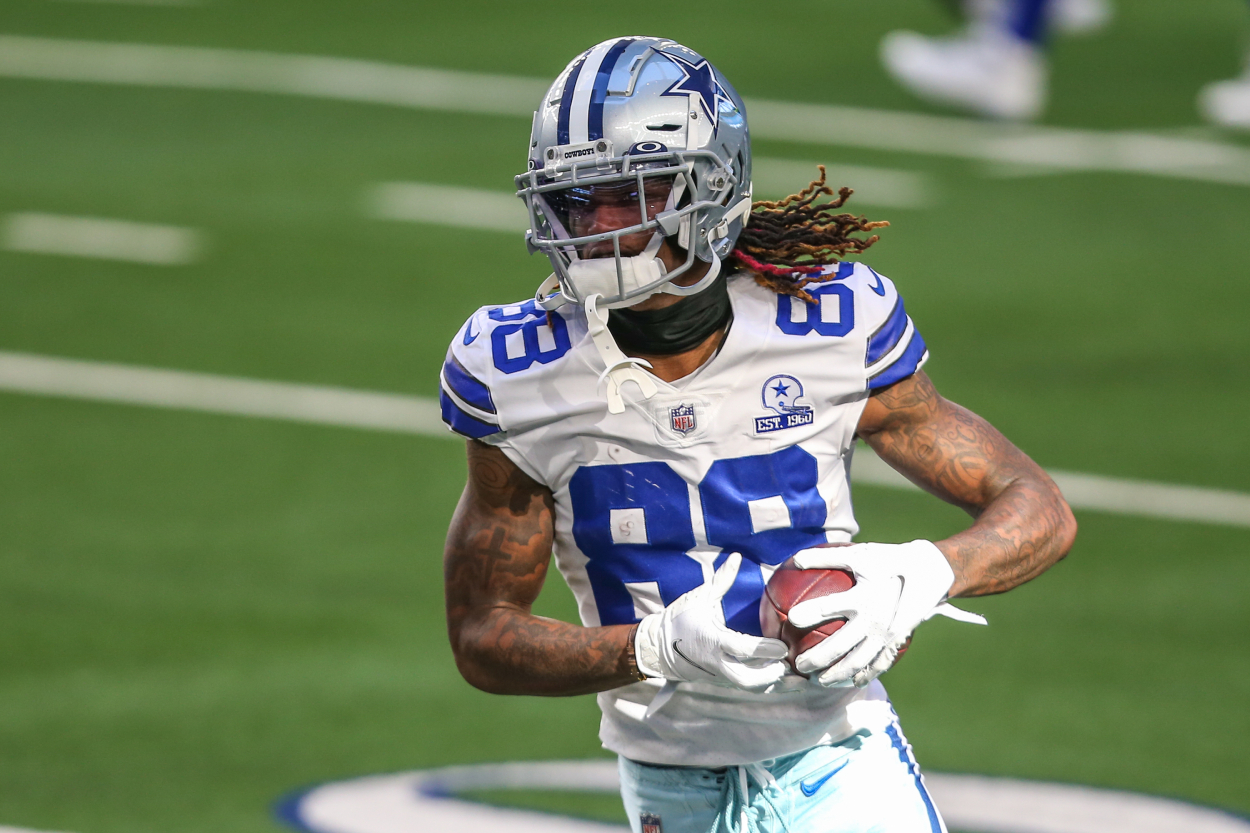 Lamb was an unstoppable pass-catcher throughout his college career with the Oklahoma Sooners. After catching 46 passes for 807 yards and seven touchdowns in 2017, Lamb was one of the best receivers in the country in 2018 and 2019. He recorded 1,158 receiving yards and 11 touchdown catches in 2018 and 1,327 yards and 14 touchdowns in 2019.
Lamb's stellar play led to him becoming a top prospect in the 2020 NFL draft, and Jerry Jones' Cowboys selected him with the No. 17 overall pick.
With the offensive stars around Lamb in 2020, he was all set to have a breakout year in Dallas. The Cowboys had quarterback Dak Prescott running the show while running back Ezekiel Elliott lined up in the backfield with him. They also had two other star receivers catching Prescott's passes in Amari Cooper and Michael Gallup. However, Prescott's injury early on in the season drastically changed the Cowboys' offensive system. Andy Dalton, Ben DiNucci, and Garrett Gilbert each ended up starting games at QB for Dallas throughout the year and proved to be major drop-offs from Prescott.
Despite playing with several quarterbacks, though, Lamb still had a solid season. He ultimately caught 74 passes for 935 yards and five touchdowns in 2020.
He is channeling Terrell Owens heading into the 2021 NFL season
With Prescott returning for the Cowboys in 2021, Lamb has a chance to make a big jump this season.
As he is preparing to do so, though, the young pass-catcher is channeling a Hall of Famer and a former Cowboys receiver in Owens. According to the Fort Worth Star-Telegram, Lamb wore a bracelet during OTAs with the phrase "get your popcorn ready."
Lamb, of course, said Owens inspired the bracelet, as TO not only used it as a catchphrase but he also had a famous touchdown celebration in 2007 where he grabbed a fan's bucket of popcorn and dumped it on himself.
The current Cowboys star ended up making several big plays during OTAs while channeling Owens, too, per the Fort Worth Star-Telegram, including a deep ball he caught from Prescott.
"I mean, as a typical receiver I feel like if the ball is in the air 50/50, the receiver is feeling like it's 100/0 always," Lamb said, per the Fort Worth Star-Telegram. "I'm looking to be more aggressive. Any time I see the ball in the air, I believe it is mine."
Lamb also said he thinks the second-year "jump is definitely there."
"It's all in the future to gauge it," Lamb said, per the Fort Worth Star-Telegram. "I am excited about the future. I can't wait for the season."
Cowboys fans should hope CeeDee Lamb becomes the next Terrell Owens
If Lamb can become the next Owens, Cowboys fans should be pretty excited for what's to come.
Owens is a Hall of Famer who caught 1,078 passes for 15,934 yards and 153 touchdowns in his career. For the Cowboys, he gained over 1,000 receiving yards in each of his three seasons in Dallas and was even a Pro Bowler and first-team All-Pro in 2007 when he caught 81 passes for 1,355 yards and 15 touchdowns. His Cowboys quarterback, Tony Romo, also had two of his four career Pro Bowl seasons while playing with him.
Lamb certainly has the potential to become a standout receiver like Owens and other Cowboy greats, like Michael Irvin, Drew Pearson, and Dez Bryant. He proved that in college and throughout his rookie year. If he actually lives up to that potential, though, he will not only become a Cowboys legend, but Lamb will also help Prescott play at an elite level, as Owens did with Romo.
If all this comes to fruition, Lamb and the Cowboys will become a very successful team and will be must-see TV. Get your popcorn ready.
Stats courtesy of Sports Reference and Pro Football Reference