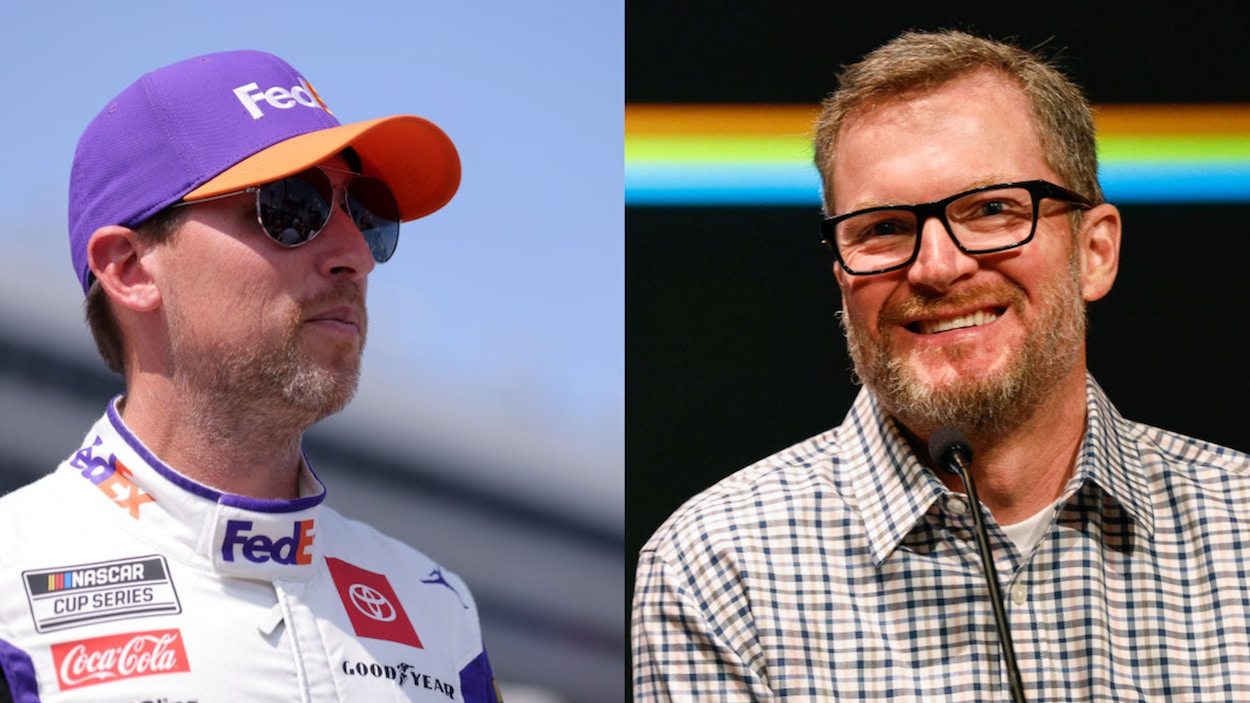 Dale Earnhardt Jr. and Denny Hamlin's Idea That NASCAR Scrap Single-Race Championship Format Is Utter Foolishness
Are Dale Earnhardt Jr. and Denny Hamlin two of NASCAR's biggest names? Yes, but that doesn't mean their bad ideas gets a pass.
Since 2014, every NASCAR Cup Series season has ended with a final playoff round consisting of a single race. This race — known as the "Championship 4 Race" or "Championship Race" — features four drivers competing against each other for the sport's biggest prize: the NASCAR Cup Series championship.
The concept here is so basic that even a small child can understand it because the champion is, quite simply, the driver among the four finalists who makes it to the checkered flag first. There are no bonus points or complex formulas or secret strategies involved, as the quartet of title contenders enter the finale with equal points and, therefore, an equal opportunity to come out on top.
Yet, somehow — despite the playing field being as level as you could ever hope for or possibly imagine — two extremely well-known folks within the industry actually believe that the method by which NASCAR crowns its Cup Series champion is inherently flawed and needs some fine-tuning.
Perhaps it's not surprising that the two people calling for change are none other than Denny Hamlin and Dale Earnhardt Jr. — two drivers who've never won a Cup Series championship under the current format, or any format, for that matter.
A three-race Championship Round isn't going to fix the Championship 4 (not that it needs fixing)
The biggest argument that Denny Hamlin and Dale Earnhardt Jr. make against a single-race Championship Round is that it favors a driver and team that run well at whatever track or type of track happens to be hosting the final event. Instead of a final round with just one race, which for the past three seasons has been hosted by 1-mile Phoenix Raceway, Hamlin proposes having the Championship Round consist of three races just like the three previous rounds in the 10-race playoff.
"In our sport, we're racing against 35 other people, and they can affect the outcome of your championship," Hamlin said during a recorded interview with reporters during the recent NASCAR Champion's Week activities in Nashville, Tennessee. "So, I think when you spread it out among a bigger sample size such as a three-race series, I don't see how that's not actually a positive thing for ratings. People will be compelled every week to tune in because this is the Championship Round, and I think there's something to be gained there."
Umm, not exactly. Let's suppose that one or more of the four championship finalists doesn't fare so well in Race One or Race Two of the fictitious three-race Championship Round that Hamlin has envisioned. Then you've got a little problem on your hands, because instead of four drivers going into the finale on equal footing, one or more of the finalists could be virtually or completely eliminated from title contention before they even show up at the track for the last weekend of the season.
How's that for anticlimactic?
As for the point Hamlin makes about drivers outside of the Championship 4 affecting the outcome of the championship battle, well, that doesn't hold water either. The only way to eliminate this possibility is to have a Championship Round — be it one race or three races or 10 races or 20 races — where just four drivers are allowed to race. As long as other drivers are on the track, there's always going to be a chance that someone who's not in title contention triggers a caution flag or does something else to affect the outcome.

You don't remove this possibility by expanding the Championship Round from one race to three, because non-title contenders would still inevitably impact all three races in one way or another. 
In fact, one could make a strong case that drivers not in the championship hunt are going to have a bigger impact on a three-race Championship Round than a one-race Championship Round. In that scenario, they'll have three times as many opportunities to mess up or get in the way.
A one-race Championship Round sure beats the alternative and must be accepted as the best option
Now, let's circle back to the notion that some drivers get a raw deal if the Championship Round features only one track.
"I've always kind of struggled with the final race being all or nothing," 15-time NASCAR Popular Driver turned NASCAR on NBC race announcer Dale Earnhardt Jr. said on a recent episode of his podcast, The Dale Jr. Download. "The reason why I struggle with that is because, well, the venue may suit a team or a driver. … You wouldn't ever consider running it at a road course or a superspeedway because that track certainly suits some drivers more than others, and you try to have it at a 'neutral' facility, if you will, like a Homestead or a Phoenix. But I always had a hard time with saying, 'OK, it's all boiled down to this one day where you've got to get it right, and if you don't, you're not a champion this year.'"
But that's how it works in the NFL, right? College basketball and college football? Yes, exactly. Just like NASCAR, each of these sports has its own version of a playoff — but the champion is ultimately crowned based on the outcome of a single game at the end of the season.
So, why should NASCAR be any different? Of course, we could go back to the pre-playoff days when the Cup Series champion was the driver who amassed the highest point total over the entire season. But under that format, winning races was far less consequential, and nine times out of 10, you had at least a pretty good idea of who was going to be the champion long before the final race weekend even arrived.
Talk about a suspense-killer. That format certainly fits the bill.
Obviously, certain tracks play to certain drivers' strengths, but so do certain race start times. Do you hear anyone screaming about it being unfair to drivers who are night owls and do their best work after dark that the overwhelming majority of races are contested early-to-mid afternoon?
Of course not. Even if daytime racing isn't a driver's strong suit, they learn how to adapt and be the best version of themselves when duty calls. Every season, you're going to have drivers and teams that perform consistently better at some types of tracks than others. It's just the nature of competition.
But any driver and team that's truly championship worthy should be able to raise their game for a one-race Championship Round, even if the venue isn't the one they would choose in a perfect world. This past season, two of the four championship finalists — Chase Elliott and Christopher Bell — had won on a track of one mile or less earlier in the season. Fellow title contenders Joey Logano and Ross Chastain had not.
So one could argue that Elliott and Bell showed up at Phoenix with an advantage. Yet, when the dust settled at the 1-mile track, Logano was the one winning the race and the championship, with Chastain finishing third in the race and coming home as the championship runner-up.
Great drivers and great teams are able to dig down deep and bring their "A" game regardless of the track where they're racing on any given day. If you can't do this, you don't deserve to be the champion — plain and simple. And that's true even if wanna-be champions Denny Hamlin and Dale Earnhardt Jr. disagree.