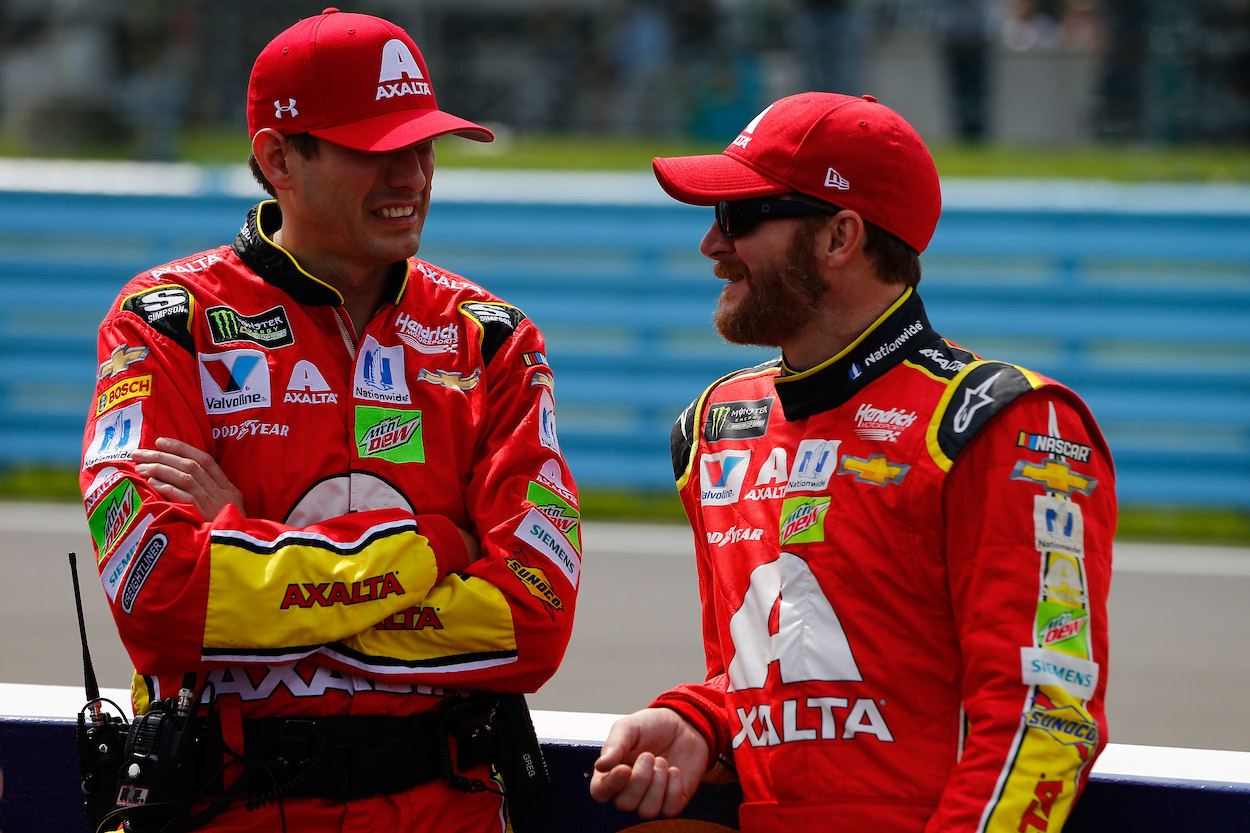 Dale Earnhardt Jr. Followed in His Father's Footsteps, Including Some Bad Habits Like the Inability to 'Shut Up' and Listen
Dale Earnhardt Jr. followed in his father's footsteps, which included some of his bad habits like the inability to shut up and listen.
Hindsight is 20/20. When Dale Earnhardt Jr. peers back into his past, he sees many great memories racing the NASCAR Cup Series, including a pair of Daytona 500 victories. In the latest episode of the Dale Jr. Download, Earnhardt talked about his time behind the wheel and working with former crew chief Greg Ives.
During that conversation, the driver admitted to one big mistake he made during his time with Ives and how he wishes he would have just shut up and listened more. Interestingly, it was the exact same thing his father did and it drove Junior crazy.
Dale Earnhardt Jr. partners with Greg Ives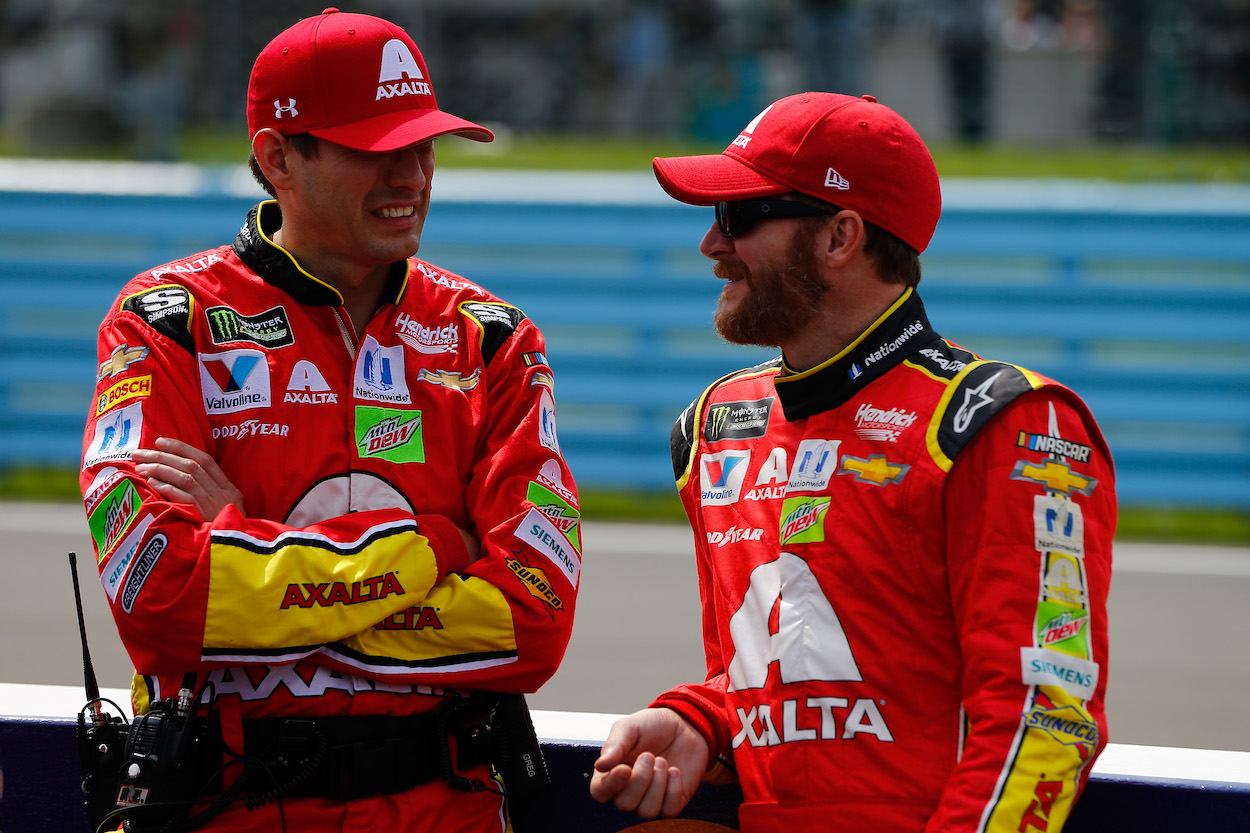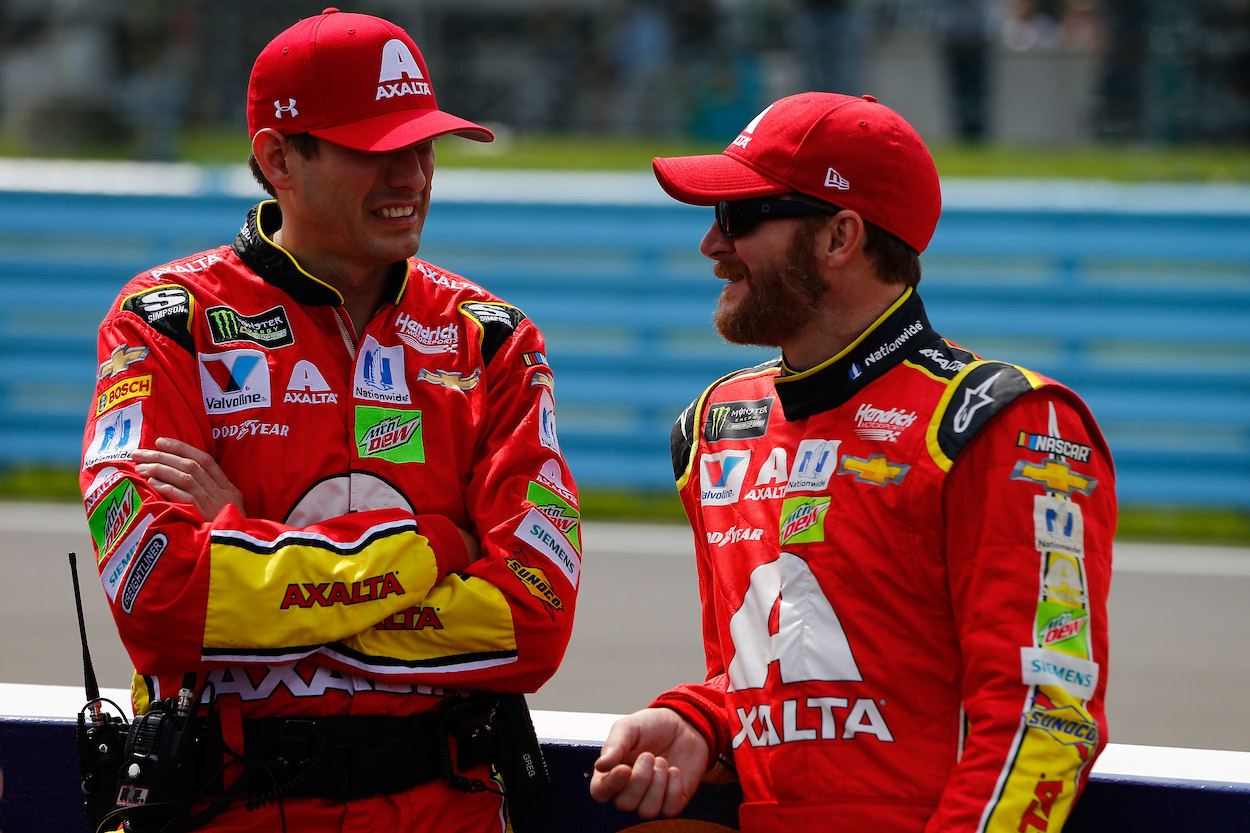 After a successful 2014 Cup Series season, which included a second Daytona 500 win and a couple of other wins en route to an eighth-place finish in the standings, Earnhardt was forced to make a change at crew chief. Steve Letarte moved up to the broadcast booth after four seasons managing the No. 88 team. 
Team owner Rick Hendrick replaced Letarte with Greg Ives, who had been the crew chief for Chase Elliott in 2014 when he won the Xfinity Series championship. 
The first year of the Earnhardt-Ives partnership produced positive results, including three wins at Talladega, Daytona, and Phoenix. Earnhardt finished 12th in the points standings.  
Earnhardt admits he should have 'shut up' and listened to Ives
While 2015 turned out to be a moderately successful season, Earnhardt recently admitted on the Dale Jr. Download that he regrets how he responded when Ives joined the team. The now 46-year-old said when he sat out the back end of the 2016 season due to concussions, he noticed a discernible difference between how Ives operated with him versus his replacement driver Alex Bowman during a race late in the year at Phoenix. Bowman bought in and listened to everything Ives had to say. Earnhardt did not.
"I was sitting there watching that, and I thought to myself, right away it was apparent," Earnhardt told his former crew chief. "I don't know if I'm going to run the next year or not, or what my future looks like, but I knew your future was with a younger driver who would listen to you and buy in. I was critical. If you said, 'I'm going to do this.' I'd be like, 'I'm going to tell you all the reasons that's not going to work.' 
"Older drivers get to a point where they listen less, they buy in less, they think that they have all the same answers that you have and they butt heads with the crew chief, whoever that guy is. It's rare when it doesn't happen. I wish, if I could do it all over again, I would have shut up and just say 'Yes, we're doing what you want to do.' And let you go and let you learn. Knowing what I know now, it would have been better off if I would have just bought in every weekend instead of trying to, in my own way, help you figure this thing out or trying to tell you how I would do it. I was filling your head with unnecessary ideas and information." 
Senior had a similar relationship when Larry McReynolds arrived
Junior's conversation with Ives was especially ironic, considering just a few months earlier on the podcast, he visited with his father's former crew chief Larry McReynolds and learned how his dad did the same thing
McReynolds described after he came on board, Earnhardt resisted change and preferred the status quo, which included letting other drivers conduct pre-race testing. Junior expressed his frustration with his dad's behavior. 
"That was the problem. Dad was struggling. Dad was trying to find the answer. This is like the golden ticket," Earnhardt said, referring to McReynolds. "You don't have opportunities to get crew chiefs that are so successful…The fact that he was hardheaded about going with this guy whose got some new answers, got some new ideas, and he's not even open to like let this guy have the reins. It's just frustrating to hear."
Like father, like son.  
Like Sportscasting on Facebook. Follow us on Twitter @sportscasting19.