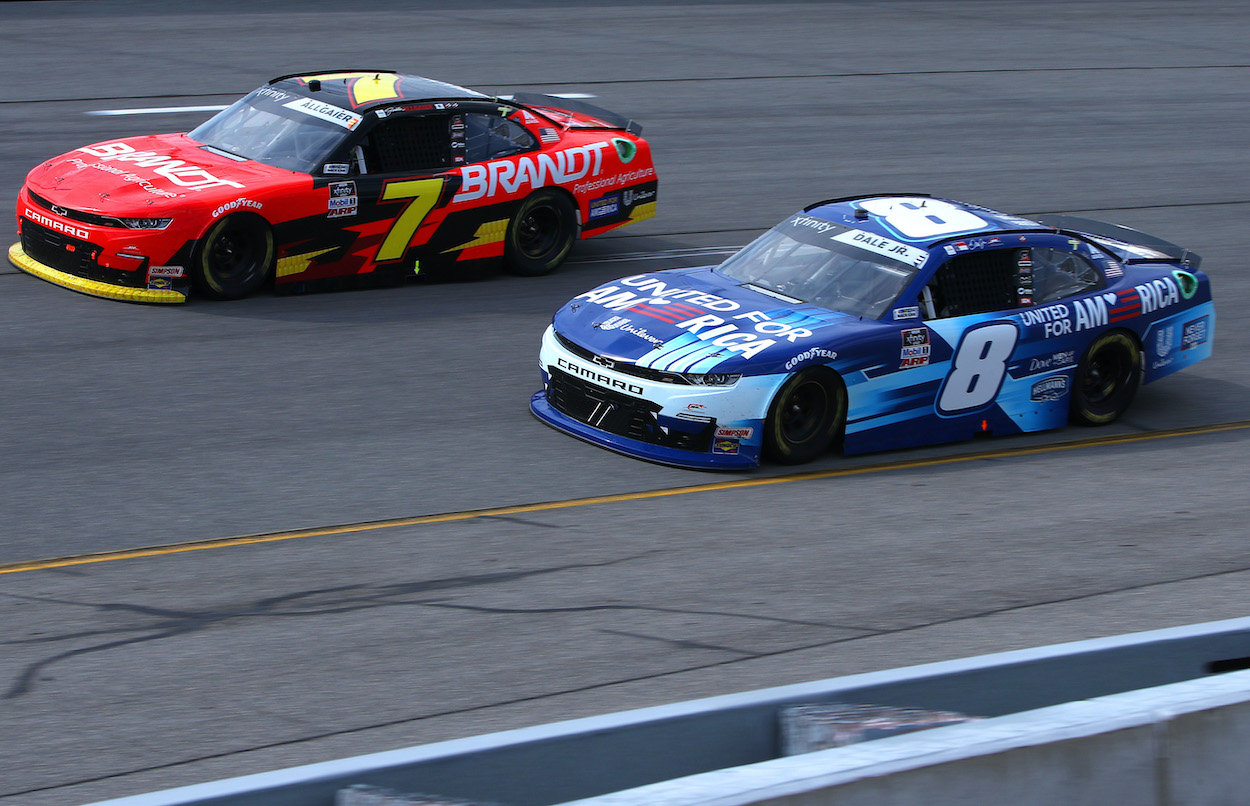 Dale Earnhardt Jr. Gets Big Dose of Karma in Bristol Xfinity Series Race After Setting Bad Examples for His Team a Week Earlier at Richmond
Dale Earnhardt Jr. got a big dose of karma during the Xfinity Series race at Bristol Friday night just a week after he set some bad examples for his JR Motorsports team at Richmond.
Dale Earnhardt Jr. returned to the Xfinity Series last weekend at Richmond to drive in his one race of the year. The two-time Daytona 500 winner didn't have the greatest day, finishing 14th, his worst result since racing the one-offs in retirement. His lackluster performance resulted from a rough-handling car, a speeding penalty on pit road, and some hard racing, which miffed Junior and prompted him to retaliate. 
A week later during Friday night's Xfinity Series race at Bristol, Earnhardt had a different perspective of the action from the broadcast booth. However, what he saw from his JR Motorsports team looked familiar and was a painful reminder of his performance and the bad examples he set as three of his drivers did the exact same thing he had done the week before.   
Dale Earnhardt Jr. sets bad examples for team at Richmond
Since Dale Earnhardt Jr. retired from full-time Cup Series racing after the 2017 season, he had raced three times on the Xfinity Series before last weekend's race at Richmond. In those three previous races, he finished fifth or better each time. The NASCAR Hall of Famer finished 14th last week at Richmond. 
The poorer showing could be attributed to multiple things, including Earnhardt struggling with the handling throughout the day, a costly pit road speeding penalty late in the race, and a damaged right front after being run into the wall by Kyle Weatherman with 20 laps to go. 
On the Dale Jr. Download, Earnhardt admitted the incident with Weatherman set him off, and he made it a point to let the young driver know he was not happy:  
"Immediately the caution comes out for whatever happened, and so we're rolling down into Turn 1, caution's out, everybody's slowing down, and I ran into the back of Kyle Weatherman's car. I was mad. I hit him. And I was like, 'That felt pretty good.' So I hit him again. And was like, 'I'm still mad, so I think I need to hit him once more.' So I hit him a third time, just in the back of his car. I bent the back bumper pretty good. And I thought, 'Man, I need to stop.' I wanted to hit him another time, but I didn't."
Dale Earnhardt Jr. blames JR Motorsports
Dale Earnhardt Jr. returned to the broadcast booth to call the Xfinity Series action on Friday night at Bristol. At the conclusion of the second stage, the driver-turned-announcer had flashbacks to the week before at Richmond when Noah Gragson and Justin Allgaier — both JR Motorsports drivers — were both caught speeding on pit road. 
Earnhardt couldn't help but address the situation.  
"Cars from the same organization, you have to think about how they set the lights on those cars for the drivers to be able to look at the tach and see the lights and it also makes me feel a whole lot better about last week where I sped on pit road as well," Earnhardt said, which drew laughter from those in the booth. "It does put these guys in a bit of a hole late in the race. You can't make these mistakes in such a short race."
"It was the organization?" Rick Allen asked, pointing out that it was Earnhardt's organization.
"It's got to be something, someone else," Earnhardt replied. 
"It's something with the organization," Allen laughed. 
JR Motorsports driver bumps car from behind during caution
Later in the race, during a caution and after an on-track incident between Austin Cindric and Sam Mayer, the 18-year-old JR Motorsports driver let the defending Xfinity Series champion know he was not happy by running into his bumper. 
"The 8's upset and pounding on the back bumper. I probably set a bad example last week," Earnhardt admitted, recalling the incident with Weatherman.
"I was getting ready to say, did he learn that from his owner? Because I saw his owner do that a week ago," Earnhardt's former crew chief and fellow broadcaster Steve Letarte said. 
"Okay. It looks a little different from the booth, I guess," Earnhardt confessed. "It feels good if you're behind the wheel of that 8 car though."
"You know we used the word organization earlier," Allen said, referencing Earnhardt's earlier remark about speeding penalties on pit road.
"Gosh, I'm glad you drive one a year because the material that gets created is endless," Letarte said.
"Everybody seems to enjoy it," Earnhardt said.
"Well, Sam's only 18 and you're what, 57?" Jeff Burton chimed in, which produced a collective "whoa" from the booth. "We expect you to be a little bit more mature."
It was an eye-opening moment for Earnhardt and one where the saying — do as I say, not as I do — couldn't be more appropriate.
Like Sportscasting on Facebook. Follow us on Twitter @sportscasting19.