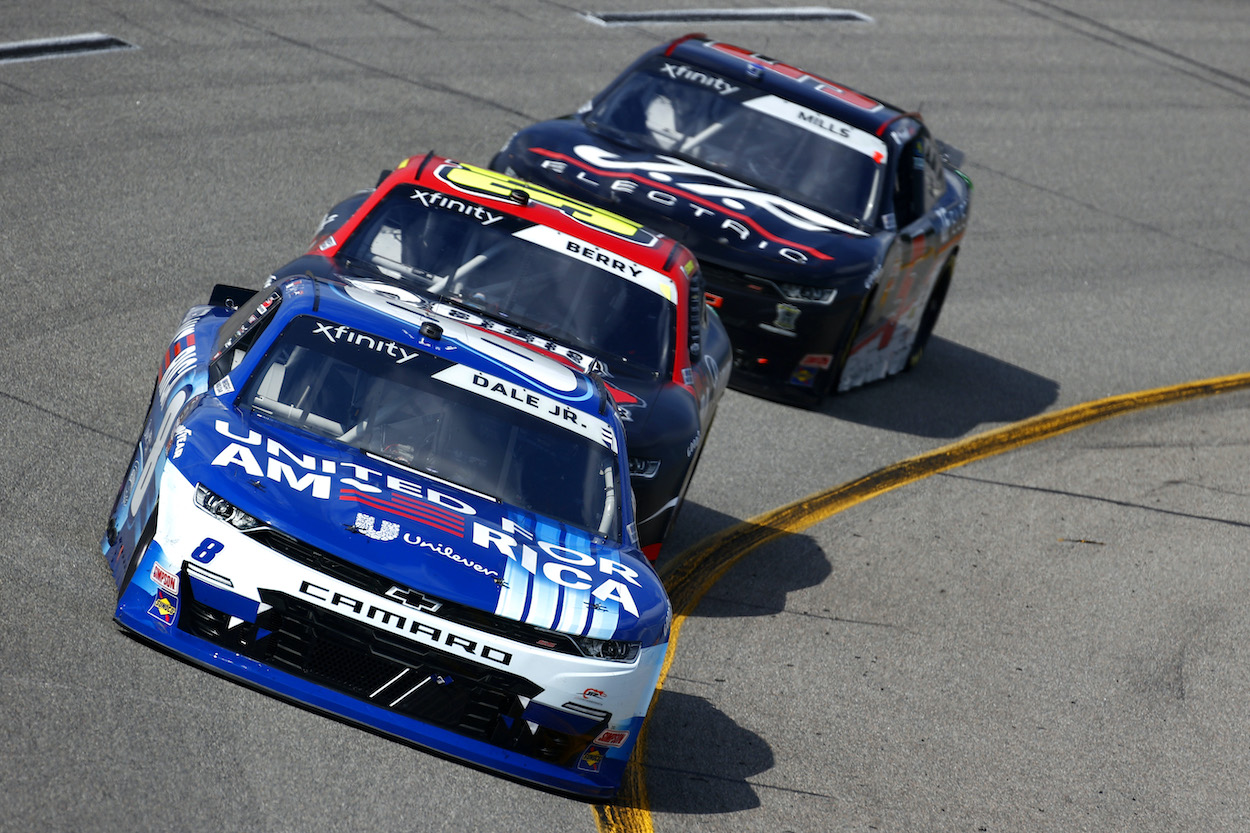 Dale Earnhardt Jr. Didn't Hold Back When an Upset Kyle Weatherman Confronted Him After the Race for Hitting His Car Multiple Times and Causing Damage: 'You Need to Go Fix the Son of a B****'
Dale Earnhardt Jr. didn't hide his feelings when Kyle Weatherman confronted him after the Xfinity Series race at Richmond.
Dale Earnhardt Jr. made his annual return to racing this past weekend with the Xfinity Series. During the race at Richmond, the two-time Daytona 500 winner upset driver Josh Williams, which was well-documented during the broadcast and included radio communication from both drivers. 
This week on the Dale Jr. Download, Earnhardt revealed an incident with another driver that didn't make the broadcast. He talked about the on-track incident, the awkward moment the driver confronted him after the race, and why Junior told him off. 
Dale Earnhardt Jr. gets fenced by Kyle Weatherman
Dale Earnhardt Jr. had an up-and-down day at Richmond. For a time, he ran in the top 10, but as his tires fell off during a long run in Stage 3, he slowly faded in the pack. He patiently waited for a caution to come out. When it happened with 26 laps remaining, he knew his No. 8 car was just one of a few teams that still had a fresh set of tires remaining. After getting the new stickers put on, Earnhardt planned on making his move up to the front. 
However, his plans were dramatically altered when another caution came out with 13 laps to go after Jeremy Clements spun out down low on the track. Earnhardt wasn't directly involved in the accident, but he was forced up into the outside wall with multiple cars trying to avoid Clements. 
"I was on the outside of Kyle Weatherman in the 47. Something happened on the inside in front of him, and he veered up the track to avoid what was going on and fenced me," Earnhardt said. "I hit the wall real bad and bent the ball joints in the right front and knocked the toe out. Immediately the caution comes out for whatever happened, and so we're rolling down into Turn 1, caution's out, everybody's slowing down, and I ran into the back of Kyle Weatherman's car. I was mad. I hit him. And I was like, 'That felt pretty good.' So I hit him again. And was like, 'I'm still mad, so I think I need to hit him once more.' So I hit him a third time, just in the back of his car. I bent the back bumper pretty good. And I thought, 'Man, I need to stop.' I wanted to hit him another time, but I didn't. I was so mad because I've got new tires, and the caution is out, and we're going to have another restart, and we're going to have another chance to gain more spots, but now my car is bent. Now the new tires don't matter as much anymore. Now it's not going to drive good and we're not going forward." 
Dale Earnhardt Jr. finished 14th for his worst finish since running one-offs with the Xfinity Series.
Weatherman confronts him after race
After the race, Earnhardt finished his TV interview on pit road and was doing his interview for radio when he noticed another driver had walked up and was waiting to talk to him. It was Kyle Weatherman.  
"He comes up, and I'm like, 'Hey, man. All good. No problems.' And he goes, 'Why you got to hit my bumper?' I was like, 'What?' He goes, 'You ran into my car. Why'd you do that? I've got to fix it.' I said, 'Well, you ran me into the wall. Like you hit me, you fenced me. I'm running into your ass. You hit my car. I'm running into your car.' And he was like, 'I got to fix it. I work on my car.' And I said, 'Well, you need to go fix the son of a b****.'
"He gave me that I work on my own car card. He pulled that damn I work on my car. I was like, 'Well, go work on it then. You got a bumper to fix.' I was like, 'Next time you hit me, I'm hitting you. You hit me. I'm hitting you.' That's the end of the discussion. He was all blowed up. All bent out of shape about it. … I can't believe this guy. He's like, 'I've got to run this car at the next race track.' I'm like, 'What the f*** about my car? You ran me into the damn wall. Does my car not matter? You tore my damn right front off.' Like he don't care. Like because I'm not the one working on it. What the hell?" 
Dale Earnhardt Jr. approaches Weatherman's team 
Following the exchange, Earnhardt met with his family and got cleaned up before returning to pit road for work with the Cup Series broadcast later that night. While walking down pit road with Jeff Burton, Earnhardt noticed Weatherman's car, and it had something written on the back of it referencing Earnhardt. He decided to stop by and visit.  
"The back of the car was dirty, and they wrote with their finger: 'JR was here.' I told Burton what had happened, and I see that, and I walk right over there to them," Earnhardt said. "There's about 10 to 15 people over there. I walk over there, and I'm like, 'We got to get a picture with this.' And so Kyle is standing there, and I think he was still a bit upset with me. I was like, 'Let's get a picture. You got your bumper. You wrote my name on it. Let's do this.' I'm standing there and his team, they kind of gather around. A couple of them were probably mad at me, but most of them weren't. So we take a picture, and Jeff Burton and Dale Jarrett were standing off to the side.
"And so we get done, and Jeff Burton is like, 'Hey, we had your back if anything went down.' They were joking. I said I appreciated it. He said, 'Why did you go over there? What if one of those guys did push you or something?' I was like, 'I don't know what Kyle Weatherman did when he walked back to his team.' He might have told them, 'I told that son of a b****. You should have heard me. I let him have it. I ain't scared of him.' I had to go over there and show them I'm unfazed. It was funny."
Dale Earnhardt Jr. might have had his worst performance racing with the Xfinity Series in retirement, but he was a big winner when it came to ruffling the feathers of other drivers. 
Like Sportscasting on Facebook. Follow us on Twitter @sportscasting19.