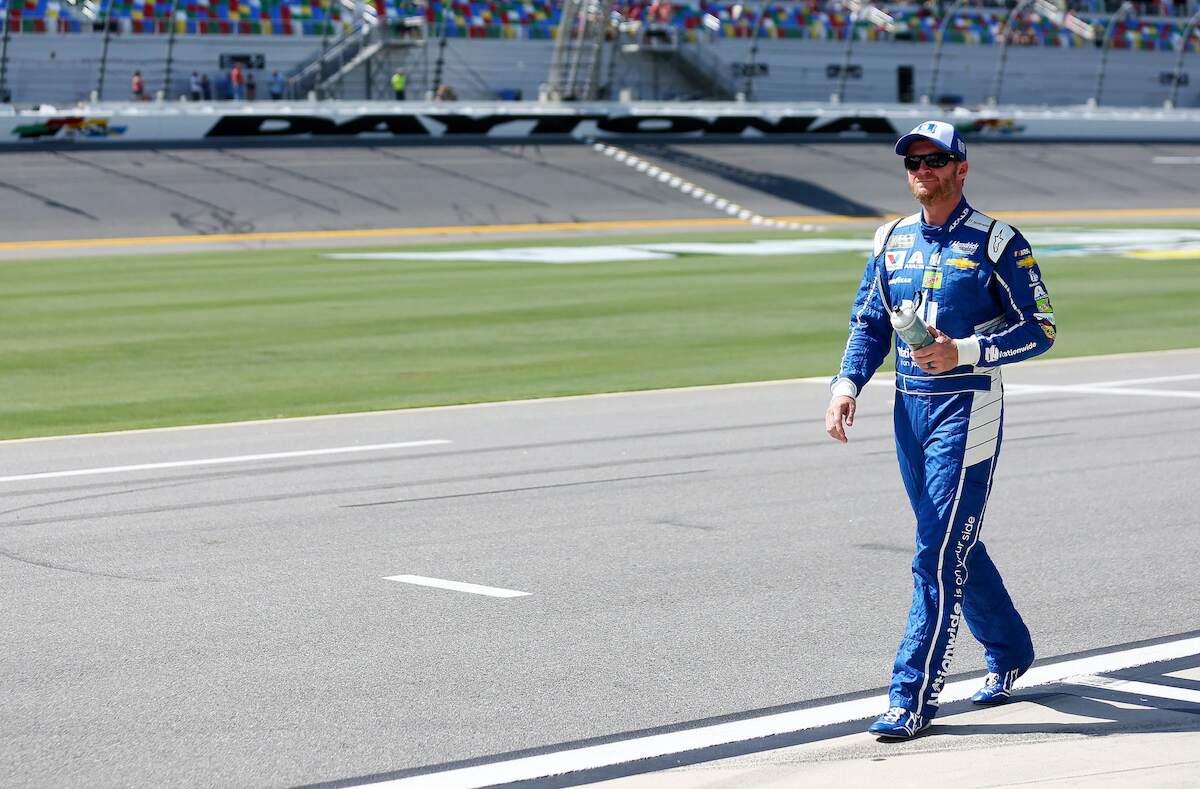 Dale Earnhardt Jr. Has a Specific Plan for How He'd Handle a Zombie Apocalypse That Involves High Explosives and Partying
During his time as a NASCAR star, Dale Earnhardt Jr. handled plenty of high-stakes situations. Surviving a zombie apocalypse, however, is another story.
By and large, Dale Earnhardt Jr. is in a pretty comfortable position these days. While he's no longer a full-time NASCAR driver, he's used motorsports to become both rich and famous. He has a wife and children, does plenty of media work, and, on the whole, seems like a success. A zombie apocalypse, however, could change all of that.
While there's no imminent threat of a zombie apocalypse — at least as far as we know — Dale Earnhardt Jr. still has a plan just in case of an emergency. In case you're curious, his strategy involves heading south, plenty of high explosives, and a whole lot of partying.
Dale Earnhardt Jr. is one of NASCAR's biggest names
These days, it's impossible to imagine Dale Earnhardt Jr. as anything other than a NASCAR star. Climbing behind the wheel of a stock car, however, wasn't always on the cards.
Junior wanted to play football in high school and, after earning an automotive degree, took a job at his dad's car dealership. That gig ended after a new service manager took over, though, and Earnhardt Jr. eventually found his way into the driver's seat.
While he initially started racing to form a relationship with his father, Dale Jr. also proved to be quite the talent. He joined the Busch Series in 1996 and, two years later, had graduated to the Cup Series.
Despite some major bumps in the road — losing your father in any circumstances, let alone during a race, is never easy, and concussion issues can derail even the toughest competitor — Earnhardt Jr. still put together quite a racing career. He won 50 races across both levels of NASCAR competition, took home 15 Most Popular Driver titles, and earned plenty of money along the way.
An explosive plan for a zombie apocalypse
By and large, Dale Earnhardt Jr. has had a pretty successful career. Fame and fortune, however, can only do so much in the event of a zombie apocalypse. Junior knows exactly what he would do in that scenario, though.
In March 2015, Earnhardt Jr. fielded plenty of questions from his fans on Twitter. Topics ranged from hunting to his father and everything in between. At one point, the conversation even turned to zombies.
When someone asked Junior what he'd do to survive a zombie apocalypse, the NASCAR star had an answer ready to go. "I'd drive to Key West, TnT the 7-mile bridge," he tweeted. "And party."
While there are some logistical concerns — what happens when you run out of supplies, for example — there is some logic to Earnhardt's plan. If you're on an island and the bridge is out, you probably won't be under threat from zombies.
If anyone can pull off that plan, it's theoretically Dale Earnhardt Jr.
If we're actually dealing with a zombie apocalypse, it's safe to assume that plenty of survival plans will go out the window. Dale Earnhardt Jr., however, seems pretty well-equipped to pull his off.
Thanks to his NASCAR success over the years, Junior has built up a massive net worth. It's generally estimated to be somewhere in the neighborhood of $300 million. While that money will be pretty useless once society crumbles, it can help secure plenty of logistical advantages ahead of time. TNT, for example, probably doesn't come cheap. Similarly, Junior could stock up on food, water, and other party supplies without breaking the bank.
Then, in regard to the partying part of the equation, Earnhardt Jr. should be able to take care of business. During his younger days, the driver had no problem having fun. He admitted that he might not have reached his full racing potential before joining Hendrick Motorsports and buckling down. With a zombie apocalypse raging and the road to the mainland destroyed, though, there's nothing to do but party.