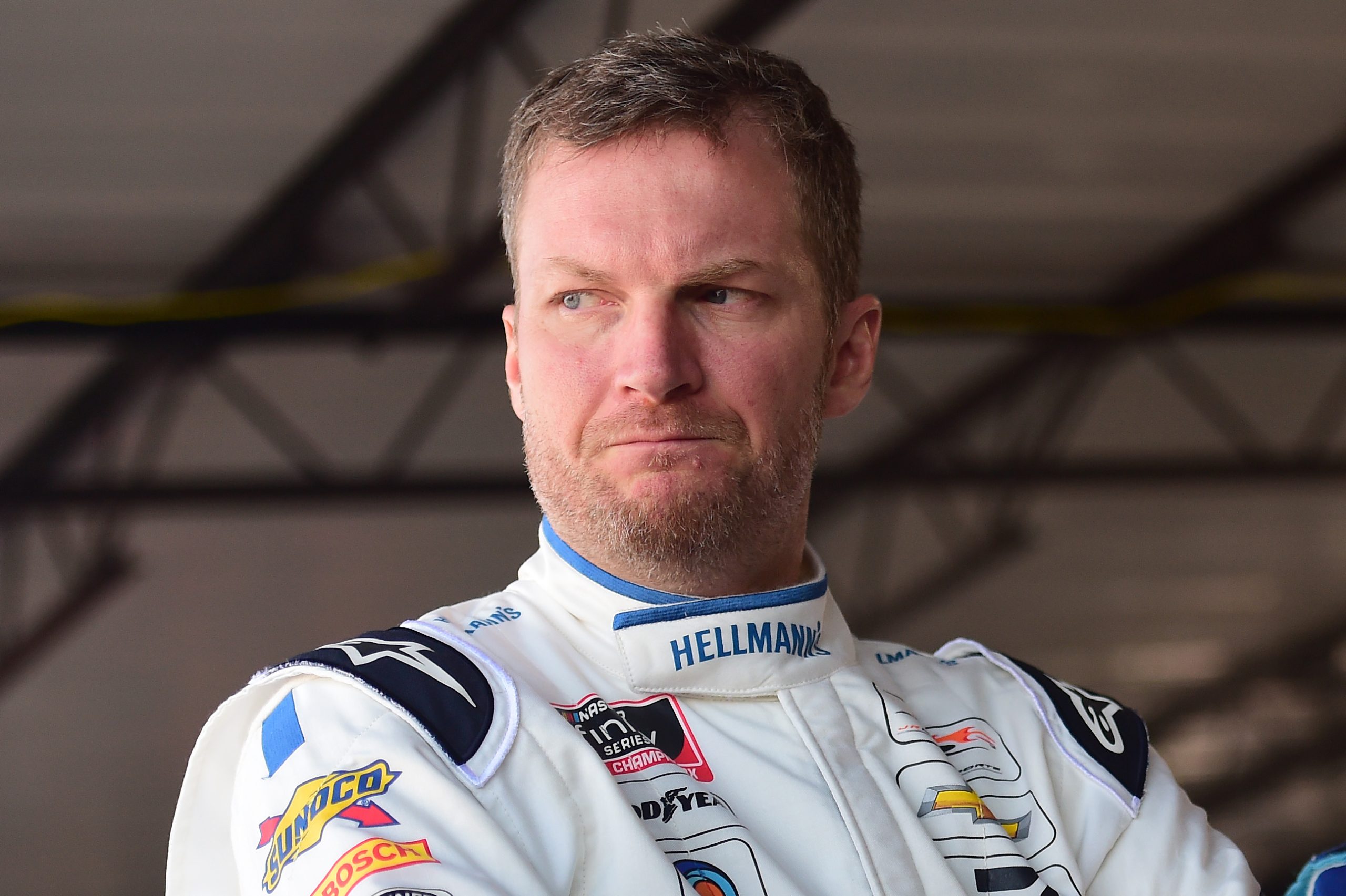 Dale Earnhardt Jr. Just Revealed His True Thoughts on NASCAR Doubleheaders
Here's what Dale Earnhardt really thinks about NASCAR doubleheaders.
The NASCAR Cup Series had its version of a doubleheader last weekend at the Poconos. The Saturday and Sunday races were both thrillers as Alex Bowman capitalized on a flat tire in the first race, and Kyle Busch saw his gamble pay off Sunday. Dale Earnhardt Jr. was in studio for both races and later revealed on his Dale Jr. Download podcast what his real feelings are on back-to-back days of Cup Series racing.
NASCAR Cup Series brought a pair of thrilling races to the Poconos last weekend
NASCAR fans got their fill of Cup Series racing with two exciting races at Pocono Raceway last weekend. Kyle Larson's win streak was halted at four when Bowman raced past him on the final lap as Larson's tire blew. The victory was Bowman's third this season.
"This is the strangest win I've ever been a part of," Bowman said of the Pocono Organics CBD 325, according to The Sporting News. "I thought I was running second, which was still going to be a good day for us with how we struggled throughout the course of the day."
Larson was clearly disappointed his win streak ended the way it did.
"I can't believe it," Larson said, according to Fox Sports. "I hate that we didn't get five in a row. It wasn't meant to be, I guess, today. … We'll try to start another streak tomorrow."
Larson came close again during Sunday's racing of the Explore the Pocono Mountains 350. He took second place as Busch gambled with his fuel level and overcame transmission issues to pull out the victory.
Dale Earnhardt Jr. gives his thoughts on doubleheaders
As exciting as the NASCAR racing weekend was, it brought up questions about having two Cup Series races at the same track on consecutive days. Earnhardt Jr., who was part of the action from the TV booth this weekend, gave his honest opinion of those doubleheaders.
During a Q&A session on his latest Dale Jr. Download podcast, he addressed the topic. "I would always say that going to each track once is plenty," he said. "We should be going to as many tracks as we can go to and not go to any track twice, even maybe Talladega and Daytona.
"I also feel like one street course, one doubleheader, one dirt race. Just try that for a couple of years. If a doubleheader is wildly successful and sustains that success and grows to be this sort of preferred experience for fans, then you think about doing more than one doubleheader."
Although Dale Earnhardt Jr. isn't ready for more doubleheaders yet, he had a blast at Pocono
Earnhardt Jr. didn't completely shut down the idea of more doubleheaders. In fact, he suggested doubleheaders might be just the thing for Pocono Raceway.
"Let that be special and unique to Pocono," he said. "Every track needs to have that thing that it's known for, that it's special for. Pocono is a destination. People go to Pocono just to vacation. That's why I think the doubleheader could work because you're coming into a town and a place where you want to be. You're going to have fun. Plus, you're going to have two days of racing.
"Maybe you come into town for a three-day weekend or a four-day weekend, whatever. If you have a doubleheader at a place that's not a destination, not necessarily a vacation town, I don't know if it works as well. We always need to think about offering the fan an experience. That race is only a piece of that."
Junior insisted the races were a blast, but he said to just enjoy the two-race weekend for what it was – a unique and enjoyable experience.
"We had an amazing weekend at Pocono. Let's celebrate that. Let's celebrate how much fun the races were. Just keep doing that for a few more years before we go doubleheaders somewhere else."
For what it's worth, Saturday's Cup Series race was way down in television ratings. According to Nick Bromberg of Yahoo! Sports, it was the least-watched race since 2000. Junior clearly isn't alone when it comes to believing doubleheaders might not be the way to go.