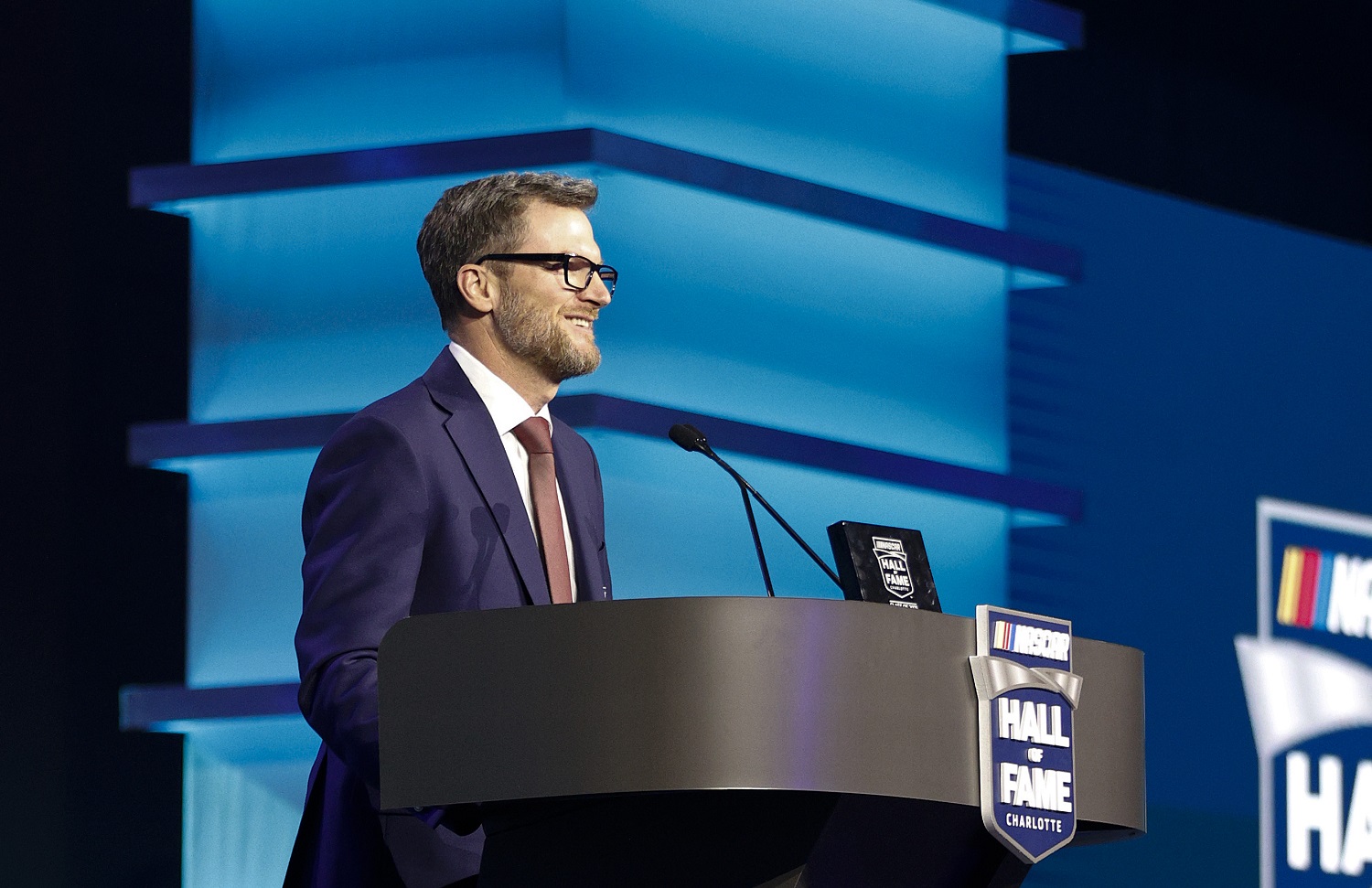 Dale Earnhardt Jr.'s 200-Word Email Sealed His Reputation as 1 of the Good Guys in Sports
Dale Earnhardt Jr. reached out to a reporter after a disappointing race in 2011. His message was evidence of why the retired NASCAR star remains enormously popular.
Drivers don't earn places in the NASCAR Hall of Fame based on personality, but perhaps likability opens the door a year or two sooner. Dale Earnhardt Jr. would have been the interesting test case had he ended his full-time driving career with something less than 26 Cup Series victories, a pair of Daytona 500 checkered flags, and two Xfinity Series titles.
One of the most-read reporters covering the sport recalled a story illustrating why Earnhardt deserves his reputation as one of the good guys in sports. It might have landed him in the Hall of Fame even without those Daytona wins or Xfinity championships.
Dale Earnhardt Jr. stepped up for the family of a fellow Hall of Fame Inductee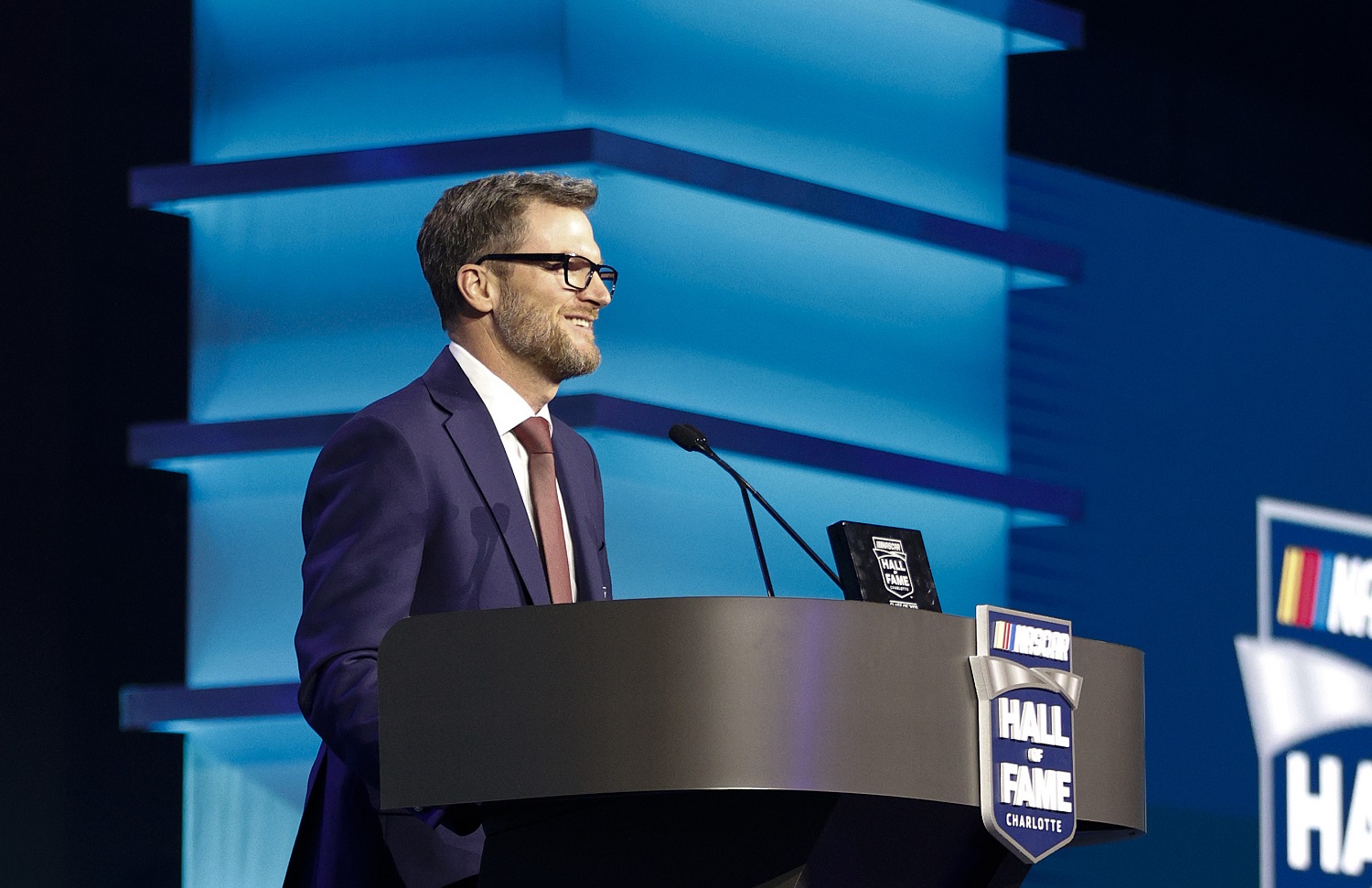 Dale Earnhardt Jr. went into the NASCAR Hall of Fame on Jan. 21 as part of a three-member class of inductees with Red Farmer and the late Mike Stefanik. The televised induction ceremony traditionally culminates with speeches from the honorees, but it took a pointy elbow by Earnhardt to make sure all were represented.
Stefanik, a top driver on the Modifieds circuit for close to three decades, died in 2019. The longtime Hall of Fame policy had been to treat posthumous inductees the same as other honorees, except for not having family members speak on stage. Upon hearing that Julie Stefanik would not be able to give a speech to go along with her husband's induction, Earnhardt lobbied Hall of Fame officials and succeeded in changing the policy.
It may not have meant much to anyone else, but the change meant everything to the family, and Stefanik came through with touching  memories of her husband.
Dale Earnhardt Jr. was always quick to cooperate in his driving days
Veteran reporter Jeff Gluck of The Athletic is one of the small number of U.S. writers on the auto racing beat full-time for a publication that covers more than just motorsports. He wrote about an episode between himself and Dale Earnhardt Jr. that took place in 2011 at Richmond as the NASCAR fan favorite was early in his third consecutive winless season.
Despite Junior's dry spell, Gluck made a point of writing about him frequently because the internet had become a thing, and fans clicked on those stories. Gluck explained that he usually just waited outside the Hendrick Motorsports team's No. 88 hauler after races, and Earnhardt unfailingly came out to talk regardless of how poorly the race had gone.
That day in Richmond turned out to be the exception, however. Earnhardt disappeared after a 19th-place showing, snapping a streak of three straight weeks in the top 10, and a team PR representative informed Gluck that the driver had left.
"Since that never happened previously, I took it as a sign of his frustration finally boiling over and wrote about it in a column," Gluck wrote. "As it turned out, that was an incorrect assumption. After midnight the next day, I got an email from an address I'd never seen with the subject line: "yo, its Jr here."
Dale Earnhardt Jr.'s 200-word email to a reporter sealed his reputation
Dale Earnhardt Jr.'s email to reporter Jeff Gluck explained that it wasn't his intention to duck out of interviews. Earnhardt conceded that he had been upset after finishing two laps behind the leaders. However, Earnhardt said he and crew chief Steve Letarte held a productive meeting. Afterward, he walked out the side door of the hauler and thought he'd checked to see if any reporters needed him. Somehow, Earnhardt and the PR person both missed Gluck, who was behind the trailer.
"I promise I didn't refuse a word with the media," Earnhardt wrote, according to Gluck. "I just wanted to let you know that I wouldn't disrespect you or any of your colleagues like that. If you don't mind passing that along to whomever you think it would concern I would appreciate it. See ya in Darlington."
Earnhardt could have torn into Gluck for writing what proved to be an inaccurate account of what happened after the race. Instead, he wrote close to a 200-word congenial email.
Gluck said the message opened a line of communication that lasted for years. It's precisely the way one would hope an iconic athlete would behave outside the spotlight.
Like Sportscasting on Facebook. Follow us on Twitter @sportscasting19.