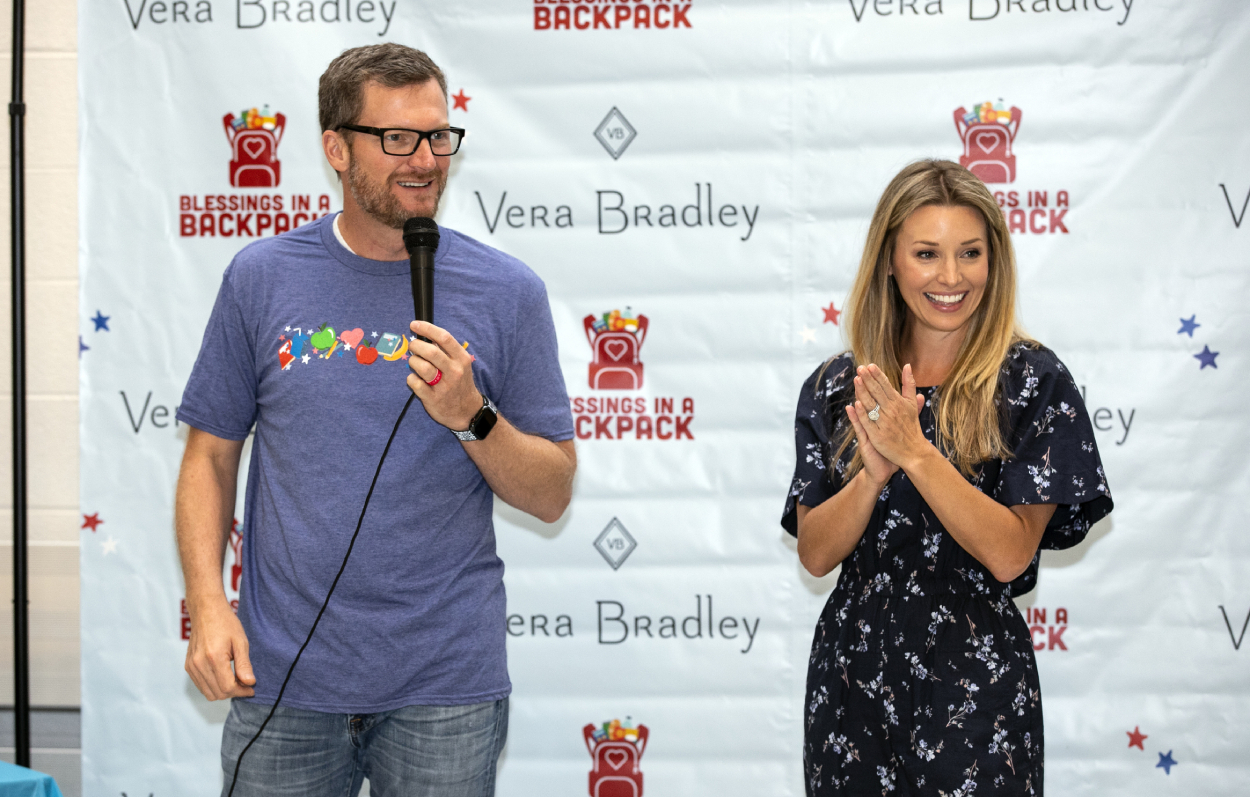 Dale Earnhardt Jr.'s Q&A From 2007 Hilariously Shows Just How Much People Can Change
Dale Earnhardt Jr. might want a do-over from the Q&A he did 14 years ago.
Throw that "a leopard never changes its spots" phrase right out the window. Dale Earnhardt Jr. has clearly shown that leopards definitely change their spots. We went back to take a look at a Q&A session from 14 years ago with the NASCAR Hall of Famer, and that leopard not only changed its spots, but it may be a different animal altogether.
Dale Earnhardt Jr. has come a long way since his younger days
Earnhardt Jr. has admitted he's come a long way. Imagine Junior standing in front of a television camera with a microphone hosting a NASCAR prerace show? It never would have happened years ago. He was always a shy kid, awkward around people. Today, he has his own podcast and is a television commentator.
 "I wasn't outgoing and wasn't one to strike up a conversation, and I was real, real quiet," he told Danica Patrick on her Pretty Intense podcast back in October. "It just created this sort of sustained personality and approach to life all through my teenage years. "I've just always felt super awkward around people, meeting new people."
Even on his own podcast last month, Earnhardt, who hosted Countdown to Green, a prerace show, said he was nervous about hosting the show, but never would have even thought about doing it 10 years ago.
"The funny thing is, if this happened 10 years ago, I'd have jumped up outta here and ran the other way without saying a word, and you'd never see me again," he said.
Dale Earnhardt Jr.'s Q&A from 2007 clearly shows people can change
We dug up an old question-and-answer session that Sports Illustrated compiled with Earnhardt Jr. back in 2007. My, how times have changed. At the time, Junior was a 32-yer-old bachelor who spent a lot of his free time partying and tearing up old computers and putting them back together. Here is a sample of some of Junior's answers he likely would cringe at when hearing them now.
SI: "What's the best part of your life as a NASCAR driver?"
Junior: "Having so many days off during the week. Getting paid a lot of money to work a few hours on the weekend. There's a lot of s— obviously that I have to do for sponsors, but it will never get to the point where the bad will outweigh the good. I mean, the best part about my job is knowing that I got every Monday off. I can't party on the weekends like my friends do, but I have most Mondays, Tuesdays, and Wednesdays off to do basically what I want." 
SI: "Do you hope to get married one day?"
Junior: "If it happens, it happens. It's a hell of a commitment. Can't you just hang with them? Do you have to get married? I imagine marriage changes the atmosphere of the relationship for the worse."
SI: Do you want children?
Junior: "Yeah, I want to have a son. I think that would really be fun. There's no greater accomplishment than procreation. You put something out there that is yours. I imagine that person being your best friend. That would be really, really cool."
Earnhardt Jr. would probably want a do-over for that Q&A session
Fast-forward 14 years. Ignore nearly everything Junior said in 2007. On Dec. 31, 2016, Earnhardt Jr. married Amy Reimann. According to fellow driver Denny Hamlin, it's Amy who brought Junior out of his shell. The couple has two daughters, and daddy wouldn't trade them for that son he said he wanted.
There's not a whole lot of time for that party schedule anymore. Those Mondays, Tuesdays, and Wednesdays are no longer party days. They are reserved for podcasts, family, and a slew of other events that consume his busy schedule.
During that Q&A session, he did rattle off a few other gems, saying,  "I'm not the kind of guy who'll just go head over heels and get married."
He also revealed his biggest secret. "I'm a Barry Manilow fan," he said.
No word if he's moved on from that one or not.