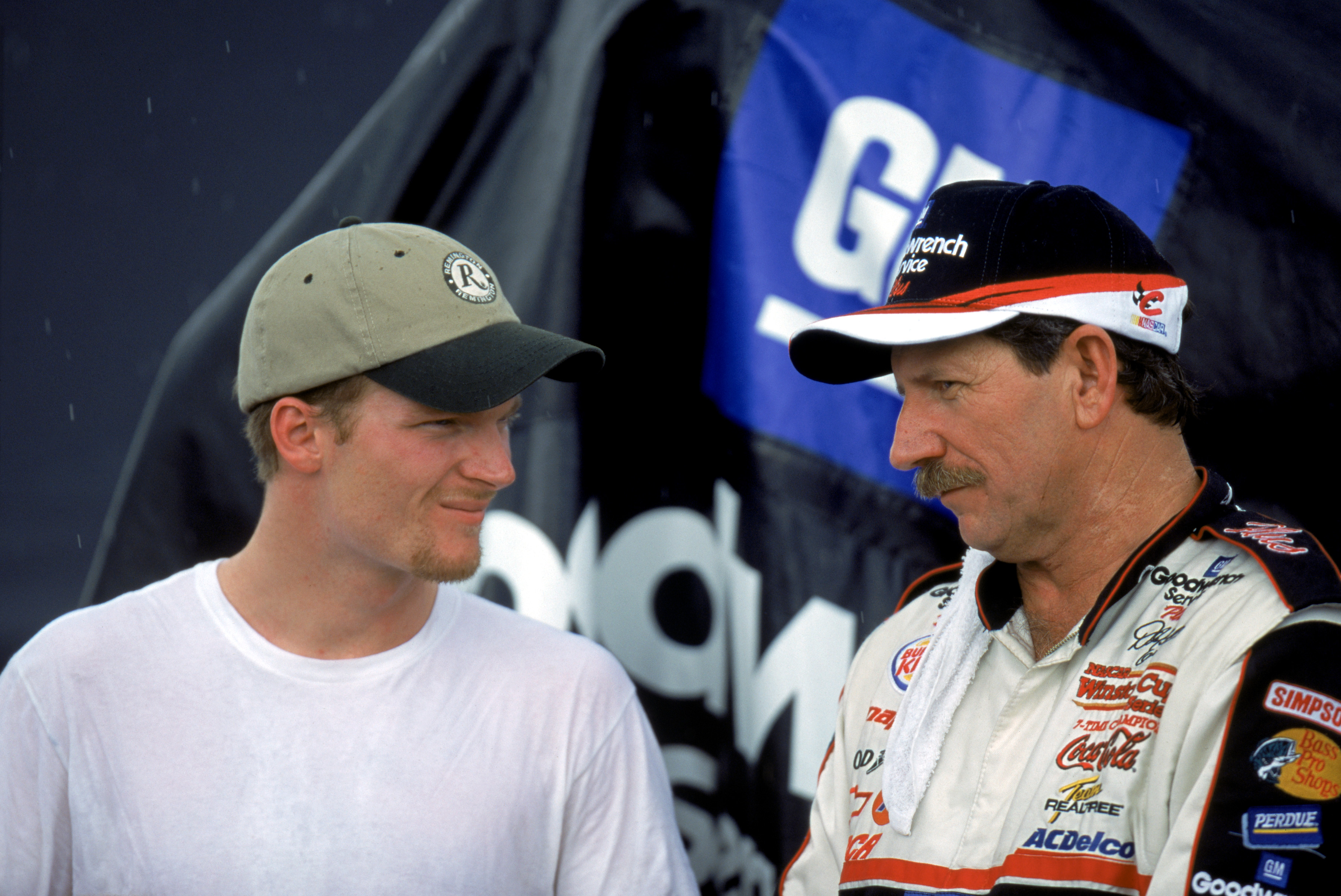 Dale Earnhardt Jr. Admits He Enjoys Talking About His Father's Failures
Dale Earnhardt Jr. says he loves talking about his late father's failures.
Of all the high-profile athletes, Dale Earnhardt Jr. might be the most relatable to the average person. Junior is a NASCAR Hall of Famer and a multi-millionaire, but he is also a realist. He's been through a lot. He shares his stories. Earnhardt Jr. recently spoke of his father on his Dale Jr. Download podcast and said he knows his late father, Dale Earnhardt Sr., wasn't perfect, although most dwell on his numerous racing achievements. Junior knows there's more to the story, and it's those stories of his father's failures he loves to talk and hear about.
Dale Earnhardt is considered one of the best in NASCAR history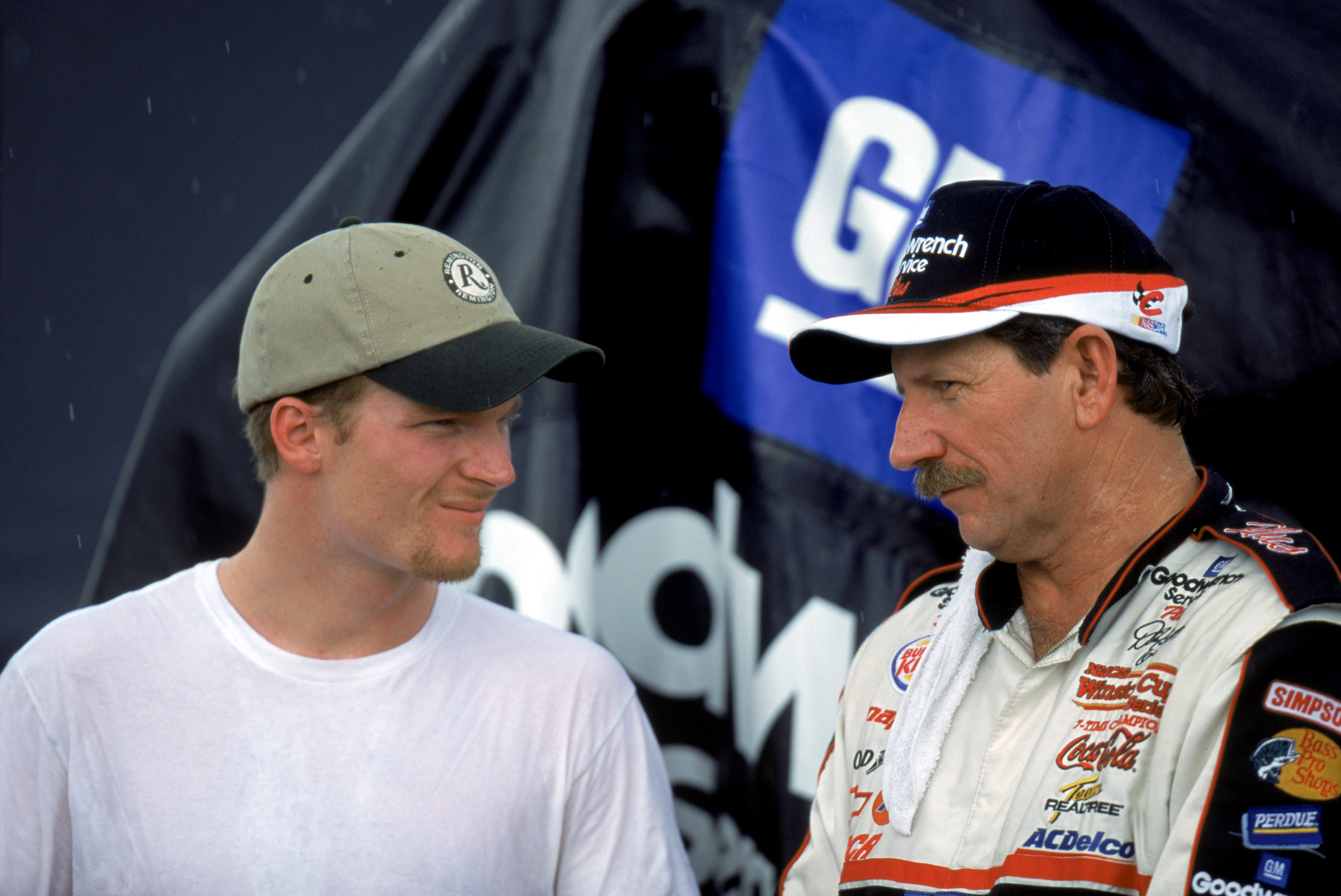 Nobody has won more NASCAR Cup Series championships than Dale Earnhardt. He captured seven titles during his illustrious career, tying him with Richard Petty and Jimmie Johnson for most all-time. He collected 76 victories during his Cup Series career.
The Intimidator was killed during the final lap of the 2001 Daytona 500. He was 48 when he died on Feb. 18, 2001. His death brought awareness to safety issues in the motorsports world, especially NASCAR. After many close calls, he finally won that elusive Daytona 500 in 1998.
Earnhardt won back-to-back Cup Series championships three times in his career. He collected 428 top-10 finishes in 676 career Cup races. In 1998, he was named one of NASCAR's top 50 drivers of all time. He was inducted into the Motorsports Hall of Fame in 2002. He is also in the NASCAR Hall of Fame, getting inducted in 2010 as a member of the inaugural class.
Dale Earnhardt Jr. knows his father wasn't perfect
Earnhardt Jr. and his sister Kelley were forced to move in with their father when Junior was about 6 years old after a house fire destroyed the family home. Their mother was struggling financially and needed to move back with family in Virginia, so they moved in with their dad and his third wife, Teresa.
The elder Earnhardt wasn't the best of caretakers as his racing career consumed him. He spent most of his time at the track and away from his family. "The absence of Dad, not just going to the races, but being a part of the things you were doing – proms, graduation, soccer games, softball games," Kelley said in an interview with Kyle Petty posted on Motorsports on NBC in 2019.
"It's absence. On top of that, it's one thing to be gone and not attend those things or whatever, but then in the home, too. You're not tucking them in the bed. You're not home at bedtime. He kinda left that to (his wife) Teresa."
Junior felt the same way. "I never saw Dad," he said to Danica Patrick on her Pretty Intense podcast. "I've got like one or two memories of Dad before I was probably six or so. I don't really know how much he was around or how often we were sent to be with him. If he got visitation, I don't know when he got them or how often he took his opportunity to do that. I don't have a lot of memory of that."
Earnhardt Jr. loves to talk about his father's failures
During the most recent episode of the Dale Jr. Download podcast, Earnhardt Jr. had Ty Norris, former executive vice president of Dale Earnhardt Inc., in the studio. The two reminisced about old times, including times spent with Dale Earnhardt Sr. While many perceived him as one of the best drivers ever, he had flaws. Those flaws are something his son loves talking about.
"I like when we talk about that part of him where you get to see him fail and be real and be human," he said. "I was riding down the road on the way to Darlington this weekend, and I had my uncle Robert Gee Jr. with me. He spent a ton of time with my dad in the 70s on the dirt tracks. When he tells a story about Dale Earnhardt, he holds dad on this pedestal.
"Pretty much most of the stories you're going to hear from Robert Gee Jr., dad's going to be wearing a crown. Robert Gee Jr. has a brother, Jimmy, that was there during all those same times. When you see Jimmy separate to tell the same story, he tells a more realistic version.
"Like he would say, 'Dad would go to the junkyard to get a three-dollar part and pay the guy three bucks to go back there and get his part. He'd eyeball all the other cars that were in there and all the other things he needed and break into the junkyard in the middle of the night and steal them.' Robert Gee Jr. would never tell that story.
"We've been talking about how insanely amazing he is all these years, and sometimes it's fun to talk about how real he was."