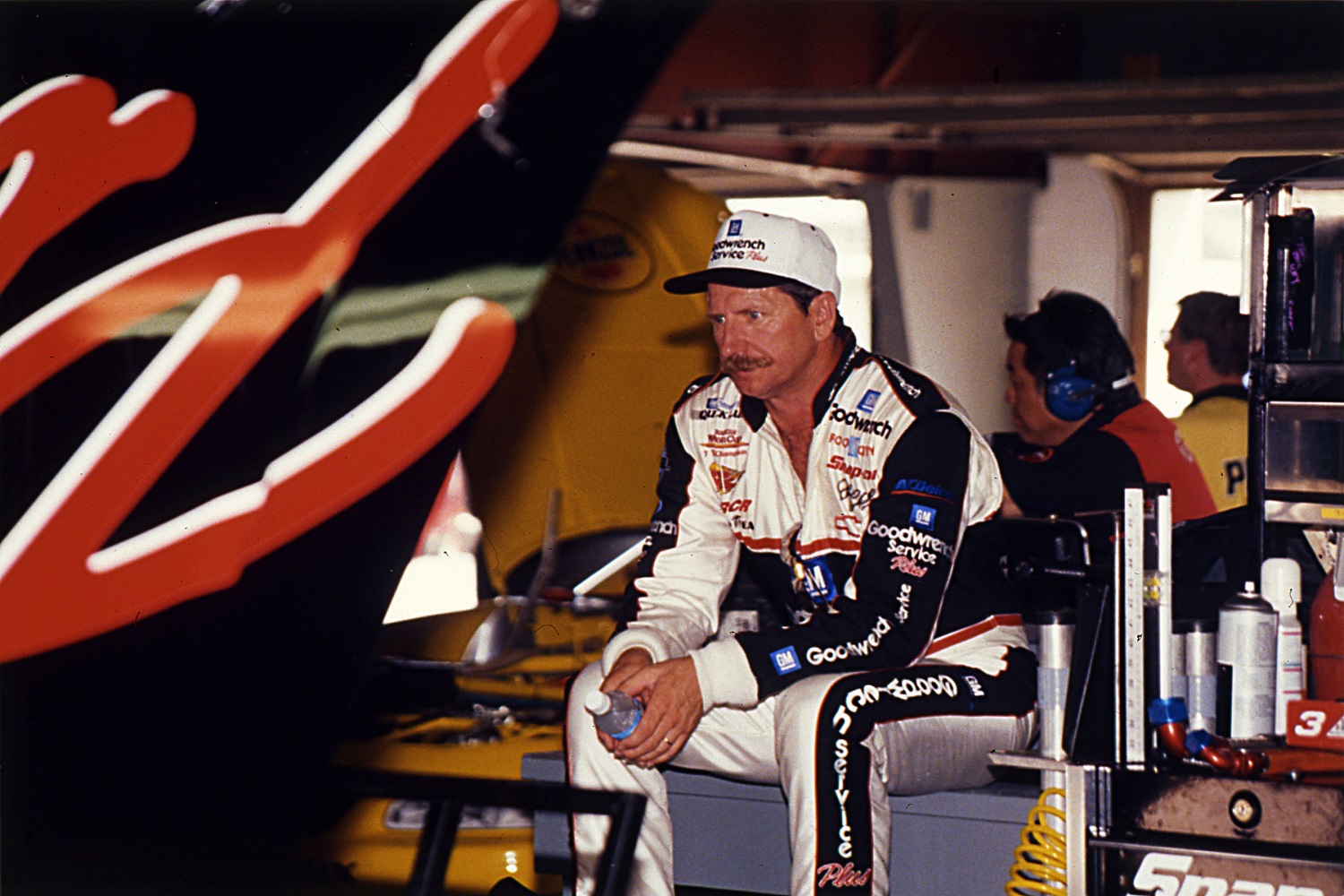 Dale Earnhardt Might Have Lived If NASCAR Had Learned from J.D. McDuffie's Tragic Death
Dale Earnhardt Sr. was not a fan of HANS safety devices. NASCAR made the equipment mandatory less than a year after the seven-time champion's death.
Before the racing world mourned the loss of Dale Earnhardt Sr. in 2001, drivers Adam Petty, Kenny Irwin Jr., and Tony Roper also perished in on-track tragedies the previous year. However, one has to go back to Watkins Glen in 1991 and the death of driver J.D. McDuffie to understand how close NASCAR may have been to adopting the safety measures that had the potential to save the lives of Earnhardt and the others.
It is notable that there has not been a crash-related fatality in the nearly two decades with the new measures in place for NASCAR's top three circuits. It's easily the longest stretch of time the sport has ever seen between tragedies.
Dale Earnhardt's death brought about a major change
The 20th anniversary of Dale Earnhardt's death during the 2001 Daytona 500 brought back recollections of the accomplishments of one of the greatest drivers in NASCAR Cup series history. Understandably, his shocking death during the final lap was a significant part of the discussion.
Earnhardt collided with Ken Schrader after light contact with Sterling Marlin. Earnhardt's car hit the wall head-on moments before Michael Waltrip took the checkered flag. The injuries to the seven-time series champion were fatal, and an autopsy concluded that Earnhardt had suffered a basilar skull fracture.
NASCAR and police agencies began investigations immediately, and a seatbelt failure was cited as a contributing factor to Earnhardt's death. More significantly, however, Earnhardt was not using a relatively new safety device that other drivers started to adopt.
That story goes back to J.D. McDuffie and another NASCAR tragedy.
J.D. McDuffie died of a basilar skull fracture
The car of independent driver J.D. McDuffie's suffered a mechanical failure, collided with Jimmy Means' ride, and slammed into a retaining wall early in a 1991 NASCAR Cup Series road-course race at Watkins Glen. McDuffie, 52, died instantly from head injuries – specifically a basilar skull fracture from his head being pulled sharply to the side by the impact.
By that time, sports car driver Jim Downing and Michigan State engineering professor Robert Hubbard had already begun production on a driver safety restraint called a HANS (Head and Neck Support) device. Auto manufacturers had already been plowing money into the project, and McDuffie's death created greater urgency.
The National Hot Rod Association was the first to adopt the HANS device as a recommended feature in 1996, though it did not become mandatory until 2004.
The deaths of NASCAR drivers Adam Petty, Kenny Irwin Jr., and Tony Roper in separate incidents in 2000 accelerated interest by sanctioning bodies across the sport in reducing the risk of basilar skull fractures resulting from violent head movements. However, Dale Earnhardt was one of the many NASCAR drivers who resisted using a HANS device.
Everything changed once Dale Earnhardt died
Dale Earnhardt Sr. was one of the holdouts when it came to the use of a HANS device.  Earnhardt was already a contrarian when it came to the use of full-face helmets and viewed research into cocoon-like seats as frivolous. Some of his greatest resistance was reserved for head restraints like the HANS device, which ESPN reported he termed "that damn noose."
Once Earnhardt died in the 2001 Daytona 500, everything changed in NASCAR circles. Combined with the trio of deaths the previous season, it was too much for the sport to ignore. On Oct. 4, 2001, Kerry Earnhardt, a son of the racing legend, was involved in an ARCA race crash in Charlotte, North Carolina, that killed fellow driver Blaise Alexander.
Thirteen days later, and more than a decade after the death of J.D. McDuffie, NASCAR mandated the use of the HANS device by drivers in their top three series.
Like Sportscasting on Facebook. Follow us on Twitter @sportscasting19.