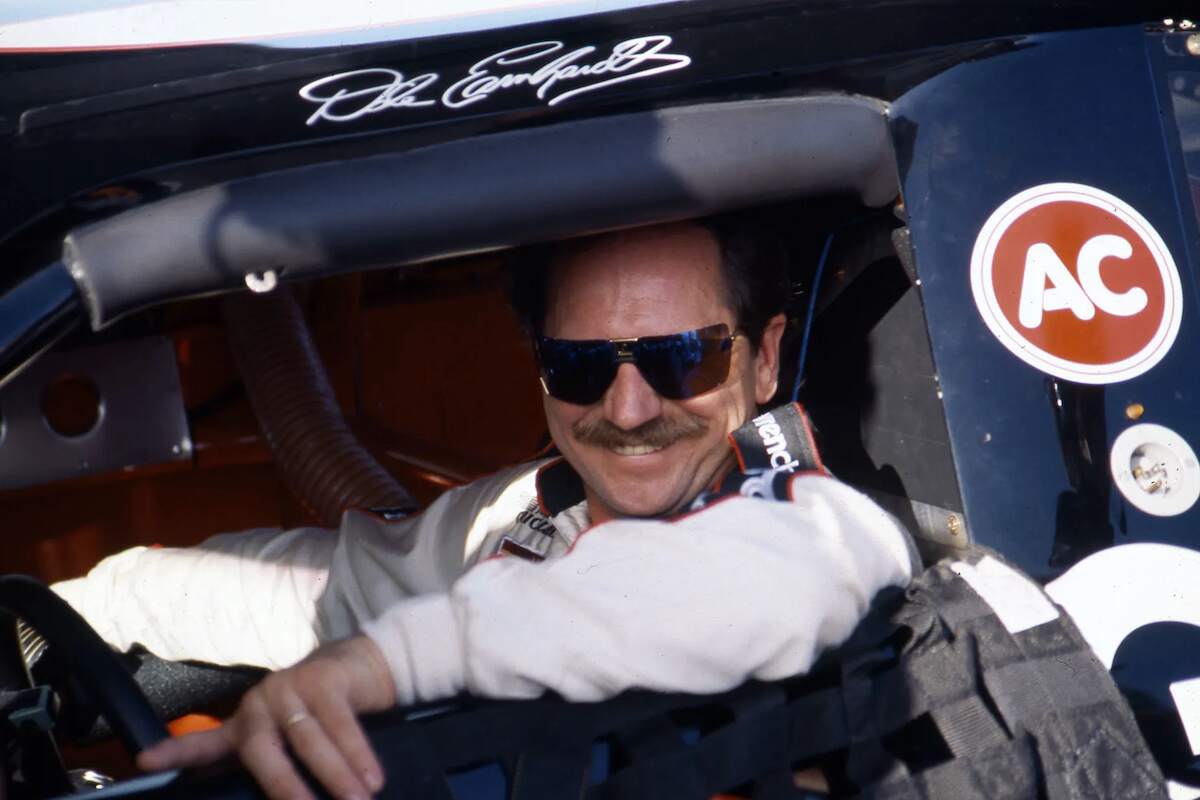 Dale Earnhardt Sr. Once Shaved His Signature Mustache Trying to 'Not Drown' During a Vacation With Michael Waltrip
While Dale Earnhardt Sr. usually rocked a pretty sweet mustache, he once shaved it off during a tropical vacation with Michael Waltrip.
While it's unfortunately been quite a while since Dale Earnhardt Sr. hit the NASCAR circuit, no fan will ever forget the racing legend. Beyond his motorsports success, the Intimidator built quite an image over the years: he was a tough, no-nonsense guy who'd stare you down from behind his sunglasses and a bushy mustache. On one occasion, though, he briefly went without any facial hair.
Yes, you read that correctly. At one point, Dale Earnhardt Sr. went without his signature mustache. And what prompted that change? According to quotes from the time, the Intimidator was trying not to drown during a tropical vacation with Michael Waltrip.
Dale Earnhardt Sr. had a legendary NASCAR career
While Dale Earnhardt had a pretty sweet mustache, facial hair alone doesn't make someone famous. During his time behind the wheel, the NASCAR driver also put together a legendary career that will stand the test of time.
Although his father hoped that he'd find a different line of work, Earnhardt was drawn to the family business. He dropped out of high school and, in 1975, made his Winston Cup Series debut. Dale then began racing full-time in 1979 and promptly captured the series' Rookie of the Year crown.
While some athletes can make a promising debut and then fade into the background, Earnhardt didn't slow down. He claimed his first Cup Series championship in 1980. From there, he only kept going.
By the time his career came to a tragic end, the Intimidator had become the face of NASCAR. He won 76 races, earned a record-tying seven Cup Series championships, and built up a $70 million fortune along the way.
The Intimidator took his mustache pretty seriously
If you picture Dale Earnhardt Sr., you probably imagine him wearing sizable sunglasses and a racing suit. No matter his outfit, though, it's almost impossible to imagine the Intimidator without his signature mustache.
As you might imagine, Earnhardt took that facial hair pretty seriously. In fact, he wouldn't let just anyone trim his mustache.
"I was intimidated by the Intimidator, to say the least," Steve Ellsworth, Earnhardt's longtime barber, explained in 2015, according to an ESPN story. "The first three times I cut his hair, I couldn't touch the mustache. He liked that big bushy mustache. I finally talked him into it, and he said, 'Oh Lord! Wrangler's gonna fire me!"
Earnhardt wasn't fired, however, and did return to Ellsworth for another trim. He even started bringing a young Dale Jr. along for haircuts, too.
Dale Earnhardt shaved off his own mustache on one occasion, though
Despite his hesitance to let Ellsworth trim his signature facial, Dale Earnhardt Sr. took a razor to his own mustache on at least one occasion. It seems like the Intimidator was more concerned with having fun than he was with preserving his signature look.
"Earnhardt shaved the mustache last weekend while vacationing in the Bahamas during a rare NASCAR Winston Cup off weekend," a 1994 Greensboro News & Record story explained. "Earnhardt, who snorkeled with Michael Waltrip, had problems with his mask. It wouldn't seal above his mouth because of the mustache and water rushed in."
Rather than sit on the sidelines, Earnhardt decided to shave off his mustache right then and there.
"Man, I was just drowning," the driver explained. "I got up on the boat and shaved. [Then] I could go down about 10-12 feet and not drown."
Dale Earnhardt's mustache, of course, eventually grew back. In the interim, though, he did look a bit less intimidating.