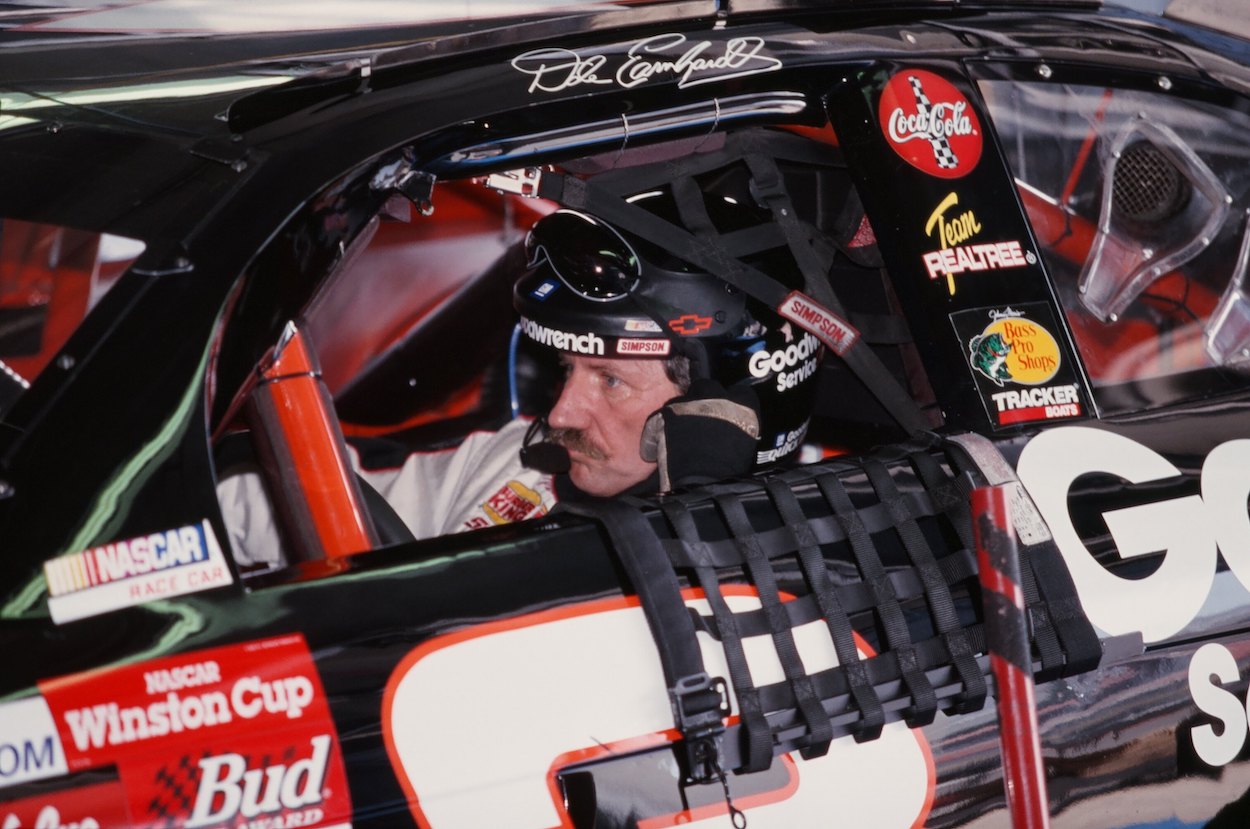 Dale Earnhardt Sr. Angered Record Crowd at Bristol on Questionable Last-Lap Move and Showered With Boos
Dale Earnhardt had a loyal fanbase that turned on him in 1999 after a questionable move on the final lap at Bristol.
Dale Earnhardt didn't take "The Intimidator" nickname lightly. He embraced it, and whenever an opportunity presented itself during a NASCAR Cup Series race, he gladly lived up to it, pushing other drivers around as if they were infringing on his turf. During one race at Bristol in 1999, Earnhardt pushed it too far, and even his most loyal supporters let him know about it, voicing their displeasure with a chorus of boos. 
Dale Earnhardt wrecks Terry Labonte on last lap at Bristol
Dale Earnhardt appeared destined for Victory Lane in the closing laps of the Goody's 500 in 1999 at Bristol Motor Speedway. However, Terry Labonte had other ideas. 
Labonte had one of the best cars all night and was leading the race with 10 laps to go when Darrell Waltrip tapped him while racing to the checkered flag and trying to get back on the lead lap. Labonte fell back to sixth, and Earnhardt claimed the lead.  
When the race resumed with five laps to go, Labonte was on a mission. With four fresh tires, he zipped his way through the field, passing Mark Martin, Jeff Gordon, and Tony Stewart. He had Earnhardt in his sights and passed him just as the two reached the white flag for the final lap.
Moments later, Earnhardt dove down low on the track and into the left rear of Labonte's car, spinning him out. Earnhardt passed through the smoke of Labonte's tires and drove around for the checkered flag. 
Crowd angrily boos Dale Earnhardt
A couple of minutes later, when Dale Earnhardt exited his vehicle in Victory Lane and triumphantly raised his hands, a large portion of the record crowd of 140,000 fans in attendance let him know what they thought of his last-lap move and showered him with a chorus of boos.
"Terry got into me in the middle of three and four," Earnhardt said in the postrace interview. "I was going to get back to him and just rattle him. I wasn't going to wreck him. I got to him and just turned him around. I didn't mean to turn him around, but I meant to rattle his cage though."
Labonte was understandably unhappy with the way the final lap unfolded.
"He never has any intention of taking anybody out. It just happens that way," he curtly told reporters. 
Like father, like son
While Dale Earnhardt received an unfavorable reaction from fans at Bristol in 1999 for his move on the last lap, his son received a similar response several years later for an incident at Michigan.
During the 2006 Xfinity Series race, Junior got into the rear of leader Carl Edwards in the final laps, sending his car down toward the infield. Earnhardt and Robby Gordon passed and Earnhardt was declared the winner. 
Following the race, when Earnhardt got out of his car, the more than 60,000 fans in attendance heartily rained down boos. 
"That was a little crazy. I know Carl is really mad," Earnhardt said. "We got a run off that corner and he was sideways. I don't know if he was going to hit the wall or whatever, but he just checked up." 
The reporter then asked about the bump at the end.
"You know we got a great core of fans, but that definitely is going to divide them right down the middle," he admitted.
Dale Earnhardt Jr. learned racing from his father, arguably the best to ever do it. Part of that education included doing some unsavory things that might upset other drivers and the fans. But to justify it, it was always deemed "just a part of racing."
Like Sportscasting on Facebook. Follow us on Twitter @sportscasting19.