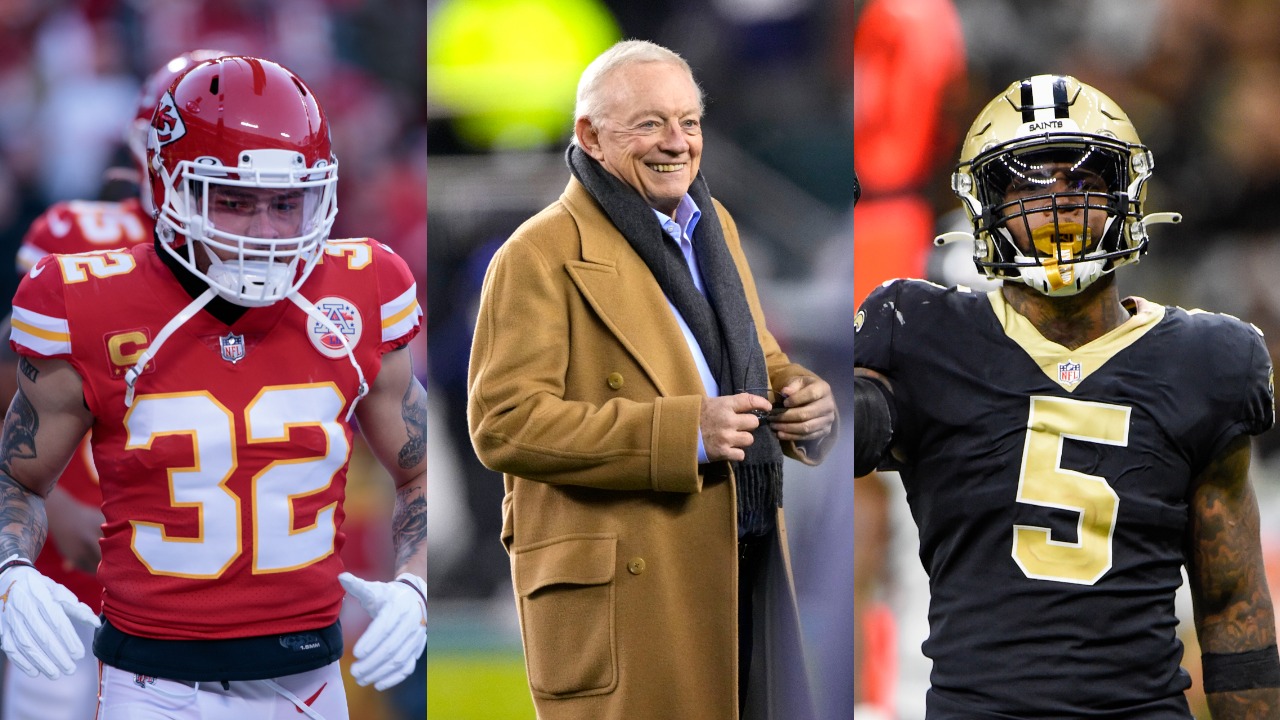 Dallas Cowboys Free Agency: Ranking the 4 Players Jerry Jones Must Target
After yet another disappointing early playoff exit, Dallas Cowboys owner Jerry Jones needs to target these four free agents this offseason.
For the 26th consecutive season, Jerry Jones' Dallas Cowboys failed to make the Super Bowl. This season had to be especially frustrating for the owner of America's team, as the San Francisco 49ers upset Jones' squad in the Wild Card Round at AT&T Stadium.
As the team enters the 2022 NFL free agency period, Jones will preside over a tough salary cap situation that will force him to make difficult decisions about how to improve the team. Keeping key pieces from last year's squad may take priority over bringing in new talent this offseason. However, there are still several key free agents the Cowboys should pursue.
Here are the four players the Dallas Cowboys must target in free agency, ranked.
The Dallas Cowboys salary cap situation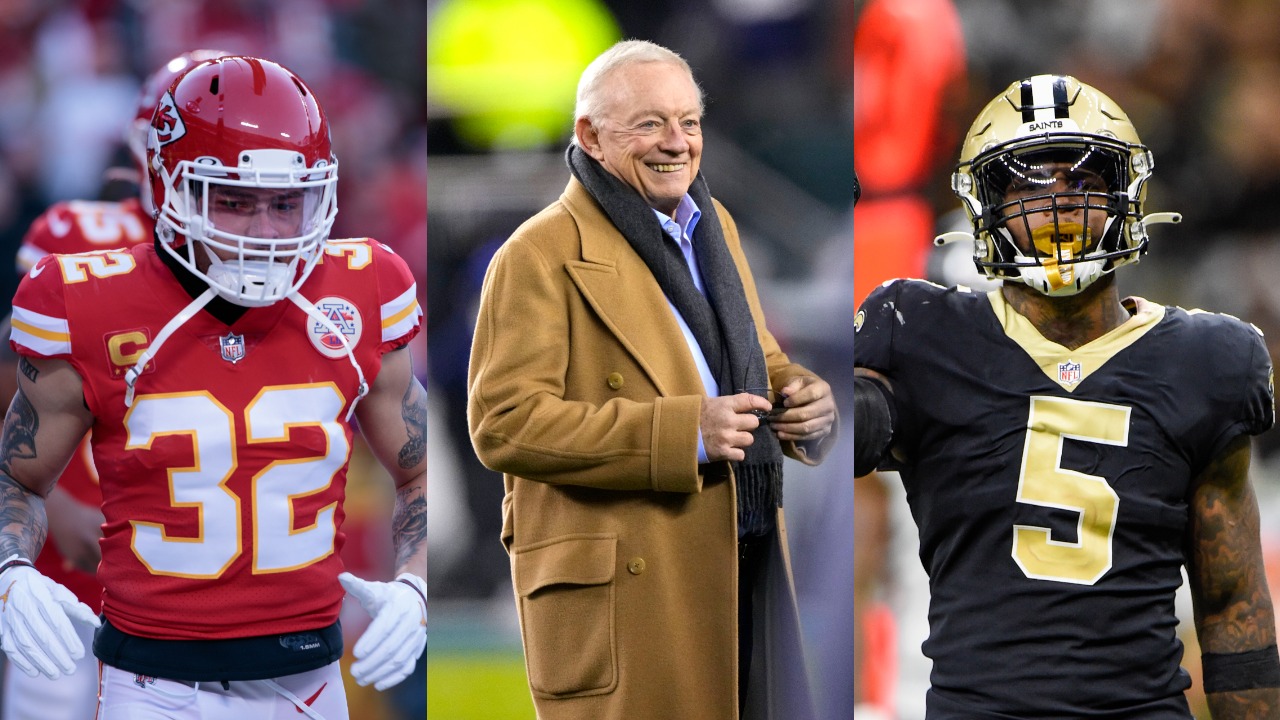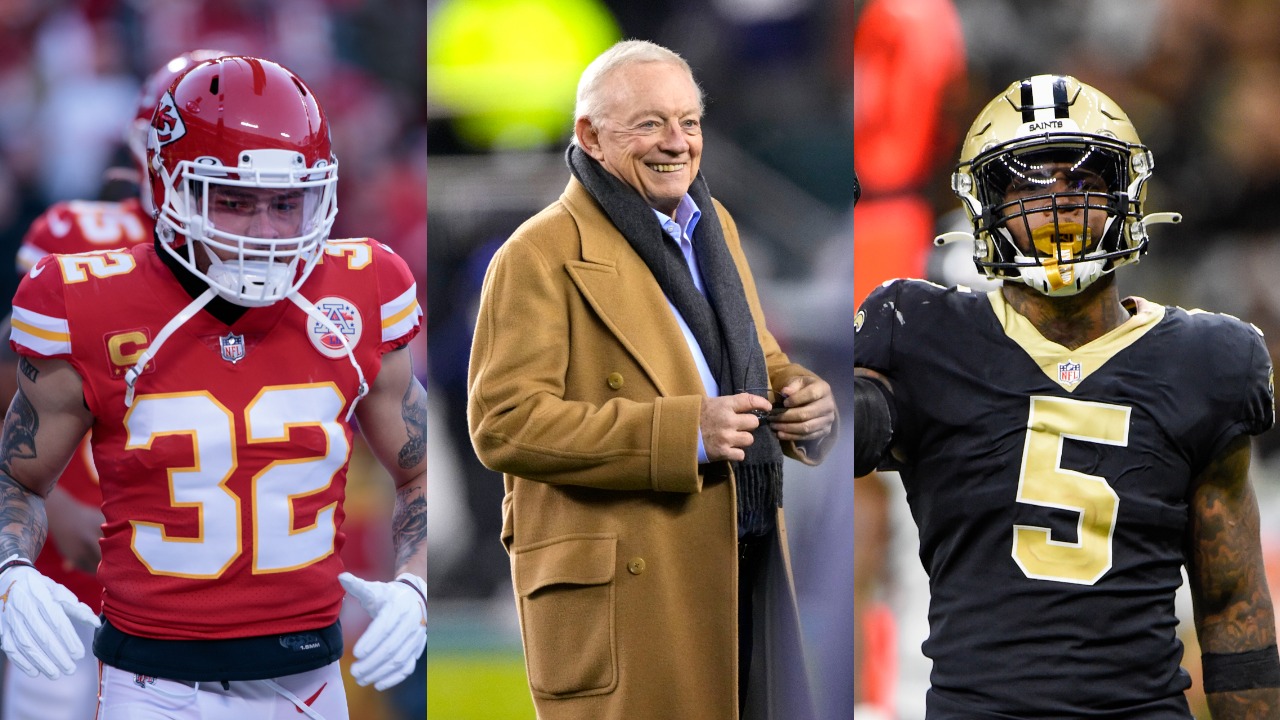 Only the New Orleans Saints ($49.9 million over the cap) and Green Bay Packers ($28.2 million over) are in a worse salary cap situation heading into the 2022 offseason. Jerry Jones' books put the Dallas Cowboys around $21 million over the cap. And that's before the franchise signs or re-signs a single free agent.
The good news for Jones is that there are relatively easy and realistic ways to save up to $70 million. According to Spotrac, restructuring some of the team's biggest deals — Dal Prescott, Amari Cooper, Ezekiel Elliott, Tyron Smith, Zack Martin, La'el Collins, and DeMarcus Lawrence — could get the 'Boys well under the cap.
If this happens, here are four of the free-agent players Dallas should consider to help the organization get out of the first round next season.  
4. Younghoe Koo, K
Cutting kicker Greg "The Leg" Zuerlein with a year left on his deal will save the Cowboys $2.4 million. That's a move the team has to make. Zuerlein was 24th in the league in both field goal percentage last season (82.9%) and extra point percentage (87.5%). Dallas can get that kind of production from an undrafted rookie.
That said, the K position is too important for a contending team to leave to chance, so the Cowboys need to sign Atlanta Falcons K Younghoe Koo this offseason. Koo is just 27-years-old, and in 2021, he was third in the league in FG percentage (93.1%). He was also one of four placekickers in the NFL not to miss a single extra point. And, the Cowboys should be able to get him for less than they'd have to pay Zuerlein in 2022.  
3. Tyrann Mathieu, S
Dallas Cowboys safeties Keanu Neal, Damontae Kazee, Malik Hooker, and Jayron Kearse are all unrestricted free agents this offseason. Kearse had a breakout 2021 season with 101 tackles and two interceptions, so Jones should bring him back. Kazee and Hooker also have a chance to return as well. However, what we know about Jerry Jones is that he loves stars, and there's a star safety on the market in 2022.
Kansas City Chiefs safety Tyrann Mathieu is one of the best-known safeties in the game after his "Honey Badger" college career and Super Bowl-winning time with the Chiefs. The Dallas D was a takeaway unit in 2021. Adding Mathieu's big-play ability (26 INTS, six fumble recoveries, 10 sacks) could make them even more dangerous.
2. Juju Smith-Schuster, WR
A few months ago, most would have said that the Cowboys' top priority when it comes to the wide receiver position was re-signing Michael Gallup. Unfortunately, Gallup suffered a significant knee injury in Week 16. Now, not knowing what the pass-catcher can give a team early next season, Jerry Jones needs to turn his attention elsewhere.
Of the top free-agent WRs on the market this offseason, Juju Smith-Schuster is the best fit for the Cowboys. His versatility would fit well with CeeDee Lamb and Amari Cooper, and his sometimes-trying personality would fit right in, historically, in Big D. Also, having just turned 25, he's actually almost a full year younger than Gallup.
1. Kwon Alexander, LB
The Dallas Cowboys could have kept Leighton Vander Esch on a relatively affordable fifth-year option, but the team declined. That move likely signals he's not returning on a long-term deal, meaning the club needs a (preferably veteran) running mate for Defensive Rookie of the Year Micah Parsons.
New Orleans Saints' linebacker Kwon Alexander would be a great fit for the spot next to Parsons. Alexander can do it all, as evidenced by his career stats: 521 tackles, 43 tackles for loss, 12.0 sacks, five fumble recoveries, 10 forced fumbles, and eight interceptions. His leadership and discipline make him an ideal candidate to partner with Parsons for the next few seasons.
All stats courtesy of Pro Football Reference and contract figures courtesy of Spotrac