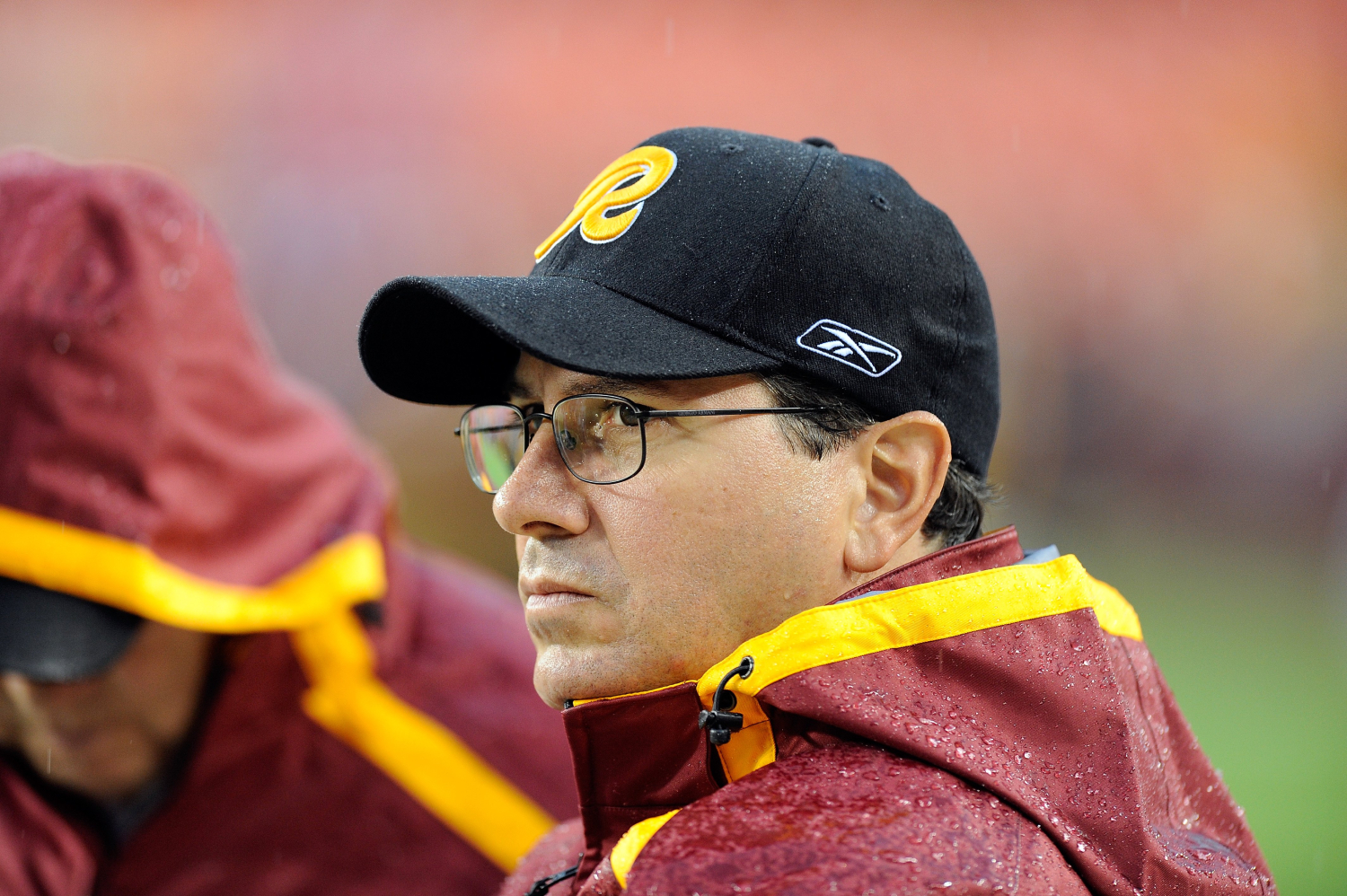 Daniel Snyder Wants to Be Jerry Jones 'When He Grows Up' Says Former NFL Executive
Daniel Snyder, owner of the team formerly known as the Washington Redskins, wants to be like Jerry Jones, according to former NFL executive.
Daniel Snyder, owner of the team formerly known as the Washington Redskins, had a month he'd like to forget. He's been pressured into changing the nickname of his team when he previously insisted it would never happen. Then came news of a sexual harrassment scandal. Snyder has been portrayed as one of the NFL's least-liked owners. One former league executive even said Snyder wants to be Dallas Cowboys owner Jerry Jones "when he grows up."
Daniel Snyder's tough month
While the Redskins nickname had been in existence for 87 years, the topic of a name change has always come up. Many view the name as a racial slur and team owner Daniel Snyder had been under pressure recently to make a change. Years before when the topic came up, Snyder was adamant that the name would remain the same.
Financial pressure from FedEx, which owns the naming rights to the stadium, and other companies such as PepsiCo and Nike also weighed heavily on Snyder. Snyder has decided to make the name change but has since run into trademarking issues. According to Yahoo! Sports, it appears that a Virginia man has trademarked many names the Washington franchise was considering.
Making matters worse was a story that ran in The Washington Post last Thursday. The story said 15 female employees of the Washington franchise allege to have been sexually harrassed and verbally abused. Emily Applegate, a former marketing club for the team, was one of the females interviewed and said, ""It was the most miserable experience of my life. And we all tolerated it because we knew if we complained — and they reminded us of this — there were 1,000 people out there who would take our job in a heartbeat."
Snyder depicted as the problem in Washington
In a Washington Post story from 2019, Daniel Snyder is not highly thought of among people involved with the Washington franchise. The article said Snyder is an owner who struggles to listen to the peope he hires.
"As long as Dan's there, they don't have a chance," one former high-ranking Redskins official said. "Even though the players are much better than they were … at the end of the day, everybody has to be beating on the same drum. If you're not on your game (in the NFL), you're going to get exposed very quickly. And that's what's happened to him."
John Kent Cooke, the son of former Redskins owner Jack Kent Cooke, whose regime guided Washington to three Super Bowl titles, doesn't appear to be a fan of the current owner. "Unlike Snyder," Cooke said, "I return phone calls." Cooke said Snyder has taken a one-proud franchise and turned it into a has been. "What's happened over the 20-year period is that he has taken a franchise that has been universally respected in sports, not just the NFL, and proceeded to drag it down to mediocrity," Cooke said. "It's no longer one of the premier sports franchises in the United States."
Snyder aiming to be Jerry Jones
A former NFL executive told The Washinton Post that Daniel Snyder would mimic Dallas Cowboys owner Jerry Jones. He looked up to Jones and wanted to be just like him. In 2017, Jones blasted NFL players for not standing during the national anthem. The executive remembers Jones yelling at NFL officials who said players should not face disciplinary action if they were kneeling during the anthem.
"Dan would repeat what Jerry was yelling," the former executive said. "Literally, he'd sit there yelling, 'Yeah, that's right!' … He wants to be Jerry when he grows up. I think he looks at the swashbuckling Jerry Jones in Dallas and says, 'Hey, I can do that, too.' He watches what Jerry does and mimics it in a way that just doesn't fit."