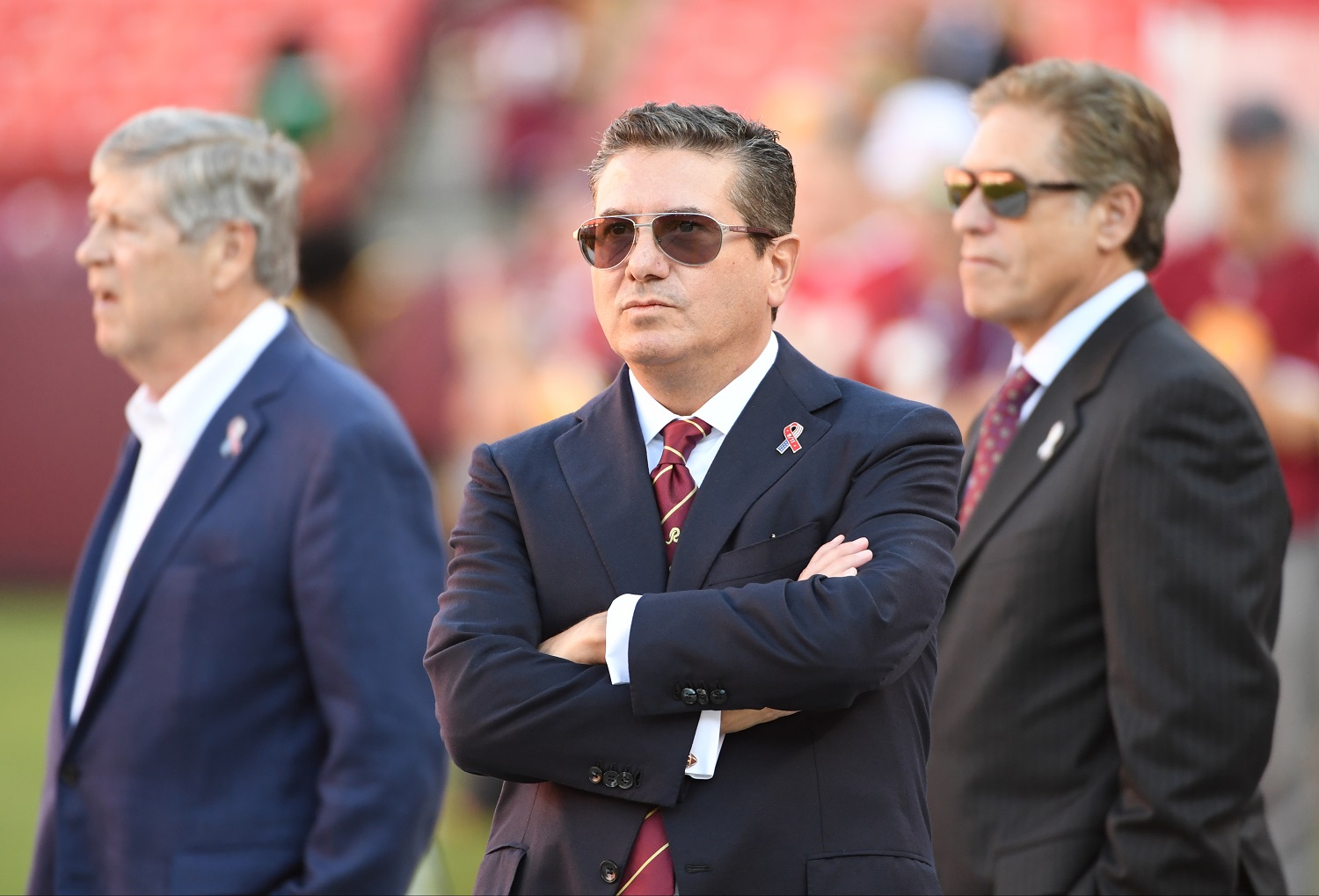 Daniel Snyder Wouldn't Be the First Owner Stripped of His Team
The Washington Post is rumored to be preparing highly unflattering stories about the Washington Redskins. It could be the impetus for commissioner Roger Goodell to banish Daniel Snyder.
Strike one against Daniel Snyder is related to justifiable fan frustration of being forced to watch an inferior product on the field. Strike two was his stubborn refusal to change the nickname and mascot of the Washington Redskins until recently.
And strike three may be a damning expose that the Washington Post is widely rumored to be ready to publish. Snyder doesn't have a lot of support these days, so anything pointing tawdry behavior on his part or turning a blind eye to misbehavior by employees could be the third strike that puts him out of the NFL permanently.
He'd be in some very good company – well, OK, bad company — in that respect.
Daniel Snyder should be worried after Jerry Richardson's fall
Jerry Richardson scored what proved to be the winning points in the 1959 NFL Championship Game on a pass from Johnny Unitas, built a massive food services company with more than 100,000 employees, and founded an NFL expansion franchise.
He was a forward-thinking businessman who employed a Hispanic head coach, a black quarterback, and a female chief operating officer. He even cut Greg Hardy loose after domestic violence allegations. as a matter of principle.
And then in 2017, Richardson was forced to sell the Carolina Panthers after Sports Illustrated and ESPN reported that he had quietly paid out settlements to at least four employees over inappropriate language and had directed a racial slur at a black scout.
It was a swift, stunning fall from grace for the first man since George Halas to make the climb from player to owner, but at least the team made it to a Super Bowl under his ownership. Daniel Snyder took control of the Washington Redskins in May 1999. The team is 142-193-1 since and has gone through eight head coaches in 17 years. The Redskins haven't been back to the NFC Championship Game since winning Super Bowl 26 after the 1991 season.
If Daniel Snyder is ousted, he'd join Donald Sterling on the list
When Roger Goodell forced Jerry Richardson out as owner of the Carolina Panthers, he was working from the template created by NBA commissioner Adam Silver in 2014. Silver banished Los Angeles Clippers owner Donald Sterling for life over recorded racist remarks obtained by TMZ from a woman identified as Sterling's mistress.
Sterling's comments, particularly about Magic Johnson, triggered sharp criticism from the likes of President Barack Obama, LeBron James, Michael Jordan, Charles Barkley, and Shaquille O'Neal. Forced to sell, he still fared quite well as retired Microsoft executive Steve Ballmer paid $2 billion for the Clippers, setting an NBA record.
That same year, Atlanta Hawks majority shareholder Bruce Levinson stepped down after an email he wrote two years earlier complaining about a high percentage of black fans at the team's games was unearthed. Had he not stepped aside, Levinson would likely have faced Sterling's fate.
MLB was able to rid itself of two problem owners
While not explicitly forced to sell, Marge Schott and Frank McCourt felt enough heat to decide to end ownership of baseball teams on their own.
Schott, the majority owner of the Cincinnati Reds from 1984-99, was suspended for the 1993 season over racist and anti-Semitic remarks. After comments sympathetic to Adolph Hitler, she was ordered to surrender day-to-day control of the team in 1996.
McCourt owned the Los Angeles Dodgers from 2004-12 but found himself overextended financially in the aftermath of the Great Recession. He filed for bankruptcy protection after MLB refused to approve a local TV deal, and MLB took over running the franchise until McCourt was able to sell.
Some owners barely escaped the most severe sanctions
Unlike Daniel Snyder, Eddie DeBartolo was best of breed among NFL owners at the time of his downfall after winning five Super Bowls. But having entered a guilty plea in 1998 to making an illegal payment of $400,000 to Gov. Edwin Edwards for a Louisiana gambling license, DeBartolo was fined $1 million in court.
Then-commissioner Paul Tagliabue was spared from making a tough decision – any link to gambling was problematic in the eyes of the NFL back then – when DeBartolo turned operational control of the San Francisco 49ers over to his sister. Tagliabue suspended DeBartolo for one year, but he stayed away permanently.
In baseball, George Steinbrenner, who owned the New York Yankees from 1973 until his death in 2010, was suspended for two years in 1974 for making unlawful contributions to President Richard Nixon's 1972 reelection campaign. Then-commissioner Fay Vincent imposed a lifetime ban on him in 1990 for paying a gambler to dig up dirt on Dave Winfield. He wasn't ordered to sell his interest in the Yankees, and commissioner Bud Selig ended the ban in 1993.