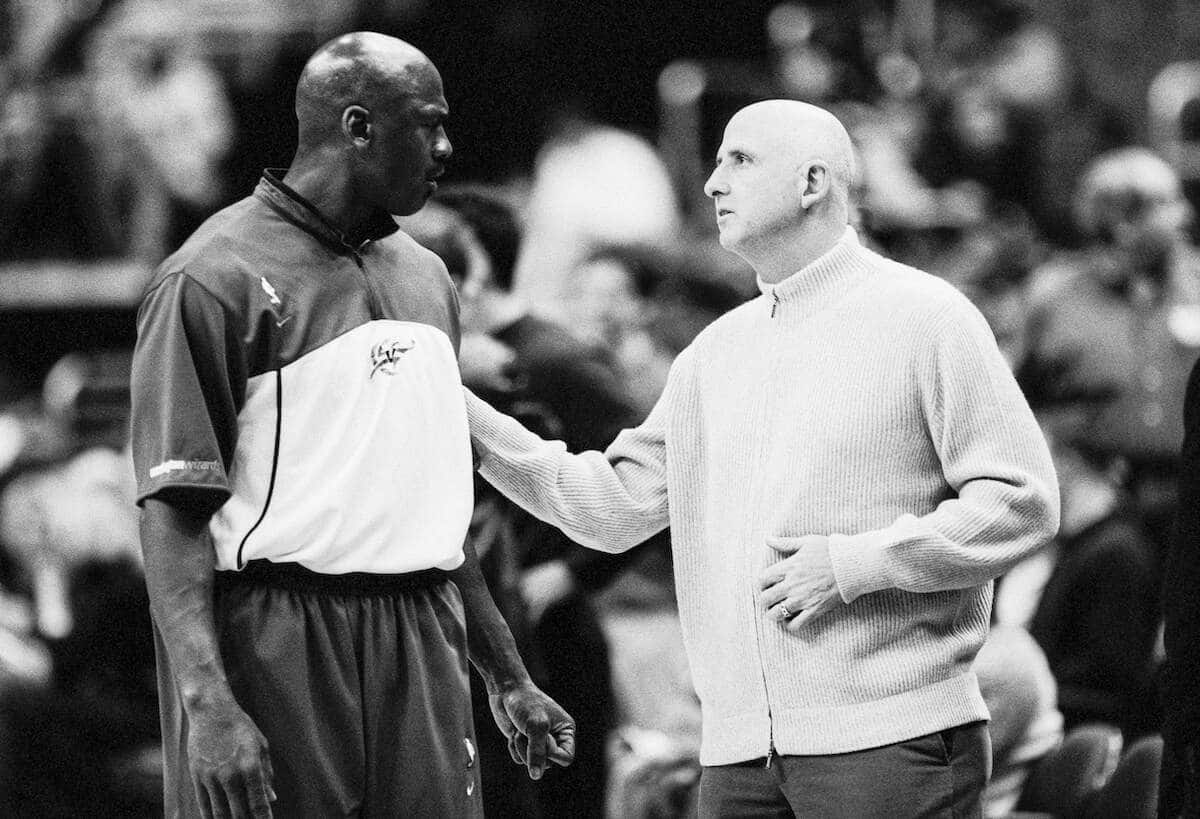 David Falk: Where Is Michael Jordan's Agent Now?
NBA 'super-agent' David Falk helped several '90s stars, including Michael Jordan, make a then-unseen amount of money. These days, he's still involved in the game.
Michael Jordan is the best basketball player of his generation, if not ever. It's only fitting that his agent held a similar status in his profession.
David Falk helped several '90s stars make a then-unseen amount of money from their contracts and as brand spokespeople. Falk's time as the NBA's preeminent super-agent is long over. But he is still involved in the game as the founder of a new agency. 
David Falk's biggest clients
Growing up in a middle-class suburb in Long Island, New York, Falk was always obsessed with sports. Unlike most kids, however, his career fantasies did not involve playing for the Knicks. "We were in fourth grade when he announced to me that he was going to represent professional athletes," childhood friend and attorney Reid Kahn told The Washington Post in 1996. "This was all the more amazing because back then, professional athletes really didn't need lawyers."
Falk earned an economics degree from Syracuse University before attending law school at George Washington University. During his final year there, he was hired as an unpaid intern for sports agent Donald Dell at ProServ. The firm mostly focused on tennis players (Dell was a former pro himself), leaving Falk to find NBA players to represent.
He proved to be capable at the job, signing two No. 1 draft picks in John Lucas and Mark Aguirre, in addition to negotiating the first million-dollar shoe deal for James Worthy in 1982. Soon, Falk's relationship with North Carolina would land him the biggest fish in basketball history.
Jordan signed with ProServ in 1984. Falk's deal-making prowess earned the guard his landmark deal with Nike. The numbers — $500,000 for five years and royalties — were revolutionary for the time and contributed greatly to Jordan's accumulation of wealth and status as a cultural icon.
In addition to MJ, Falk also represented other stars of the era. Here are the career earnings of his most famous clients, according to Basketball Reference:
Michael Jordan: $94 million
Patrick Ewing: $118.2 million
Danny Ferry: $44.2 million
Alonzo Mourning: $147.4 million
James Worthy: $11.85 million
Dikembe Mutombo: $143.66 million
Juwan Howard: $151.46 million
David Falk net worth
Falk leveraged his status as a powerbroker to get his clients market-defining contracts from teams. In a six-day period in the summer of 1996, he negotiated deals for Jordan, Mouring, Howard, Mutombo, Kenny Anderson, and Lee Mayberry that were worth over $335 million on their own. Howard's deal was particularly significant as it made the forward the first NBA player with a $100 million contract. 
Falk was well-compensated for his work. He usually earned 4% of player contracts (the maximum amount allowed by the Players Union) and also earned up to 20% of endorsement deals he negotiated. 
His conduct also made him an enemy to many across the league. Falk was involved in both the 1995 and 1998 lockouts. and franchises resented how he wielded his power to engineer deals for his clients with little care for potential fallout. 
Long before the term "player empowerment" became part of the NBA lexicon, Falk concocted the Stephon Marbury trade to the New Jersey Nets by telling the Minnesota Timberwolves the point guard would leave in free agency and went so far as to veto a potential trade involving Kerry Kittles by claiming Kittles had no interest in playing for the T-Wolves. 
Falk also influenced Patrick Ewing's trade to the Seattle SuperSonics by threatening to move Glen Rice to the Miami Heat if he didn't get his way. 
None of this sentiment seemed to bother Falk, who understood that an agent's job is to get the best contracts possible for their clients, not to be well-liked by organizations. According to Celebrity Net Worth, his current net worth is $50 million. 
David Falk now
Falk started his own management company FAME (Falk Associates Management Enterprises) in 1992 with business partners Curtis Polk and Mike Higgins. The company was sold to entertainment group SFX in 1998 for $100 million. However, Folk stayed on as chairman. In 2007, he re-launched FAME as its CEO.
The modern client base was not as star-studded as the previous iteration, focusing on players like Otto Porter Jr. and Evan Turner. In 2022, FAME sued Turner for $2 million for breach of contract. 
In addition to his NBA endeavors, Falk also established the David B. Falk Center for Sport Management in 2008 and the David B. Falk College of Sport and Human Dynamics in 2011 at Syracuse. He wrote a book, The Bald Truth in 2009, serves on the board of directors of Sapphire Brands, and was a founding investor in Marquis Jet and Golf GCX Partners and in Relevad Media Group.
Falk can be seen giving guest lectures at universities on a semi-regular basis.