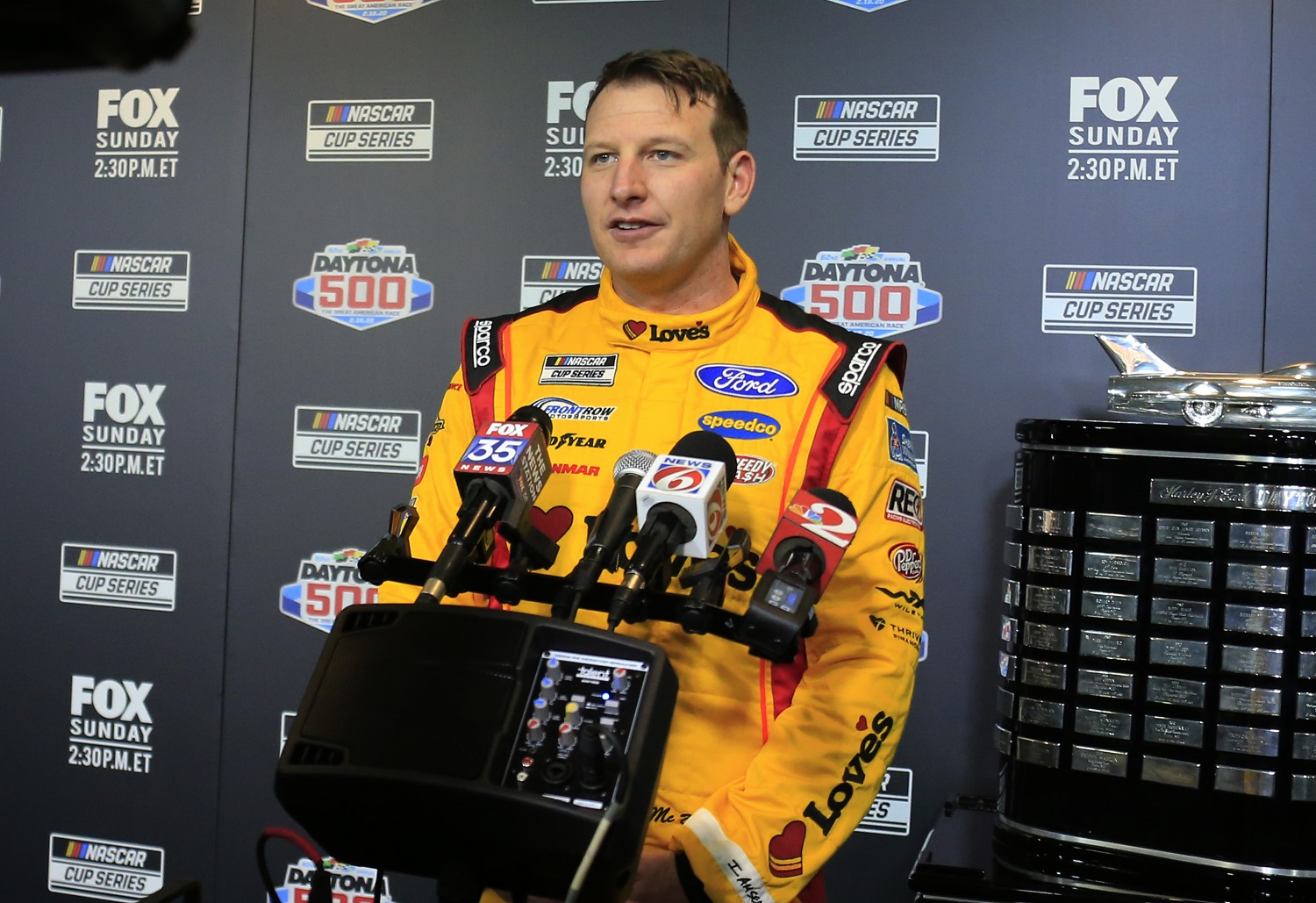 Daytona 500 Champ Michael McDowell on the Paradox of Racing: 'You Feel Like You Are in Complete Control … Until You Are Not'
Michael McDowell was highly successful coming up through the ranks and then struggled through more than 300 NASCAR Cup Series starts before winning the sport's biggest event.
Michael McDowell rarely went more than a month without winning something on the various racing circuits on his way to NASCAR. There, it took him 94 tries to win an Xfinity Series race and 358 to triumph in the Cup Series.
That'll leave a guy lots of time to write the acceptance speech for a Hall of Fame induction ceremony that'll never happen.
"I came into NASCAR in 2008, I was young and arrogant and had a chip on my shoulder," McDowell says in a film short about his life that debuts this week. "I had won everything I had ever done leading up to that point and felt like that wasn't going to stop. Very quickly, I got humbled in this sport."
Michael McDowell's win in NASCAR's biggest race was a long time coming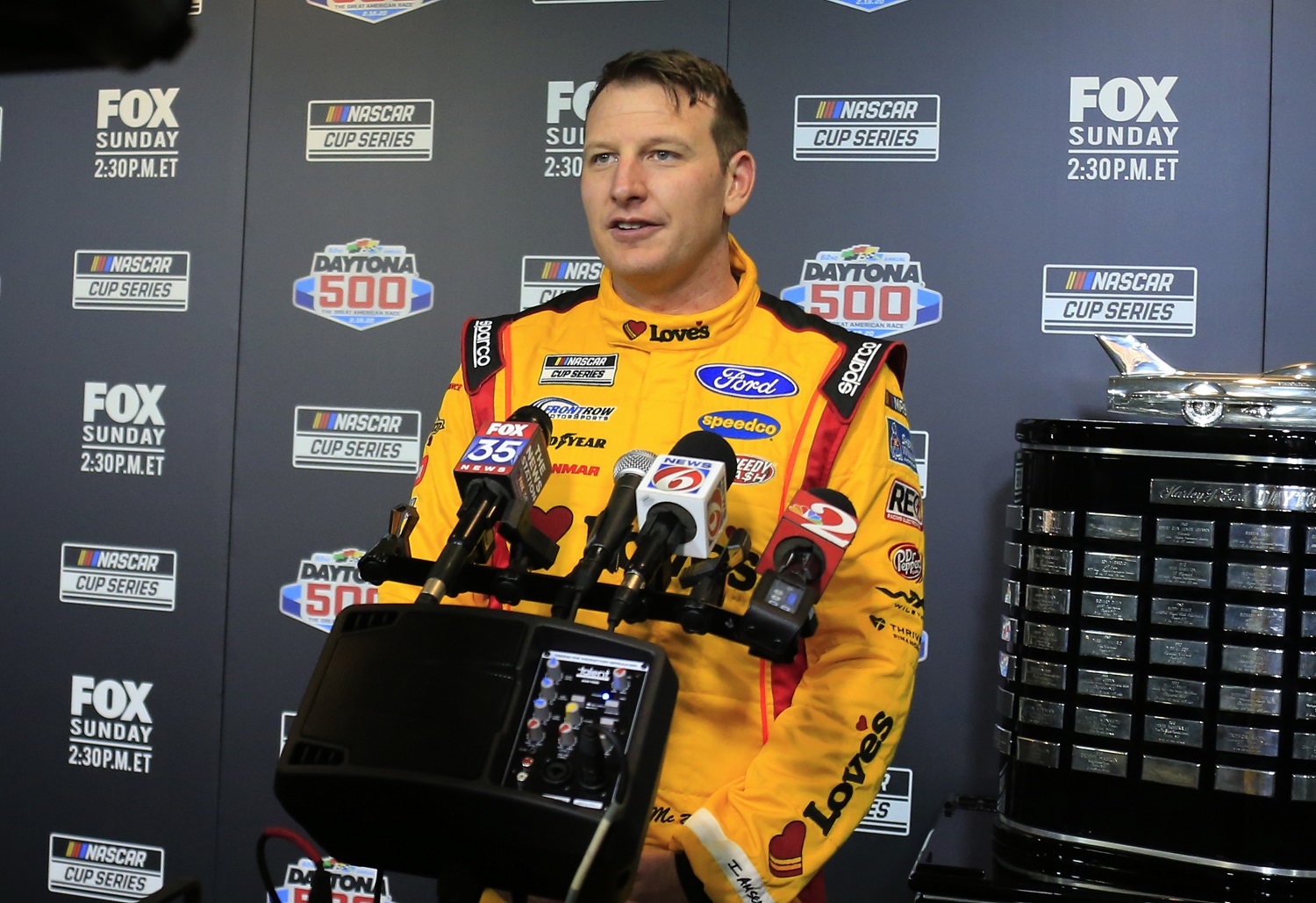 Michael McDowell skipped significant steps on his way to the NASCAR Cup Series in 2008. But his record, beginning with back-to-back World Karting Association championships as a teen, was so good that it was understandable that he'd earn a look in the sport's top series at the age of 23.
Still just 17, McDowell graduated from karts to Formula Renault in 2002 and won multiple races. He did the same the next two seasons in the Star Mazda Series, along the way picking up a gig as an instructor at the renowned Bob Bondurant School of High Performance Driving, which has taught the finer points of racing on road courses to numerous NASCAR drivers.
From there, McDowell graduated to the Grand-Am Cup Series, again piling up victories, and then he won four of 23 starts in the ARCA Menards Series in 2007. That's the last stop before NASCAR for most drivers. Even then, there are usually one or two seasons each at the trucks and Xfinity levels. In McDowell's case, the apprenticeship lasted four races.
McDowell then moved into the Cup Series, earning 20 starts for Michael Waltrip Racing in 2008. He's been in the Cup Series since, but it took the 2021 Daytona 500 to end all those years of frustration.
"I remember just being overwhelmed with emotion," McDowell said in the documentary, produced by I Am Second and debuting on Feb. 15. "I was making noises that I didn't know I could make. So much pure excitement to finally win a race and to do it at the Daytona 500."
Challenges filled Michael McDowell's journey to Victory Lane
Reaching the NASCAR Cup Series in 2008 put Michael McDowell in the sport's top circuit. But support is crucial, and the Phoenix native found little of it from his early teams. Underfunded and desperate to move up in owners' points, Michael Waltrip Racing yanked McDowell from the No. 00 Toyota twice and dropped him at the end of his rookie season.
"I came into the sport with a big contract and a multiyear deal, and nine months later I was without a job, my wife was pregnant expecting our first child, and so much happening in that period of time, and so many trials, that it was really hard to wrap my head around what God was doing," he said in the film, which will be presented on the I Am Second website.
From there, he bounced around with Tommy Baldwin Racing and the JTG Daugherty Motorsports Xfinity team in 2009, leading to a nomadic stretch with seven Cup Series teams over four years. He finally found stability at Leavine Family Racing in 2014 and Front Row Motorsports in 2018.
He has been with Front Row for 144 starts, and it's been his most productive time. McDowell set a career high in 2021 with five top-10 finishes. In fact, 12 of his 17 top-10 showings have come with Front Row.
'You feel like you are in complete control … until you are not'
The focus of the film short about Michael McDowell is the driver's religious convictions and his faith in God.
"There is nothing greater than having that peace that God is with you and walks with you," he said.
There are aspects of that belief that McDowell can tie to his racing career in general. But once he steps into the car, it's man and machine working together. Eclipsing 190 mph on the straightaways at a superspeedway or combating the never-ending sequence of turns at Bristol and Martinsville for two-plus hours are experiences the average person cannot understand.
"When you are in that zone," McDowell said, "everything slows down and gets quiet. Your brain is going faster than the wheels are. You are not just thinking about where that car is, where you are, but the move you are going to make, how you are going to make it, what you need to do.
"Even though you are 200 miles an hour, inches apart or inches from the wall, you feel like you are in complete control … until you are not."
McDowell was in complete control for less than one lap of the Daytona 500 a year ago, but it was the lap that counted, delivering him that long-awaited first victory.
All stats courtesy of Racing Reference.