Dennis Rodman Once Went to Las Vegas and Intentionally Lost Almost $35,000: 'I Hate Money'
For all of his famous eccentricities, Dennis Rodman still knew a thing or two about basketball. While the forward was never going to drop 50 points, he was a prolific rebounder and a fearless defender. That reality helped the Worm carve out a nice niche for himself and, when all was said and done, take home more than $27 million in salary.
Those paychecks, however, didn't always find a home in Rodman's bank account. For all of his earning power, the Southeastern Oklahoma State product once proclaimed that he hated money and even headed to Las Vegas to intentionally lose thousands of dollars.
Dennis Rodman turned defense and rebounding into more than $27 million in NBA salary
As the cliche says, defense wins championships. Even if that's not 100% true in practice, Dennis Rodman certainly reaped the rewards of that belief.
Despite taking a long and winding road to the pros — the forward worked as an airport janitor before heading to junior college and then moving on to Southeastern Oklahoma State — Rodman found a home with the Detroit Pistons. While his rookie salary only clocked in at $75,000, the forward quickly established himself as an invaluable member of the squad. Before long, the Bad Boys had claimed back-to-back championships, and the Worm was earning more than $2 million per year.
After a brief stopover in San Antonio, Rodman joined the Chicago Bulls. In the Windy City, he proved to be the perfect complementary player, slotting in alongside Michael Jordan and Scottie Pippen and winning three more championships. The Worm's financial might also reached its peak, as he took home $9 million during the 1996-97 campaign and added $4.6 million more the following season.
Although he never found the same success after leaving Chicago, Rodman had brief cameos with the Los Angeles Lakers and Dallas Mavericks before leaving the NBA scene. Although the forward may be remembered as somewhat of a class clown, his unique skill set proved to be quite valuable. Across 13 seasons in the Association, he earned more than $27 million in salary. While that might not stack up favorably against today's stars, it's rather impressive for someone who couldn't make a layup in high school.
The Worm once went to Las Vegas to intentionally lose some money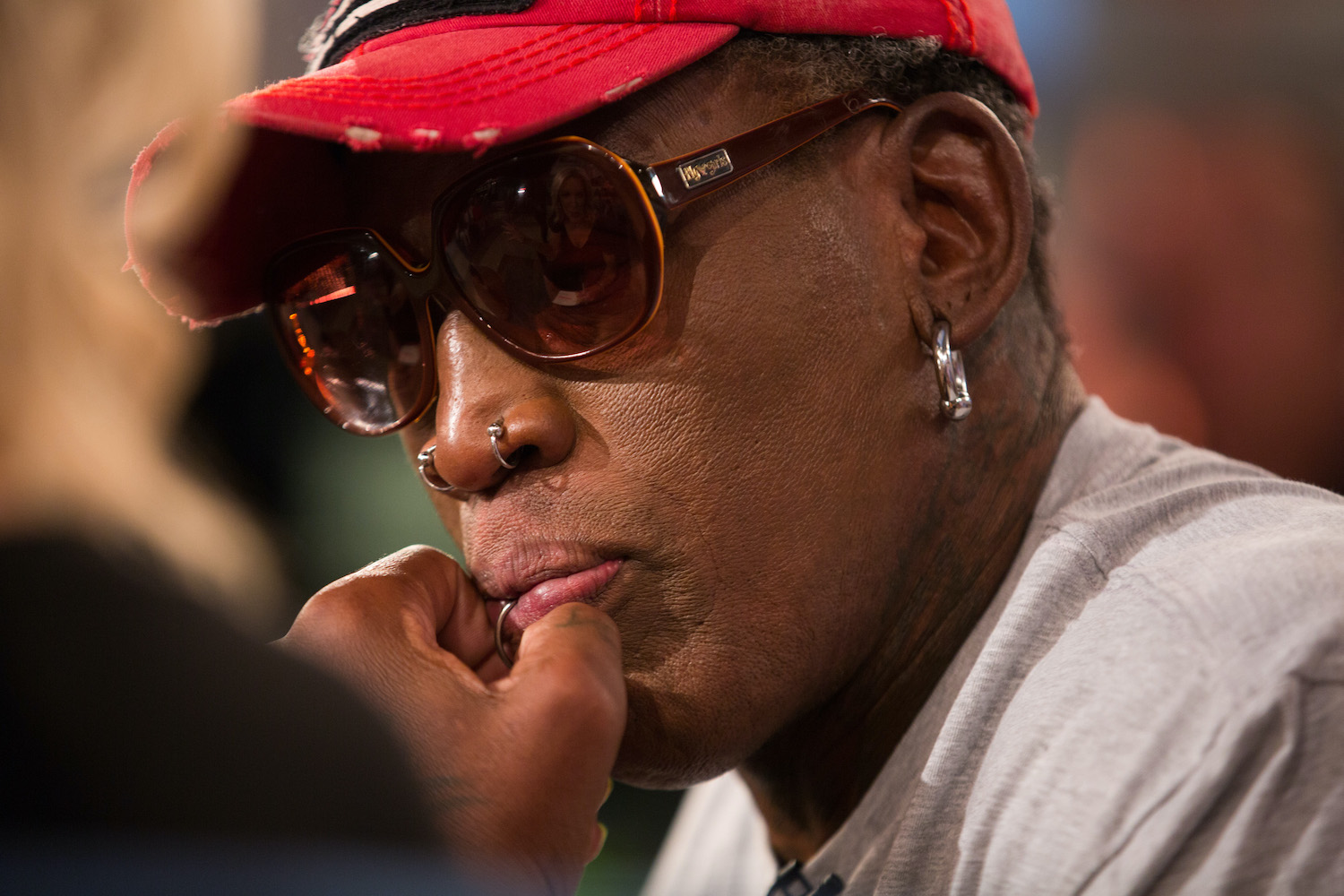 In a 1993 Sports Illustrated story, Rick Telander detailed a scene that won't surprise viewers of The Last Dance. It was the end of the summer, and no one knew exactly where Rodman was. A rumor, however, began to circulate that the forward had been spotted in Las Vegas.
This trip to Sin City was rather unconventional, though. While some losses have to be baked into a trip to the casino, Rodman wasn't trying to stay within a budget. Instead, he wanted to leave town without his money.
Rodman is in Vegas. His money is on the table. Lots of it. The dice are ricocheting off the wall. Rodman has wagered on the losing line, crapped out again. The croupier harvests everything the Worm has left, all of it. The 32-year-old basketball star, who once worked the night shift as a janitor at the Dallas-Fort Worth Airport, has made a symbolic act of penance, a cleansing of spirit that he feels will allow him to recapture, however fleetingly, the naivetè and the freedom of a former self that haunts him like a ghost. In a matter of days, he has lost all he came with, close to $35,000, which is what he wanted to do.

Rick Telander writing in Sports Illustrated
Rodman, for his part, would later provide some clarity into that trip to the casino.
"I hate money," the forward explained. "I went to Las Vegas to lose. So I could feel normal."
Elsewhere in the story, Telander returns to the gambling anecdote to double down on that explanation.
"And so after last season, he vanished from his world and reappeared at that holiest of American shrines, Las Vegas, to purge himself and to make amends," the veteran scribe wrote. "'I was getting rid of everything that had meaning in my life and starting over,' [Rodman] says of his ritualistic gaming losses."
That wasn't the only time Dennis Rodman gave away his money
While making random bets in the casino is certainly one way to lose money, Rodman had another method in his arsenal. This one, however, was a bit more wholesome.
In his SI story, Telander also discussed Rodman heading into Detroit and "giving out money to homeless people, sometimes taking a vagrant home with him, cleaning the man up, feeding him and sending him off in good spirits." Joe Lapointe, writing for the New York Times, also confirmed at least the former part of that practice.
According to Lapointe's 1990 account, Rodman was leaving a Chicago restaurant when a woman asked him for a few dollars. The forward, however, had bigger plans.
"I had $250 in my pocket, and I gave it all to her," Rodman said. "If I had $1,000, I would have given her that, too. There are a lot of people out there that are more worthy of this money. People without houses. People living on the street. I was lucky to come upon this, what I have now."
The Worm also made reference to his trips into Detroit, saying that he had given out $50 and $100 bills before. "You can't help everybody, but you can help some people," he added. "I make millions now. What's $250?"
Say what you will about Dennis Rodman and his unconventional choices but, at that moment, he seemed to be speaking from the heart.
In the U.S., contact the National Council on Problem Gambling helpline at 1-800-522-4700.
Financial records courtesy of Spotrac.